Katie Price 'to sue newspaper' over marriage claims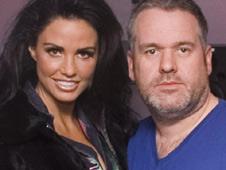 Katie Price says she and new husband Alex Reid are planning to sue the Daily Star over claims in the newspaper that their marriage is "all about money" and "will never last".
The 31-year-old mother of three married cage fighter Reid, 34, in Las Vegas last week.
Speaking on Radio 1's Chris Moyles Show, the glamour model claimed the reports about the marriage being a "business arrangement" were untrue and hugely damaging.
She said: "We're definitely 100% going to sue them on this. We've just got married, we're so happy and they're trying to put a downer on it.
"It's like they picked on me and Pete, now they're picking on me and Alex. It's an absolute joke."
In her first radio interview since the wedding, Katie Price insisted she usually didn't pay too much attention to what was written in the papers but said this was different.
"I'm not worried," she said. "I've still got my fans who turn up to my signings. They're the ones that mean more to me than anything.
"But I'm in a no win situation. Every day there's stuff that's wrong and why do I want to earn my money and waste it on legal fees every day?
"But that is so damaging. We've just got married, we're so happy and they're trying to turn it like it's a load of rubbish when it's so not."
The Daily Star says it stands by its story.
Katie Price and Alex Reid started dating months after she announced her separation from Peter Andre last May.
The model says Reid proposed to her in September after a fight as her divorce was finalised.
But after her second appearance on I'm a Celebrity... Get Me Out of Here!, the show on which she and Peter Andre met in 2005, Price then dumped the cage fighter live on air.
She said that was a mistake: "He was poisoned, I was poisoned by people around us and we met up in Australia, we made up and we've been together ever since.
"Things are private and mysterious between us. I've learnt from my mistakes before, being controlled."
Katie Price also revealed she wanted new husband Alex Reid to meet former partner Peter Andre but that it wasn't likely.
"I would like to speak to him," she admitted. "I'd love him to come round but it's hard with the people around him to let me get to him.
"Hopefully one day we'll all be friends and it will all be nice for the kids' sake.
"If Pete could come round and do his barbecue for us all, I'm sure the kids would love that as well, why not?
"I was with him for six years, we did have a laugh together and it's like a friendship that's gone. Why not be friends? It's a shame."
Related Internet Links
The BBC is not responsible for the content of external sites.