Matt Damon says next Bourne film 'could be a prequel'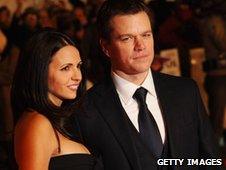 Hollywood actor Matt Damon has revealed the next film in the Bourne series may be a prequel.
Speaking at the UK premiere of his latest movie, Invictus, he said a follow-up to 2007's The Bourne Ultimatum was at least five years away.
He said: "There'll probably be a prequel of some kind with another actor and another director before we do another one.
"We're probably five years away from another one. We've got to get a script."
Paul Greengrass, the British director behind 2004's The Bourne Supremacy and The Bourne Ultimatum, was there supporting Matt Damon.
He confirmed he wouldn't be working on any more of the films, unless the right script came along.
"It won't be for me but I wish them all the best of luck," he said. "But maybe, if one day they write one (a script), who knows?
"I'm going to do some different things for a while anyway. I've had lots of fun but it's time to move on to other things."
The Bourne series is based on novels by author Robert Ludlum and feature former CIA assassin Jason Bourne.
Related Internet Links
The BBC is not responsible for the content of external sites.