Reunited boyband Blue are writing with Ne-Yo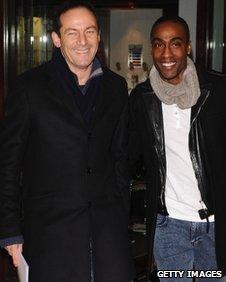 Reunited boyband Blue have confirmed they've written new material with R&B singer Ne-Yo in America.
The group broke up in 2005, with all four members pursuing solo careers, but got back together in 2009 and played a UK tour last December.
Duncan James said: "We have been in the studio. We went back in last year.
"We went over to New York and recorded with Jay-Z's people, wrote with Ne-Yo and the stuff sounds really different to anything we've done before."
Describing the sound of the group's new direction he continued: "It's a lot up tempo, it's a lot dancier. It's fresh.
"And I think that if we do decide to release an album, then we have to step up again and come out with an album that is not what people expect.
"The thing I didn't realise about Ne-Yo is that he is such a super talented person. He writes impeccably. It's all him. He does it all."
However the foursome - Duncan James, Simon Webbe, Antony Costa and Lee Ryan - are not only focussing on the reunion.
James said he was "really happy" to be starring in musical theatre with a part in newly launched West End musical Legally Blonde.
Simon Webbe added: "We've still got individual projects that we're doing and we don't want to rush into it because with Blue it's got to be quality and with quality means time.
"I got a deal in America and then I came back to pack my bags and then I got a call saying, 'Boys, let's have a meeting'.
"I'm going to give it another go, I'm going back to America at the end of this month."
Webbe admits he's itching to get back in the studio again with the rest of the boys.
"It was like magic," he said. "It was nothing but jokes. We hardly write songs, it was just us having a giggle and just enjoying each other's time and it's been a long time to get us all in one room and actually do something where we were in control with it as well."
A title and date for the release of a new album has yet to be confirmed.
Related Internet Links
The BBC is not responsible for the content of external sites.