What's the 'true' value of your old gold?
By Jim Reed
Newsbeat reporter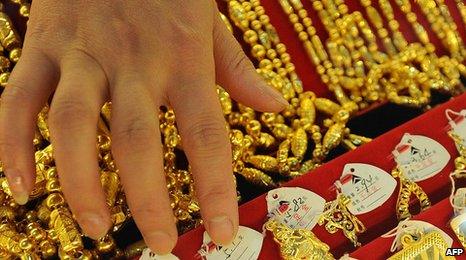 With the price of gold near a record high, it's an offer that's hard to ignore: send us your unwanted jewellery and we'll send you a cheque straight back.
Over the last year there's been an boom in the number of shops and websites offering to take those old rings and trinkets off your hands.
But Newsbeat's found out that some of the biggest names in the industry are paying just a fraction of the amount that gold could be worth if it was taken to a jeweller or pawnbroker.
"Some of the quotes are just shockingly low," said Alonso Ercilla from the Trading Standards Institute.
"It boils down to shopping around because, in theory, traders can just offer what they want."
29-year-old Nic from Huddersfield wanted to sell four of her old rings to raise money for Christmas presents.
"I was off work poorly and the adverts were all over daytime TV. I thought it would give me a bit of extra money," she said.
Nic went online and ordered a free postal packet. She sent the rings off and waited a couple of weeks. Then a quote came back for just £27.
"I was just shocked. I was hoping for something around the £200 mark," she said.
"I sent them an email asking if it was a misprint. The valuation was so low I thought it was missing a digit."
She asked for her rings back and was later quoted £125 from a local company in Huddersfield offering a similar cash-in service.
We wanted to try it out for ourselves so asked Tony Jarvis, an independent gold bullion dealer in Mayfair, London, to value a bunch of old earrings, chains and lockets.
He told us that a "fair price" for the nine carat scrap gold would be around £300, although daily variations in the gold price could push that number up or down slightly.
We double-checked and took the gold anonymously to a number of shops in London's famous old jewellery market, Hatton Garden, specialising in scrap metal.
Sure enough, the best price we were offered was £318.
We then sent exactly the same set of rings and chains to three of the biggest players in the postal market.
American giant Cash4Gold has grown quickly off the back of heavy TV advertising, including expensive primetime slots in this year's US Superbowl.
It claims that 94% of its 900,000 customers in the US accept the valuation they are offered.
The firm is now expanding internationally and opened its British operation over the summer.
Customers call a telephone helpline or log on to the firm's website and order a free gold pack containing a pre-paid envelope.
As with all the other firms featured here, the value of the package is insured up to £500. You drop in your old jewellery, fill out a basic form and put it in the post box.
Staff at the firm's British headquarters value the metal and a week or so later send you a cheque back which you can either bank or return within 12 days to get your jewellery back.
So how did Cash4Gold compare with our "fair valuation" of £300?
The firm sent us a cheque for just £63. When we called to ask for our jewellery back that offer was increased to £100.
The firm's boss, Jeff Aronson, makes no apologies for pricing, claiming that some people are willing to accept less for their gold in return for convenience and speed.
"Our customers are not interested in going to a pawnshop or a jewellery store," he said.
"They would be mortified if a friend saw them doing that. We are serving a new industry that we have created. We are not here to price fight against a jeweller."
Crewe-based CashMyGold is the most high profile British company in the market. Like its American namesake it spends heavily on advertising, especially on daytime TV.
It works in an identical way: users call or go online, order an envelope, post off their gold and wait for the cheque to arrive.
The company uses the slogan "best prices paid for your gold" but its offer was the lowest of the three at just £60.20.
We called to ask for our jewellery back and a sales rep immediately offered to increase the offer to "£150 maximum".
In a statement the firm said it has a "very different business model" to high street gold dealers with "different costs such as postal insurance and administration" to consider.
"Taking this into account, we believe we offer a fair price for those who are looking for a hassle free, door-to-door service," it said.
Finally high street jeweller H.Samuel launched its own postal gold service over the summer.
Unlike other firms, it always telephones customers to ask if they will accept an offer rather than sending a cheque straight back.
Its quote? The highest of the three at £182 rising to £210 if we agreed to take gift vouchers instead of a cheque, still significantly below the £300 quoted by our gold bullion dealer.
Again the firm claimed its offers are fair.
"By using our service customers are dealing with a well-known and established high street jeweller with national store coverage," it said.
"If the customer does not want to accept our offer the jewellery is returned at no cost to them."
We put the findings to the Trading Standards Institute. Its joint lead officer for fair trading, Alonso Ercilla, said offering a low price for gold might be irritating but it's not illegal.
"Unfortunately there isn't much Trading Standards can do if people are getting a bad deal, provided the trader is not actually misleading the seller about the gold's worth," he said.
"Customers need to shop around and try to establish the price per gram.
"If you are using a website, read their terms and conditions. And don't automatically take the first price you are offered."