FBI probe biggest plot since 9/11
By Sima Kotecha
Newsbeat US reporter in Minnesota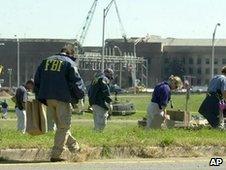 Newsbeat has been given exclusive access to one of the biggest anti-terrorist operations in America since the 9/11 attacks.
The FBI is worried a group linked to al-Qaeda is training up a new generation of terrorists.
They're thought to be targeting young Somali immigrants, radicalising them to carry out attacks on their home country and possibly the US in the future.
The November cold in Minnesota is brutal. The fierce winds brush against your skin like a sharp knife.
The grey high rise flats in Cedar-Riverside, Minneapolis, are clustered together and are home to hundreds of Somali immigrants.
A group of young boys are sitting on the concrete steps watching the traffic as it whizzes by.
It's not clear why teenagers like these are giving up their comfortable lives in America and returning to their war torn homeland.
But over the past three years, authorities believe 20 young Somali men have gone back to fight in the bitter civil war, which is reported to have claimed hundreds of thousands of lives.
None of them have come back and three are thought to be dead.
According to census figures there are 35,000 Somalis living in America but the figure is almost certainly a massive underestimate as many live in the country illegally.
Some of them came to the US as refugees looking for a safer place to settle and raise families.
Their country has been a war zone since the collapse of its government in 1991.
Now an extremist Muslim group, which America calls a terrorist organisation, is trying to gain control.
The US believes al-Shabaab has ties to al-Qaeda. It's a shadowy organisation which is made up of radical Islamists.
It controls much of southern and central Somalia and has imposed strict Sharia law in those areas.
Burhan Hasan was 17 when he went missing from Minneapolis. His mum, Zeinab Bihi, thinks he was poached by al-Shabaab and taken back to Somalia to fight on its behalf.
She said: "Someone called me from Somalia and said Burhan is dead today and when I asked some details they said I can't give you details and hung up the phone. He was shot in the head."
The FBI were reluctant to spell out the threat, but they do believe something sinister is happening in the local Somali community.
They're calling it their biggest terror investigation since 9/11.
They're not just concerned about those who may be travelling from America to Somalia either.
They're also worried about who may come back, war hardened and perhaps prepared to plot attacks on American soil.
EK Wilson, one of the special agents investigating the case, says they have to consider all possibilities.
He said: "There is no credible threat or evidence they want to carry out a terrorist threat on US soil but it's not something we can rule out.
"Counter terrorism is our number one priority so we're focusing our attention on this one."
Agents won't say if mosques or religious leaders are involved but they do think victims are being radicalised in America before being trained as fighters in Somalia.
The Somali community is frightened. At a Somali market, a group of young men are watching football on a big screen while eating rice and potatoes.
They cheer and laugh as the the match reaches its climax.
But as soon as we ask about the disappearance of their fellow Somalis, the mood changes. A look of excitement turns into a look of fear.
An 18-year-old Somali man, who refused to give his name, said: "I am very scared and I feel uncomfortable in this country. I just hope the government know what they're doing here and they don't mess with the wrong people."
As for the American people, many of them are scared too. Their biggest fear is another 9/11.
The evidence of al-Shabaab's activities isn't clear but the families of the missing are desperate for answers.
Zeinab Bihi says it doesn't make sense that her son would go to Somalia without telling her.
She said: "He was a nice kid and very smart. I just don't know what happened to him."