Foo Fighters Best Of 'premature'
By Greg Cochrane
Newsbeat music reporter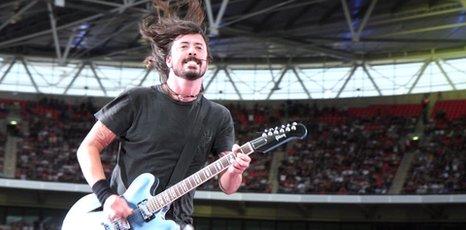 Foo Fighters' Dave Grohl has said the release of the band's new Greatest Hits album "seems premature".
The singer and guitarist, 40, said the band had a long standing obligation with their record company to release the album but had been putting it off.
During an interview with Radio 1's Chris Moyles (4 November) he admitted: "It still seems premature because we're still a functioning, active band. Those things can look like an obituary.
"We were asked to do this a long time ago. We wrote it into a deal a long time ago - that's how it works.
"They started asking about four years ago, and we said, 'Don't we need some hits?'"
The 16-track record spans their six albums to date and was released this week (2 November).
Dave Grohl said: "It's like a CliffsNotes (series of US student study guides) version of what we've been doing for the last 15 years. I think there are better songs than some of those."
The foursome now travel to Berlin to perform at this year's MTV EMA Awards (5 November) where they're also nominated in the best rock category.
Dave Grohl said he didn't know when the group would play live in the UK again.
Meanwhile, Grohl's side project alongside Queens Of The Stone Age's Josh Homme Them Crooked Vultures will release their self-titled debut album on 17 November.
Related Internet Links
The BBC is not responsible for the content of external sites.