Glastonbury 2010 details unveiled
By Greg Cochrane
Newsbeat music reporter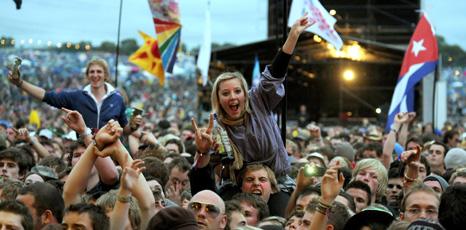 Glastonbury has announced ticket details for next year's event.
The festival will stick with the same ticket registration system employed last year whereby anyone over 13 must register their details before passes for the Pilton Farm festival go on sale at 9am Sunday 4 October.
Priced at £185 with a £5 booking fee and £4.95 postage, tickets are £10 more expensive than in 2009, an necessary increase organiser Michael Eavis describes as "a shame".
Those registered from last year will not have to input their details again, whilst new registrations must be made by midnight on Friday 2 October, 48 hours before tickets are available.
In in an online question and answer session on the offical festival website organiser Michael Eavis explained the increase in ticket price: "[The price has risen] a little bit, I'm afraid.
"I do try and hold it down, but the girls doing the budgeting are so thorough and so clever, and they said: 'Look, the minimum rise we can get away with is 10 quid more'. It is a shame, because I really wanted to hold the price."
Considered a success by organisers Michael and Emily Eavis, the deposit scheme where ticket holders can pay a preliminary £50 before paying the full amount by 28 February 2010 will once again be offered.
Meanwhile, rapper Jay-Z has said that he would return to play Glastonbury festival where he controversially headlined in 2008.
When asked by Shortlist magazine whether he would consider playing again he replied: "Absolutely," adding, "I rank it as one of those moments like when I first got a Grammy. It felt like a cultural shift."
"It was a moment in time, it was a breaking down of barriers. And the people were ready for it, as we see as soon as I walked out, right?
"The people wanted it, the people was like, 'No, we like Jay-Z and we like Noel, we like both of you guys'."
Last year's Glastonbury was headlined by Neil Young, Bruce Springsteen and Blur.
2010 will see Glastonbury festival celebrating its 40th anniversary.
Related Internet Links
The BBC is not responsible for the content of external sites.