Go backstage at Reading Festival
By Natalie Jamieson
Newsbeat entertainment reporter at the Reading Festival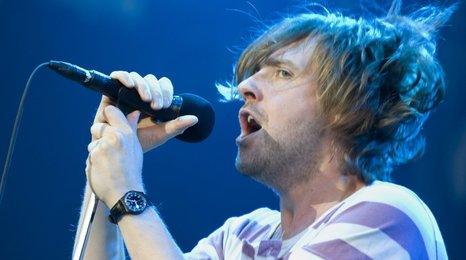 A lone flag waving 'I Want Crisps' managed to defy this year's ban at the Reading festival.
Organisers ruled out signs on sticks from the main arena for the first time after getting complaints they blocked the view of the stage.
Bands performing at the Reading site on Friday didn't seem to mind the crowd going flag-less though.
Nick Hodgson from Kaiser Chiefs joked: "Good. I'm glad they got my email about that. I didn't want any flags."
The Kaisers were pleased to be back in the UK after touring Australia, Europe and the USA since the end of March.
Frontman Ricky Wilson has trimmed down, grown his hair and is now fully recovered after breaking a rib supporting Green Day.
"I fell off, you know, that barrier which stops the normal people interfering with the rock stars," Ricky explained. "I was stood on that and I fell backwards into the stage."
Florence Welch from Florence and the Machine was celebrating her birthday at Reading, and proud to be performing.
"I've been coming here since I was 12," she told Newsbeat. "It's really exciting. If my 13-year-old self could see me she'd be really impressed."
Florence was keen to put new rules on crowd surfing to the test.
Instead of being put straight back into the audience, as a deterrent, surfers are being made to exit the site completely before being allowed back in.
"Wonder if they'll do that to me?" Florence mused. "I'll try doing it from the stage and see if they remove me. It'd be really funny!"
Pete Wentz from Fall Out Boy was a bit jet lagged after flying in from the US, but chilled out watching New Found Glory from the side of the main stage.
He was missing his nine-month-old son and wife Ashlee Simpson though: "You don't want to leave it as long as I have to. Three weeks was the longest. They (kids) change every day."
Fall Out Boy drew a massive cheer when they took to the stage and drew a smile from all the Family Guy fans for dropping in a cover of the Journey sing-a-long classic Don't Stop Believing.
A sweatbox was how one festival-goer described the rammed Radio 1/NME tent for Jack Penate's performance.
Early rain at Reading was being welcomed by Jack: "I genuinely do like the rain. As a child I used to run out and get wetter and wetter. My mum was a cool mum in that she embraced that."
He did admit that people may view the wetness differently if they're camping, rather than sleeping on a warm, toasty, tour bus.
"Very true, good point. If I was out there in a tent I'd probably be screaming."
After many times watching bands at Leeds, it was the first time at Reading for Victoria Hesketh, aka Little Boots.
She had a direct view of Faith No More's dressing room from her doorway, but was more interested in getting stuck into the flag or no flag debate.
"They block many people's view? Try being five foot nothing and trying to watch a gig! I don't go to festivals generally because I can't see anything, ever! So I think height is more of a problem than flags!"
Related Internet Links
The BBC is not responsible for the content of external sites.