Backstage at V Festival 2009
By Frances Cronin
Newsbeat entertainment reporter at V Festival, Chelmsford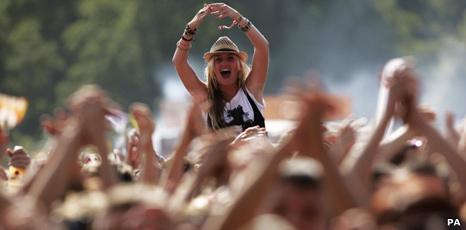 There were two major talking points at this weekend's V Festival in Chelmsford - Oasis pulling out of their headline slot, and Amy Winehouse making a surprise appearance on stage.
Liam Gallagher was diagnosed with viral laryngitis and advised by doctors not to perform in Essex.
They had gone down well when they played the Staffordshire site the night before.
A spokesman for the band said: "After years of being on the road this is the first performance to be lost to a band member's illness, so naturally we are all completely gutted."
Liam is resting and they hope he'll be fine to resume their tour in Paris next Friday.
Snow Patrol moved up the line up to headline and guitarist Nathan Connolly told Newsbeat they were excited to step into their shoes.
He said: "It's a shame Oasis aren't playing. People are going to miss them, they were fantastic last night but I'm excited for us.
"I guess there's pressure as I'm sure there'll be a lot of people upset about it but these things happen. It's rock 'n' roll you know."
Snow Patrol needn't have worried. The crowd gave them a really warm welcome and they got an ecstatic reaction. They sang Oasis covers in tribute as did Keane and MGMT.
Elsewhere on site, Lady Gaga needed a whole annex for her outfits.
She was the only artist with a cornered off area next to her dressing room to house her special costumes.
She turned up on the back of a buggy wearing her pants and a bra.
On Saturday, Amy Winehouse's made a surprise appearance at V in Chelmsford.
She went on stage with The Specials with Lily Allen watching in the wings.
Harry Potter star Rupert Grint told Newsbeat it was a highlight: "They were doing their usual set and she came on in Ghost Town and everyone went crazy. She was on good form."
Amy Winehouse also popped up on stage during Pete Doherty's set.
While Amy turned up unannounced, one person missing from the festival was Tulisa from N-Dubz.
She was too sick to perform leaving Dappy and Fazer to go on without her.
They said they were missing her: "She's got a tummy bug mixed with some mad throat thing. I don't want to know but she's alright. She's cool."
Their dressing room was very close to The Saturdays and they were enjoying the view.
They told Newsbeat they wouldn't mind collaborating with the girl band, not just in the musical sense.
One person on tenterhooks at the festival was Tinchy Stryder. His album Catch 22 was in race for the number one spot with Calvin Harris.
He told Newsbeat he'd bought Calvin's album and he was a fan but he desparately wanted to win the top spot: "I've never felt as nervous about this about music. When you're as close as this it's a mad feeling but hopefully I'll get another number one."
And he was planning on some celebrations: "I said I was gonna get a tattoo of Catch 22 on me but my tattoo guy has gone away for five weeks. I think I need a new guy."
In the end Tinchy missed out on number one. Calvin Harris on the other hand was just trying to stay awake backstage, drinking numerous energy drinks as he'd just flown in from Ibiza.
Calvin's dressing room was next to N-Dubz in a massive field full of all the artists.
They had a flip flop-making stall and chilled out drinks and food.
The dressing rooms are just plain cabins though, and Taylor Swift looked a bit too glamorous for hers.
She was shyly watching the other artists from her doorway while Lily Allen was chatting to the little children playing football.
For other celebrities with a bit of time there was fake tanning, a spa and hair and make-up artists on hand in a backstage lounge.
Hanging out there was Billie Piper, Kaya Scodelario from Skins and Harry Potter star Rupert Grint.
He was having a weekend off from filming but had had to buy a rubber horses head to wear as a disguise because he was getting so much attention, he hadn't been able to watch any bands.
Related Internet Links
The BBC is not responsible for the content of external sites.