I should be home-schooled, but I spent 10 months on Xbox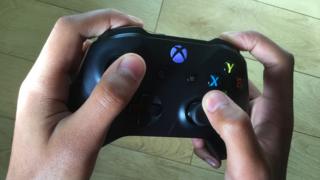 Mohammed spends his days playing computer games and looking after his granddad. He's only 14, but he hasn't been to school since December. The idea was to home school him - but things didn't quite work out like that, reports the BBC's Sue Mitchell.
He lives in a spotlessly clean Bradford semi-detached house, with pale wood flooring and deep, comfortable sofas. His mother works part time as a nursery nurse and his father is a taxi driver.
His mum admits she is totally out of her depth.
She says she agreed to try to educate Mohammed herself at the suggestion of his school, after he was excluded for bad behaviour. She wanted to keep him out of the only alternative, a pupil referral unit.
Mohammed wasn't opposed to the idea at first. "I thought it would be good because I wouldn't mix in with bad children," he says.
But it was harder than he expected. "My mum isn't a proper teacher, she just helps nursery kids. She's not a teacher for maths, science and English. I couldn't learn from her."
His dad, who works long hours, tells him that he is squandering his life opportunities. "He says: 'You've just ruined your chances' - that I could have had a good education and done my GCSEs and had a good life, but now I've wasted that," Mohammed says.
Many families say home schooling works well for them. But Mohammed is one of a growing number of children who find themselves falling out of the state education system, according to Richard Watts, the chair of the Local Government Association's Children and Young People's Board.
He says it's increasingly common to hear of schools "effectively putting a lot of pressure on parents to home educate their kids to get them off their rolls, particularly when exam time comes around".
Mohammed was only 13 when he was excluded from school for setting off fireworks in the corridor with other boys. "We went to a meeting, but they said there's no way of him coming back to the school," says his mum.
Mohammed had already been in trouble with the school authorities for fighting. "At school he thought they ganged up on him and called him names, trying to provoke him. Mohammed is really quiet, but if he hasn't done nothing he'll be upset by it," his mother says.
"When Mohammed first settled into secondary education he was good. I think it's that he finds it hard to settle down and so much depends on his friendship group."
By year nine it became clear that he would no longer have a place in mainstream education. It was either home education or a place at the same pupil referral unit that his older brother had attended. His family didn't want him getting into the same bad crowds as his brother.
So when the school suggested home education as the only alternative, Mohammed's mother readily agreed. "I never knew about the home schooling. I'm not that very educated myself and I'm not good with computers," she says.
The council had suggested a home education website. "We had a few links but because of my home life situation and working I hadn't enough hours. He'd be depressed every morning and I'd put him on the home education website but it wasn't working for him," says Mohammed's mum.
When she tried to get Mohammed out of bed to work, he refused.
Now she doesn't bother trying and he passes his time helping his granddad, who has a serious lung condition and needs round-the-clock care.
For a brief period he attended Raising Explorers, an after-school facility in Bradford that tutored Mohammed for a couple of hours a week.
"It was hard to start over and not mess about and think about what I'm doing and to concentrate," he says.
"When I first went to the after-school club I was new, my background was different and I made mistakes. I got put on report and was doing good, but when people disturb me I just get annoyed and retaliate back," he says. He was excluded for brawling with another boy.
Mohammed says he regrets the bad behaviour that lost him his place in a mainstream school.
"I used to go to school and do stupid things I didn't think it would come to this, I thought I'd just do it a bit and I'd have a chance. I was falling behind at school anyway, but now that I don't have school I won't have any education for my GCSEs. I do think about my future - it's not going to be good."
---
Find out more
Out of School, Out of Sight is broadcast at 11:00 on Wednesday 4 October on BBC Radio 4, or listen again on iPlayer
---
Abdur Rahman, who runs a project working with excluded youngsters, says that like Richard Watts he is coming across an increasing number of cases where parents are persuaded to home educate, yet don't have the capacity to do so.
"These schools don't ask about the ability of parents to teach - that isn't part of the discussion. Schools work like businesses and it isn't about looking out for the child, it's about saying to Mum and Dad that: 'This is what you have to do because your child isn't engaging and it will keep you out of trouble.' It's a strategy that the schools are increasingly using."
The inspection of home education is carried out by local government officials, but it is a voluntary register and although numbers are thought to be growing, there is no real idea of how many families are doing this. It's because so little is known about the extent and quality of home education, that Lord Soley recently introduced a private members bill aimed at bringing in a mandatory registration system.
He says that there are concerns about the quality of education some youngsters are receiving. There is also a cost for schools who take back pupils like Mohammed when home education hasn't worked.
"These pupils who fall behind have disruption to their own education outcomes, but then if they go back into schools they cause problems across the board as they try to catch up. It isn't helping them and it isn't good for the schools when it doesn't work," he says.
Bradford Council is currently discussing school options with Mohammed and his family. A spokesman says the details of individual cases cannot be discussed, but any parent has the right to choose to home educate their child at any stage of their formal education.
"Local authorities can give advice but have no role in deciding whether this should happen," the spokesman continues.
"When the local authority becomes aware of an electively home-educated child, we offer a home visit or to meet at another venue. The local authority has no statutory duty to monitor the quality of home education on a routine basis. However, we always work to keep contact with parents to ensure our information about the child is kept up to date.
"All parents of electively home-educated children can contact our home education team at any time and parents can apply to the local authority for a school place at any point. The local authority will always look to work with the district's schools to find a solution which works for the child and their parents."
Mohammed's mum is currently trying to get her son back into school.
"I want him to do his GCSEs and go further, to study and move on to what he wants to do - instead of just finishing with no qualifications in a cruel world. I want him to try hard and I've told him, but there's nothing else I can do. Mohammed says he'll do anything to go back to school and to study," she says.
Mohammed agrees. He says he desperately wants to be back in the classroom.
"When I used to go to school I used to be around other children and I was happy. Now I'm by myself and it's just boring alone, I don't like it."
Join the conversation - find us on Facebook, Instagram, Snapchat and Twitter.