'We're scared of our adopted son'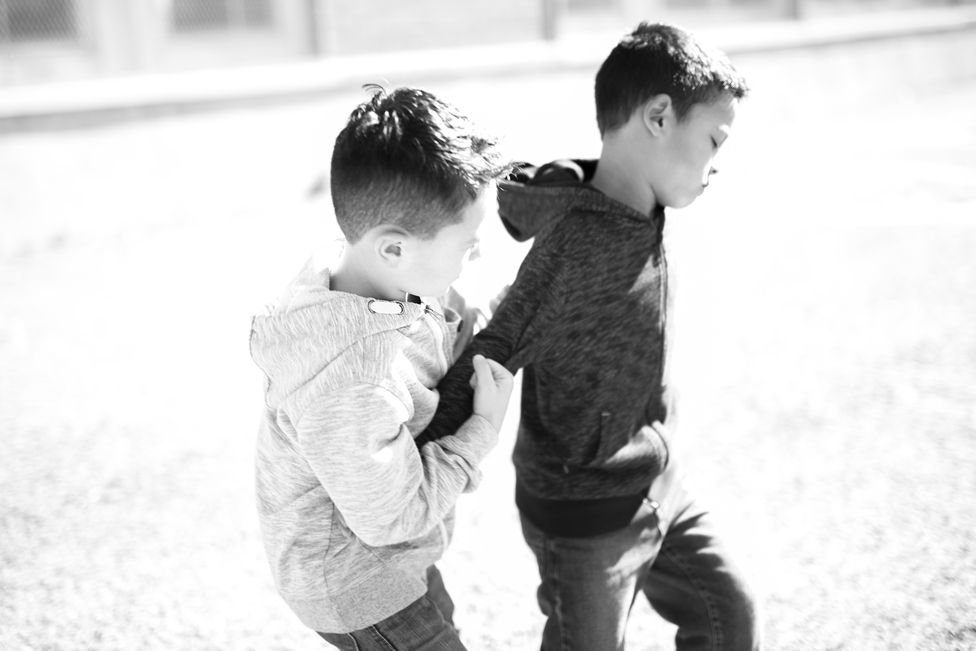 What do you do if your child frightens you? What if they seem unable to feel empathy and don't care about punishment? Children with what psychiatrists call "Callous Unemotional Traits" are more likely to go to prison and may, in extreme cases, become psychopaths in adulthood. Jane and Paul say parents in this difficult situation need more help.
Jane: When Max came to us, our whole world was turned upside down. We were really thrown in at the deep end, we didn't know whether we were coming or going. It was a huge adjustment for us.
Paul: Max is adopted and there's always a certain amount of uncertainty that comes with that. We realised very early on that there were some problems, but you hope that with the support of other people then you're going to be able to overcome those.
Jane: We knew adopting Max was a risk before he came to live with us, but what we were led to believe was: "Give him a secure home, family life, make him feel safe, give him all those things that he hasn't had and in time…"
It's always: "In time, in time, in time."
We had his history when we adopted him so we knew he'd had a lot of problems at school previously. On his first day when we put him into the primary school here they were struggling. There were lots of days when they couldn't cope with him.
He hit out at other children as well. There was one instance where he knocked the glasses off another pupil. It's not playground fights - he has never fought against a peer or an equal for any reason, it's always just that he's unhappy and he goes for someone to let out his unhappiness.
Jane: There was a time when he got a knife, it was a small knife from the kitchen, and he started putting it up against another child. Within a few months Max had been excluded.
We realised: "This is a child we never expected to have to manage."
The first time I went to CAMHS [Child and Adolescent Mental Health Services] they said: "He's still settling in."
I don't cry often but I was in tears because I thought: "We really, really need help, we are out of our depth with him."
Paul: It's always been difficult at home. Early on he was obviously much smaller so you could pick him up, but now he's a teenager, he's much larger, he's able to push his weight around, and to restrain him you have to actually use quite a lot of force.
He's got a younger sister, and we have to physically get between the two of them, to make sure that she doesn't get hurt by him. We can't leave them alone together. It's very much like having a toddler and a new-born baby all the time.
At night when they go to bed, I stay upstairs with them until Max's sister has gone to sleep because we can't trust him not to do something. We're monitoring him, supervising him, from him waking up until he goes to sleep.
Jane: I remember the first time we called the police. I'd noticed that Max had something in his pocket, so I said: "What's that?" He didn't want me to know. I said: "Max, you've got to hand me over whatever you've got in your pocket because I know it's something that you shouldn't have."
He went mad and pushed me. So I went upstairs and he knocked me over - I fell up the stairs. Then he sat on the sofa there, and Paul sat beside him and said: "Calm down, we've got to find out where you got this, what it is."
Then Max started screaming and shouting, and hitting Paul. We'd been told to call the police if he got out of hand but we were very reluctant to do it. The upshot was that it was something Max had stolen.
Paul: I think we are in physical danger - it's an abusive relationship, if he was an adult that's how you would talk about it.
Jane: The day before yesterday you could say Max assaulted me three times because I wouldn't agree with what he wanted to do. The first one was quite a bad push.
The second time he had me in a wrangle but I managed to pull away from him. The last one was when he wanted money to go out and I didn't have the change. I didn't want to give him a £20 note because it's very hard to get the money back from him. He was saying: "No, I want it! I want it!"
There were all these things on the table and he pushed them all off and then he went for me. He was really annoyed. He doesn't go to finish it off, if you know what I mean, but he definitely does go to hit you and hurt you.
Paul: He can be very intimidating. He'll be in your face, very aggressive, shouting and swearing at you, threatening, pointing.
Jane: We're under a child protection care plan. It should be an adult protection plan because Max is hitting me and his sister constantly. So we have the same care plan in place as if we had been abusing him, and that's really very hard for us to accept, but they say that's the only thing that they can use to monitor him.
Paul: He's got very little impulse control and he will store things up for quite a long time to try to get his own back. But he does have some very good characteristics as well.
Jane: He's got some very charming aspects to his personality. I think he can make people happy because he's quite good fun sometimes. I imagine that if he managed to tone down his behaviour and became a salesman, he would sell - he's really good at getting people to buy into him and what he wants.
He's a very interesting character. He was more affectionate when he was younger. I don't know if he feels like he needs us less, but there can be quite a period of time before you get any affectionate moments from him now. Sometimes he can say quite horrible things - but you know he doesn't mean them really.
The characteristics seen in people with Callous Unemotional Traits
They can't express their feelings openly and hide their feelings from others
They don't seem to know right from wrong
They seem very cold and uncaring
They try to hurt the feelings of other people and don't care who they hurt to get what they want
They don't apologise to people they have hurt
They don't show remorse when they have done something wrong
They don't care if they are in trouble
They don't easily admit to being wrong
They are not concerned about schoolwork and don't care about doing things well
They don't care about punctuality
Source: Professor Stephen Scott, Child and Adolescent psychiatrist, King's College London
Jane: At one point I had to go into hospital. The day before I went in Max was really acting up, he was throwing everything, pulling everything, hitting his sister. I was thinking: "God, at least I'm going to get relief, I almost prefer going to hospital tomorrow and being under sedation for the day - at least it's a way out."
Max was just so difficult to manage. He was seeing a psychologist at the time, but he couldn't seem to help because Max won't reflect on his actions. Nobody seemed to be able to help us, they'd just give us reward charts, but nobody could give us any practical advice on how to manage him.
Max had a therapist who said: "I can't do anything for him. You're wasting your time coming here because I can't get through to Max. All I can do is tell you to stick with it."
We eventually got Max into another primary school with a special unit. They struggled with him but they were very good and he managed to do two years without any exclusion.
Family Futures, an independent adoption support and adoption agency, said adopted children often need specialised help to address sometimes abusive and traumatic backgrounds.
"In our experience this type of presentation in adopted and looked after children is often as a result of in utero and early infancy trauma that shapes the child's developing brain and nervous system. This leads to highly defensive and hard wired neuro physiological and psychological responses.
"The majority of children placed for adoption today have come from abusive and traumatic backgrounds and this has shaped their experience of the world and their behaviour.
"Traditional therapeutic interventions are not effective with this population of children. Specialist, holistic approaches based on biopsychosocial formulations are better suited to encourage the child to feel safe in the world and to develop their capacity to openly engage in reciprocal relationships with others.
"This bringing together of information about the interaction of biological factors, psychological factors and social factors is the approach needed for these children.
"That Max's early life experience was not considered runs a real risk of our society's most vulnerable adopted and looked after children being pathologised and seen as inherently flawed, when in fact we need to acknowledge and address their developmental trauma early on if we cannot prevent it happening in the first instance.
"This means the government ensuring appropriate therapeutic interventions are available to such children and families.
"As in the case of Max, Family Futures often see children who other therapists have said that they cannot help, but with the right approach, significant changes can be made."
Paul: I do love him, you can't put this much effort in to a relationship and not care, but it's relentless pressure. There's never an incident-free day. Every so often we think we've got to the limit of what we can take.
The plan now is to try to get Max into a residential school. We think that by doing that it will get rid of the pressure of him being here all the time and hopefully that defuses the situation, but we haven't been able to find the right place for him at this point.
Jane: We can't continue as we are. We've had it up to here. If we don't get the boarding school option we're going to have to enforce Section 20, which means that we put Max back in care. In fact we came close to doing that a few weeks ago.
We have fully adopted him, he is our son, so what we are saying is that we cannot care for this child and we are putting him back into the care system. It would be a devastating thing for him, for his sister, for us. But it may be the only way we can survive this.
All names have been changed.
If you have been affected by the the issues raised here, the following charities can offer support and advice:
Mind - provide advice and support for anyone experiencing a mental health problem.