Cities and data: China's weapons in the battle for clean air
By BBC World Hacks
Meeting the people fixing the world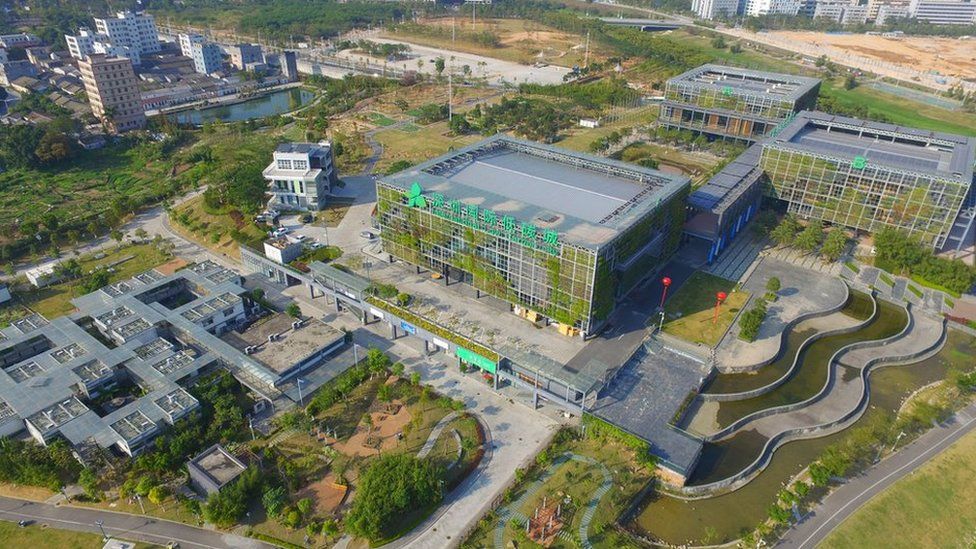 Birds fly in and out of the eight-storey "Green Office Building" in Shenzhen, China, because a third of its walls are completely open to the air. It's a clever natural design that enables the building to stay cool without air conditioners.
Across town, in a vast campus known as the "Low Carbon Park", mist is sprayed into the air to cool the streets down and remove dust.
Experiments like these are appearing across China's cities, as part of a devolution of power designed to clean up smoggy air and meet energy targets to tackle climate change.
Here's the big idea: cities use more energy per capita than the rest of China and are home to polluting industries, so could rethinking them help clean the air?
City-level officials are hugely important in the Chinese system, empowered to grow the economy and develop industries. But the government now wants them to lead the fight against air pollution.
Strict new air quality standards were rolled out in 2014. That came on top of an even more experimental programme imposing energy targets on cities and encouraging them to try new solutions to meet them.
Shenzhen was one of first batch of these "Low Carbon Cities". The Communist Party called it a "new concept of urban development".
Nearly a decade after the programme began, not all the cities have made progress - and some are still among the country's most polluted. But Shenzhen is attracting attention for having reduced its average air pollution by around 50%, according to city authorities.
The city borders Hong Kong and with 11 million residents, it's one of the country's boomtowns. It's also home to the world's third largest container port.
Standing amid hundreds of cranes, Wang Yihong of Shenzhen Shekou Port explains that emissions have been brought down through all sorts of small changes.
For example, when diesel-powered ships enter port, they now have to switch off their engines - and instead use clean electricity that the port sends through a cable. "When the vessel gets alongside, we will supply the electricity from the shore to help them navigate and shut down their diesel engines," says Wang Yihong.
There's a long list of other innovations - electric buses and taxis, a new carbon trading scheme for firms inside the city, and closing down polluting industries.
But the most effective weapon is perhaps stricter enforcement of air quality laws, with teams of inspectors visiting unsuspecting factories.
"We punish violators severely," says Lu Xuyang of Shenzhen's Environment Commission.
Data-Assisted Enforcement
Data is the other simple - but elegant - weapon that central government is using to make sure cities clean up their air.
Li Yan of Greenpeace East Asia says a culture of transparency is being created in traditionally opaque China.
"If a company is really discharging pollution these days, it will become the subject of inspection on an hourly basis," she explains.
Two types of hourly data are now collected and published - levels of emissions and a general air quality index.
Tonny Xie of the think-tank Clean Air Alliance of China says the air quality measure has helped improve public trust. "When we use the emissions data, it's very difficult to be sure of the quality of the data."
Meet the people fixing the world in the new World Service programme, World Hacks
Our special programme on pollution in China will be broadcast on World Hacks radio
And while cities are now expected to name, shame and punish polluters, they themselves are being held to account from above.
"In the past, city and township level officials were responsible for collecting data, but that gives a space for them to massage the results," says Professor Xue Lan, of Tsinghua University's School of Public Policy and Management.
Since 2015, pollution data has been collected by provincial and national government, which creates more pressure on city officials.
China is proud of the fact that its air quality readings have improved in recent years, if only slightly, with lingering smog in industrial areas.
And experts say Shenzhen's success may be as much about a change in its industrial base, rather than its experimental buildings. The city has seen a shift towards innovation, start-ups and technology firms. Surrounding areas have also improved air quality, which helps the city keep its own air clean.
Meanwhile in northern China, where heavy industry is concentrated, a winter of increased smog levels has driven public frustration at what Li Yan of Greenpeace calls an "airpocalypse".
"I think the local governors are feeling the heat from the public," she says.
For all the experimental buildings and smart urban initiatives there's clearly no single solution to clean China's air.
But with air quality data finally going in the right direction, environmentalists support the strict targets being set for city officials in places like Shenzhen.
"Science is so important," says Tonny Xie of the Clean Air Alliance of China. "If you have better planning, you will have better air."
Written by Vincent Ni. Additional Reporting by Ruhua Xianyu and Emma Wilson.
A week of coverage by BBC News looking at ways to cut air pollution.