Boxing Day Family Puzzler 2016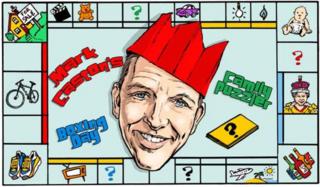 It is time once again for that most traditional of festive distractions, my Boxing Day Family Puzzler. Now in its ninth glorious year, this is the quiz where no-one is expected to know any of the answers.
The questions relate to events in the past 12 months and all the solutions are numbers. Contestants must simply use wisdom and judgement to get as close to the right figure as they can.
There are 20 questions and, to make it fair, each player/team should write their guesses down before revealing them.
One mark for the closest answer and three if, by some fluke or genius, you get it spot on. Time sensitive answers correct as of 23 December.
Good luck.
Answers at the bottom
1) Brexit may mean Brexit but the choice in the referendum this year seemed to have baffled some. How many people voted for both leave and remain on their ballot paper?
2) Sports Personality of the Year Andy Murray played 83 matches on the tour this season, finishing at number one in the world. How many matches did he LOSE during the entire season?
3) When she became Prime Minister, Theresa May's official spokeswoman said "she has always believed that there should be more women in prominent positions". Out of the 129 people she appointed to her government, how many are women?
4) The chance of a 16-30 year-old male being included in the England football squad is about one in 234,000. The Iceland team that humiliated England in the Euros this year had rather fewer potential players to choose from. For them it was one in how many?
5) Congestion and traffic calming conspired to slow Britain's drivers again this year. In mph, what is the average speed now said to be on urban roads?
6) At the Rio Olympics, showboating Haitian hurdler Jeffrey Julmis looked straight to the camera and tapped his wrist as if to say "watch my time". Unfortunately, he smashed into the first hurdle and was later disqualified, although he did get up to finish the 110m course. How many seconds behind the winner did he come?
7) British student Nick Jablonka created an animated commercial for his media A-level course work, published it on YouTube and cheekily called it "John Lewis Christmas Advert 2016". To the nearest thousand, how many people have viewed it?
8) How much did the Trump campaign spend on Make America Great Again baseball caps (in dollars)?
9) In 1970 the average house had 21 appliances - fridge, washing machine, oven, TV etc. What is the official number put at in 2016?
10) Diehard Leicester City fan Leigh Herbert placed a drunken £5 bet on his team to win the league before the start of the season. The odds were longer than Elvis Presley being found alive or Simon Cowell becoming prime minister. Bookies convinced him to cash out early on some of his bet, but how much did he pocket overall when the Foxes won the title?
11) There was a surge in applications for Irish passports from UK citizens immediately after the Brexit vote. How many people applied during the month of July this year?
12) How many more baking businesses are there in the UK since the Great British Bake Off first aired, according to official figures?
13) The 100th anniversary of the Battle of the Somme was marked with a carpet of crocheted red poppies at the RHS Chelsea Flower Show. The project began with 120 poppies made by two Australian women to honour their fathers who fought in World War Two. How many handmade poppies were laid out on the showground at Chelsea?
14) Season 6 of Game of Thrones aired this summer, the most expensive ever and no less deadly than previous series. How many named characters were killed off during the 10 episodes?
15) After Theresa May became prime minister, an underwear model and adult actress called Teresa May (without an h) was bombarded with tweets congratulating her. Her Twitter bio has been changed to read "I am a UK glamour model, not the prime minister". How many followers does she now have (to the nearest 50)?
16) The hot ticket in London's West End this year has been for the play Harry Potter and the Cursed Child. The top price advertised by agency Viagogo was for a single seat in the stalls in March next year for Part 2 of the production. How much would a dedicated "Potterhead" need to hand over?
17) David Bowie's death this year at the age of 69 shocked the world. He retains the record for "the largest simultaneous rock concert TV audience of all time" during his performance at Live Aid in 1985. How many around the world tuned in to watch?
18) According to Ministry of Defence figures this year, in a typical 1,000 members of the armed forces, how many are Muslims?
19) The world this year loved Disney's Jungle Book all over again, with it grossing close to a billion dollars internationally. How much did it cost to make (in dollars)?
20) Universal Studios in Japan have announced that this will be the last time that their famous 36m-high Christmas tree will appear. The artificial tree holds the world record for the number of lights. According to Guinness World Records, how many are there?
Answers: 1. People who voted to remain and leave: 9084 2. Number of matches Andy Murray lost: 8 3. Women appointed by Theresa May: 29 4. Iceland football squad: 1 in 1560 5. Average speed urban roads: 18.5mph 6. Haitian hurdler's time behind winner: 12.24 seconds 7. Number of people who viewed YouTube ad: 1,548,000 8. Dollars spent on Trump campaign baseball caps: $3.2m 9. Appliances: 50 10. Leicester City fan's winnings: £20,600 11. Passport applications: 13,959 12. Baking businesses: 965 13. Handmade poppies: 296,200 14. Game of Thrones characters: 46 15. Teresa May's Twitter followers: 11,750 16. Harry Potter and the Cursed Child ticket: £8,327.19 17. Live Aid audience: 1.9 billion 18. Muslims in the armed forces: 4 in 1000 19. Cost of the Jungle Book: $175m 20. Tree lights: 534,280
Join the conversation - find us on Facebook, Instagram, Snapchat and Twitter.