Lady Brittan: How police cast a dark shadow over Leon's final days
Lady (Diana) Brittan's husband, ex-Home Secretary Lord (Leon) Brittan, died in January 2015 with an allegation that he'd raped a 19-year-old female student in 1967 hanging over him.
Months after his death, the Metropolitan Police said that, had he been alive, he would not have been prosecuted, and apologised for its handling of the case. Here, for the first time, Lady Brittan describes the ordeal she endured.
I went to visit him when he was recovering from a really quite a serious operation related to the cancer he had.
He was lying in hospital. He said: "I've just been rung by the police."
I said: "What's it about?" He said: "I'm not terribly sure, but I've just said to them 'I'll ring my lawyers'."
And then the lawyers rang me and they said to me 'This is an old rape allegation, 47 years old' against Leon.
I first met Leon in 1973, although we didn't get married until 1980. I just could not believe that this was him - it was not the man that I knew.
He went to the lawyer's office when he came out of hospital. They discussed what they should do. I was not in the room at the time. And then about a couple of weeks later he was interviewed under caution in the office of the lawyer.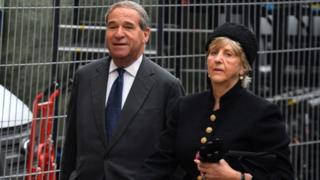 He was asked no supplementary questions at all - in fact, he was asked practically no questions. It was a very short interview and at the end of it he felt absolutely assured in his own mind that that would be the end of the matter.
A week or two later, I remember being rung up by the BBC on a Saturday night saying this is all going public tomorrow, what would I say?
He was not at all well. After all, he'd had one huge operation, a number of weeks in intensive care and then this second operation.
We were trying to enjoy a weekend up in Yorkshire but of course the gate was absolutely besieged by press. I was chased by a car - a very, very frightening thing - in the Yorkshire lanes. I had to try and find somewhere to go to where I couldn't be followed.
It was the weekend the Tour de France was in Yorkshire. It was not easy for Leon to go into the local town and deal with pointing fingers and all the rest of it, although people were extremely supportive of him on that particular occasion.
I was absolutely certain that when he said that this allegation was without foundation, that was true.

Background
In 2013, the Crown Prosecution Service advised the police that there was no case to answer regarding the rape allegation - but the case was not dropped until the following year
Investigating officers told the complainant in April 2015 the investigation would be dropped, a Met report into the handling of the case revealed, but Lord Brittan's legal team were not told at the same time; the force later apologised to his widow
Det Ch Insp Paul Settle, who headed the initial investigation into the claims, told MPs in October there were "no reasonable grounds" to suspect the alleged rape had been committed and suggested the case was a "baseless witch hunt"
In March, the Met said that Lord Brittan also had no case to answer under Operation Midland, a separate investigation into claims of a paedophile ring at Westminster - again, the peer had always denied the allegations

He got iller and iller and iller, and of course he died in the beginning of 2015 when some of the other things had started appearing in the press.
He would never say anything to me, but I cannot believe from what he said to my daughters that he was not affected by it all.
He was a strong man and he was a very moral man, and I think the last thing he wanted - because I think we both knew what was coming - was to upset me even further.
I learned - I think it must have been in July of the year after he'd died, from the Independent on Sunday - that no further action would be taken.
I then got my lawyers to write to the police saying: "Was this story true?" Because they hadn't bothered to inform me.
And I suppose about a month later I got a reply: "Um, we wouldn't have continued it, not enough evidence, um, sorry we've caused you distress."
I only found that out, really, because of the press stories. I'm never entirely sure when the case was dropped and certainly Leon was never told.
I felt let down. I think he should have known that he was innocent of the charges before he died, but that didn't happen.
It's become clear that Det Ch Insp Settle's original decision [that there was no case to answer] was correct. It's made me very saddened because I realise that the last year that Leon was alive would have been very different [if the case had been dropped].

Find out more
This is an edited version of Lady Brittan's interview with BBC Radio 4's The Briefing Room, to be broadcast on 24 November at 20:00 GMT. You can listen again on iPlayer following the broadcast

It would have been an easier time for me and him, looking after him, having him home away from hospital and in the final few months.
[I was] very much aware of the bravery of Det Ch Insp Settle over appearing in front of the Select Committee for Home Affairs. Somebody gave me his address and I wrote him a very short note, two paragraphs only, saying: "Thank you for what you've done and what you said gave me comfort."
It seemed to me during the course of this particular inquiry that Leon was worse treated than had he been an ordinary citizen and that, I felt, was wrong.
The presumption of innocence had been set aside.
I think the jury is out as to whether lessons will be learned from the whole of this affair and Operation Midland. I suppose the question that has to be asked of the [Met Police's] Commissioner is, what will change as a result of both these reports?
I met the Commissioner in February. At that time he gave me an apology for the delay in telling me about the outcome of the earlier case and I presented some questions that I wanted answering both on that and then on Operation Midland.
I just wish that none of it had happened.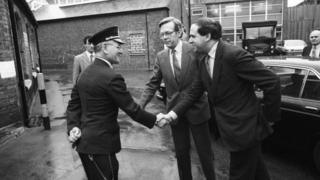 I was a magistrate in the City of London for many years. I understand the role of the police, the rule of law.
I suppose it has dented my confidence only in the officers who were involved in these operations. I don't think I could possibly extend that to the entire police force everywhere. But I do hope that lessons are learned and that the reputation of the police which I think has been damaged is restored in some way.
What I'd really like is that what happened to me and Leon, to Lord Bramall, to Harvey Proctor and to others never happens to anyone else.
My fervent hope is that the Met will learn lessons - and other police forces, too - from what has happened and not allow it to happen again in this way.
I've been absolutely steadfast all the way through saying that I knew [the allegations] weren't true.
When you're in the eye of a storm quite as turbulent as this storm, it's very hard to keep your poise - and your belief. And what I was much assisted by during all of this was my two daughters. They would always say to me, at the end of every conversation: "Mum, it's not true, just remember that, it's not true."
And it wasn't true.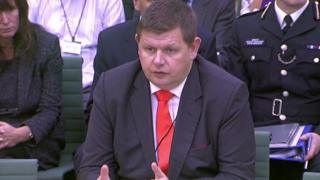 Det Ch Insp Paul Settle lead an earlier investigation into the claim of rape against Lord Brittan.
The first thing I did was examine the allegation that had been given to us.
On [the complainants'] account alone I didn't believe the offence of rape had been made out, in that what she said had happened didn't amount to a rape.
I sought the opinion of the senior Crown prosecutor for London that deals with sexual offenders, and I sent a complete anonymised information pack to her with all the relevant details in. And she came back with the same opinion - that she wasn't satisfied that the offence of rape had been committed.
[As far as] I was concerned the matter was concluded with no further action.
[The following year] I was informed that it was being looked at by the Commander.
They didn't they didn't tell me why at the time, but it then transpired that a letter had been sent in by the Labour MP Tom Watson.
The simple fact of the matter was that the offence wasn't made out and that's a very crucial part within law - that if the offence is not made out, it's stopped there and then.
There was clearly going to be an awful lot of interest and an awful lot of publicity.
I was told to have nothing to do with the enquiry whatsoever and I was basically going into work and staring at the wall for 18 hours. I repeatedly asked to be given something to do and was told there was nothing for me to do.
I carried on going into work for a couple of weeks until, quite frankly, I couldn't take any more of it and I took two weeks' holiday. Unfortunately, the two weeks' holiday didn't do anything to help and then after that I went sick.
I was asked to give evidence before the [Home Affairs Select Committee] and initially the Metropolitan Police said it was inappropriate for me to give evidence because of my junior status. When that didn't fly, they then phoned me up and asked me if they could use my medical condition as an excuse for me not to give evidence, saying I was unfit to give evidence, which I declined and said no, I'm perfectly fit, thank you.
There's a certain amount of personal comfort that comes from being vindicated, but at the same time [I feel] more sorrow because it didn't have to be like this.
Metropolitan Police statement
"The Commissioner, Sir Bernard Hogan-Howe, has personally and unreservedly apologised to Lady Brittan, and offered a further personal meeting should she wish.
"Since the publication of sections of the review by Sir Richard Henriques, Assistant Commissioner Helen King has written to Det Ch Insp Paul Settle offering the opportunity to meet in person.
"The MPS continues to provide its fullest possible support to Det Ch Insp Settle, and we continue to want the best for his career within the organisation."
Join the conversation - find us on Facebook, Instagram, Snapchat and Twitter.