Is a child bride really married every seven seconds?
By Joe Kent
BBC More or Less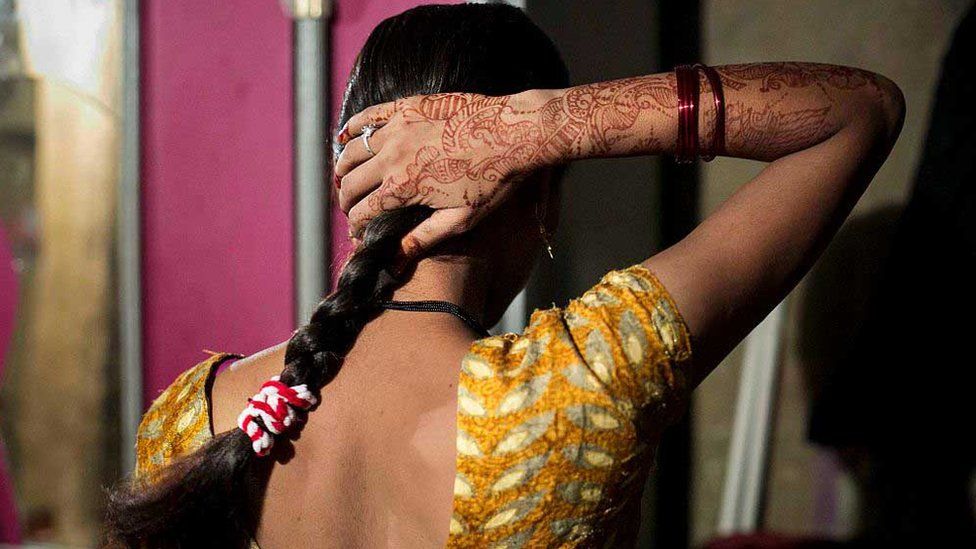 One girl under the age of 15 is married every seven seconds, according to Save The Children. Can this shocking statistic really be true?
If it is correct, that would mean that about 4.5 million girls marry each year.
Every child marriage is bad. So is this high figure accurate?
Gathering data on child marriage isn't easy, not least because in many parts of the world it's illegal.
Save the Children's report used numbers from the United Nations Children's Fund (Unicef). It, in turn, used international household surveys, which it helps to fund in more than 100 low and middle-income countries.
Unicef focuses on the responses from women aged between 20 and 24. They include those legally married as well as those in informal marriages or living with partners.
On this measure, the Central African Republic and Chad have the highest rates of child marriage - in each country about a third of women aged 20-24 said they had been married before they reached 15.
Taking these surveys as its starting point, Unicef estimates that globally, in 2015, 7.5% of women aged 20-24 had married before the age of 15.
Save The Children used that percentage to work out the total number of women affected across the world, and then divided it into years and then seconds - reaching their figure of one married every seven seconds.
Now, there are lots of problems with this approach - for example, the risk that respondents involved in the surveys will not give honest answers.
"As governments, civil society and others spread the message that child marriage is unacceptable - and in many cases, against the law - the less likely people are to admit to it," says Suzanne Petroni, a senior director at the International Center for Research on Women.
Then there are places for which no survey data is available; researchers have had to make the best estimates they can for some countries. And then there is the problem that the global population is notoriously difficult to estimate.
But despite all that, Save the Children's estimate is based on the best data available.
There is, however, some good news.
"Overall we can say that the prevalence of child marriage is declining," says Claudia Cappa, a data specialist at Unicef. "It's not been as fast as we would have liked, but overall there has been a decline."
That decline has been from about 12% in 1985 to around 7.5% today (remember this is the proportion of women aged between 20-24 who say they were married before the age of 15). There are big regional differences. There have been declines in Asia and the Middle East, but child marriage rates are still above the global average there.
Within continents, and even within countries, there are variations.
"Since 1990, the prevalence of child marriage in Africa has been halved among the richest - but unfortunately, among the poorest the level has remained unchanged," says Cappa. "So poverty is definitely an important variable, together with cultural practices."
Ending child marriage by 2030 is one of the United Nation's sustainable development targets. And if that is to be achieved, dramatic change is needed in one country more than any other - India.
The latest data suggests that India accounts for almost half of all young girls who marry before their 15th birthday, globally. But that "latest" data is 10 years old, meaning some of the girls were married in the 1990s.
"Early indications from district and state-level data in India suggest that we can expect to see significant reductions in child marriage rates when the National Family Health Surveys are published in next year," Petroni says.
And if that happens, it will mean a major reduction in the global figure.