The optician visiting the forgotten patients at home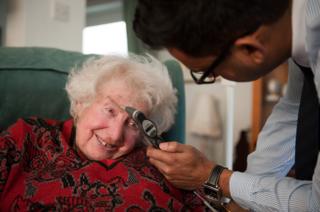 More than a million people in England are eligible for a home eye test, yet fewer than half receive them. One optician has made it his mission to bring the service to the housebound in Huddersfield.
Joyce Armstrong was diagnosed with Parkinson's soon after celebrating her golden wedding anniversary.
She and her husband Allan led an active life, spending three months a year touring the UK by caravan. But over 10 years the condition has restricted Joyce's mobility and she is now largely confined to their home.
Her glasses are essential as she spends much of each day reading but the couple hadn't realised Joyce was eligible for a home eye test.
"Our usual optician said he didn't do home visits so we thought that was it," Allan says.
"By chance I saw a poster for a local NHS mobile optician and thought it could be just the thing for Joyce."
The poster was put up by Harj Sunda, who set up as a mobile optician after leaving Boots 10 years ago. He says it has been a struggle to let patients know about the service.
"Many of my home clients haven't seen an opticians for five years by the time they contact me," he says.
"We do our best building links with care teams, flat wardens and so on, but we could help more people if it was promoted in GP surgeries. Too many don't know about it.
"I once arrived at a client's house to find the police waiting. The lady's daughter had called them because she hadn't heard of the NHS service and was worried I was a con artist!"
Harj Sunda now visits the Armstrongs once a year for Joyce's annual check-up.
He arrives at their door laden with two large briefcases and a box under his arm. Each bit of equipment is a smaller handheld version of the machines used in stores.
"I have two pairs of glasses," Joyce says, gesturing to the side table.
"A pair of bifocals for watching the TV and reading glasses for using my Kindle. Reading is my mainstay now."
"I reckon she spends about 60% of her time reading," her husband adds.
Mr Sunda's housebound clients have a range of physical and mental health conditions and he admits some can be tricky to work with.
"I have had patients spit at me or throw things, but I think people should get care even if they are difficult to treat.
"Some dementia patients are aggressive because they can't see properly and their behaviour can be completely different once they get a new pair of glasses."
My town, my NHS
As winter approaches the NHS faces its busiest time. This week the BBC is focusing on one town - Huddersfield - to look into people's experiences when getting healthcare.
If you live in Huddersfield, how was your last experience of the NHS? Use the form below to get in touch:
The appointment gets underway in the living room as Mr Sunda draws the curtains. He uses a handheld ophthalmoscope to check the inside of Joyce's eyes and a slit lamp to check the outside.
"This is a good piece of kit because it's accurate in any position, unlike the static machine," he says waving a tonometer, which measures the pressure in the eye.
Mr Sunda gets out his tablet, which has an eye chart that scales up and down depending on the distance set. It can be switched from lines of letter to numbers or even pictures.
"Numbers are often easier for people who have had a stroke, as there are fewer to recall and say," he says.
"And the animal pictures are good for those with learning disabilities."
A number of groups, including the over-60s, are eligible for free eye tests on the NHS. Those who can't visit an optician unaccompanied due to a physical or mental disability qualify for a free test at home.
The NHS pay opticians £21.31 for a standard eye test in store. They pay an extra £37.56 for home visits for eligible patients. However, not all opticians offer home visits, despite the financial incentive.
"It doesn't work out much more when you take petrol and the extra time into account," Mr Sunda says.
"I find it very satisfying but not many opticians are willing to do it. You have to invest in mobile equipment and be prepared to travel around during the day. I do get quite a bad back."
The Association of Optometrists says there has been an increase in the number of home eye tests over the last decade, driven by an ageing population and better advertising of services.
However, a spokesman adds: "Because information on domiciliary care is more difficult to communicate to those living alone, with those who are housebound being an especially hard-to-reach group, home sight tests are much lower in numbers within these members of the community."
Frames chosen, Mr Sunda packs away his equipment and carries it out to his small branded van. His wife Sushma will return to deliver the glasses and check the fit.
"Our patients can be quite vulnerable and so they appreciate they see the same people," he says.
Join the conversation - find us on Facebook, Instagram, Snapchat and Twitter.
All photographs by Phil Coomes