Paedophile hunters: Should police be working with vigilantes?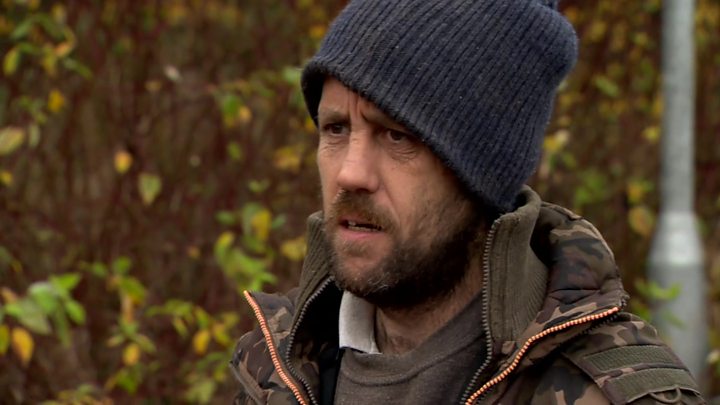 Paedophile hunters who pose as children to snare potential child abusers are increasingly working with law enforcers. They claim to have helped secure more than 90 convictions so far. But should we be relying on vigilantes to do the police's work?
In the car park of a DIY superstore situated on the edge of the London commuter belt, a very 21st Century law enforcement scenario is waiting to be played out.
A "sting" has been prepared over the course of several weeks. The target - a businessman with three children.
But instead of squad cars, two-way radio traffic and uniformed officers there is a man who has never received any police training. He is armed with a mobile phone and, he believes, the moral authority of the people.
He is Shane, one of a small but increasingly prominent band of self-styled "paedophile hunters". For legal reasons, his surname cannot be revealed.
Senior police are highly critical of such groups, claiming they pose a danger to the public, put active police investigations at risk, and put themselves and the public at risk during confrontations, as well as real children who may actually be being abused.
Yet rank-and-file officers are increasingly working with them and courts are accepting the evidence they put forward.
Vera Baird, a prominent policing official, believes law enforcers can't shut themselves away from the work of paedophile trappers and is calling for closer links between the two sides.
"The police do need to acknowledge that these groups are likely to continue to do what they are doing and that the public are not opposed to that," she says.
Shane's mode of operation is broadly typical of paedophile vigilantes. He poses online as an anonymous young female and waits for men to start chatting to him.
To avoid accusations of entrapment, the so-called decoy is careful what information "she" volunteers, and reveals, about her fictional self. The decoy doesn't steer the conversation but waits for it to turn to sexual matters. When the groomer asks how old she is, the decoy typically responds with an age between 12 and 15.
'Their world falls apart'
Unknown to the groomer, every piece of chat is being captured by screenshot for posting publicly online later, along with any pictures the groomers have sent of themselves.
The entire operation culminates in a sting, at which groomer and decoy arrange to meet for sex. As the paedophile hunter pounces on his prey, he videos the entire scene.
Viewing such footage, it's difficult to avoid the sense Shane enjoys the moment of confrontation.
"When I go and see these people, they are stood there waiting for a child to arrive… fantasising, visualising… whatever they think is going to happen. And when they see an ugly angry old man like me walk round the corner and walk up to them and say 'excuse me can you tell me what you are doing here?', their world falls apart," says Shane.
"At first they're in denial but slowly they start sinking. They realise they're not getting away with this."
Finally, the mass of digital evidence is handed over to police who must then decide whether to pursue a prosecution.
Shane's venom for paedophiles is, he says, the result of having himself been sexually abused as a child. The perpetrators were never punished, he says, while he has been tormented by memories of his abuse for 25 years. He calls it his life sentence.
Recent high profile scalps claimed by vigilante groups include Mark McKenna, 38, who sent explicit photos, a video and many messages to someone he believed was an 11-year-old girl, Paul Platten, 38, who sent naked pictures of himself to a vigilante posing as a 13-year-old girl, and Andrew Sealey, 39, who was caught in a sting operation in a theme park after telling one fake teenager: "It's OK you being a virgin and 15, I don't mind." All were convicted in court with evidence from the vigilantes forming part of the prosecution.
But paedophile hunters such as Shane also rely on the court of public opinion to mete out its own justice, posting footage of their stings and victims on social media for the world to view. The aim is to highlight their work and draw on the public's contempt and disgust for child abuse.
Grassroots movement
These stings can make for deeply uncomfortable viewing, as targets are shown being confronted with the evidence of their grooming and, frequently, running a gamut of emotions from blind panic to nervous meltdown. Their accusers, of course, claim this is nothing compared with the sort of pain and enduring trauma they have shown themselves capable of inflicting on minors.
Anti-paedophile vigilantism is not new. But recently such groups have become far more effective - ensuring they work within the law, and understanding how to gather evidence that will stand up in court.
As well as the convictions they can claim, the groups also claim to have been responsible for at least 159 arrests.
Their success raises awkward questions for the police. Senior officers are openly damning of the risks vigilante groups pose to evidence gathering, as well as child safety and that of the public at large.
"We are arresting hundreds of people every month," says Simon Bailey, a spokesman for the National Police Chiefs Council (NPCC), formerly Acpo.
"Their claim that nothing is being done is so far wide of the mark. We are the most active in the world at the moment. My great concern is that… little if any consideration is being given to the broader safeguarding risks. Whilst we may hear about the successful stings they have run, what about every occasion they are expecting to meet somebody, that person recognises they are being set up and there is a risk to destruction of evidence that might convict them in due course."
More from the website
Internet vigilante group Letzgo Hunting has been criticised for some of its efforts to expose paedophiles. What is this group and who's behind it?
Who are vigilante group Letzgo Hunting? (September 2013)
As if to prove the point about bungled operations, the DIY store car park sting Shane had set up ended without him confronting his target, who sped off in his car on realising he had been set up.
Bailey even says vigilantes pose a risk to real children as their tactics can alert abusers to being under investigation. This could drive them underground, he says, and poses a risk about "how they may handle the situation with past or present victims of theirs".
Others are worried about the potential effect on the innocent families of those who have been set up.
"Often those individuals [who are caught] will have families, will have children, and the consequences to [them] as kind of unwilling victims… can be enormous," says Donald Findlater, of the Lucy Faithfull Foundation.
He says he understands why these groups want to confront suspected paedophiles, but says his charity has known of individuals who have killed themselves "following arrest, some kind of outing or a visit to their home".
More information
If you have been affected by any of the issues in this story, you can find more information and support here or contact organisations listed here.
But Baird, an elected Police and Crime Commissioner and former Solicitor General for England and Wales, says law enforcers can't shut themselves away from this grassroots movement.
She says anti-paedophile groups have gained public support because of the belief that police resources are stretched and that paedophiles are evading the law.
She believes in reaching out to the vigilantes. The Northumbria force that she oversees, she says, has tried to recruit paedophile hunters as "special constables… and therefore do this as fully-warranted officers, or as police volunteers."
Although this has failed so far, she backs the idea of formal training.
"If you have evidence about something like this, you should tell the police, and let them deal with it. That would be everybody's position. However, many of these groups have already been told that and they intend nonetheless to carry on because they feel they can make a contribution."
Join the conversation - find us on Facebook, Instagram, Snapchat and Twitter