Is Pravda coming to Scotland?
By Stephen Ennis
BBC Monitoring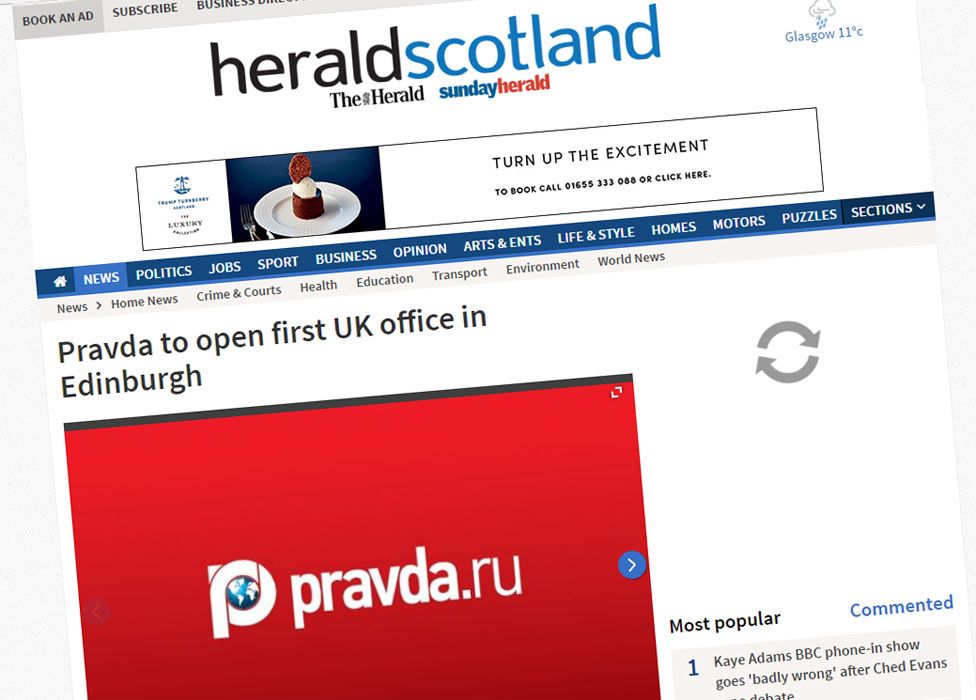 Last week the Scottish newspaper, the Herald, reported that a media organisation called Pravda International was to open an office in Edinburgh early next year. The report was picked up by other newspapers and widely interpreted as a sign of Russia's eagerness to help bring about Scottish independence. But was it all a hoax?
When the Herald got the scoop, it quoted a man referred to as Pravda International's UK editor, Oliver Haste. He said that the new outlet would be "independent" and was not part of a modern "Cold War propaganda campaign".
Haste, who was described as having Russian roots, also told the newspaper that the project was being bankrolled by private Russian backers to the tune of £8.3m.
The report appeared to have particular significance following the opening of a branch of the Russian state media outfit Sputnik in Edinburgh earlier this year and the looming prospect of a second independence referendum in Scotland - a cause that the Kremlin has given every indication of supporting.
Sputnik's appearance in Scotland is part of a general expansion of Russia's international media operation in recent years. In 2014, the Kremlin's main foreign-language broadcaster, RT (also known as Russia Today) launched a dedicated news service in the UK. The idea that Pravda - once the top newspaper in the Soviet Union - might be opening an office in Scotland was superficially plausible.
But the Soviet Pravda no longer exists.
The Herald linked Pravda International to Pravda.ru, a pro-Kremlin website that can claim to be a successor of the old Pravda.
When contacted by the BBC, though, Pravda.ru denied that it had anything to do with the plans for an Edinburgh Pravda. So we tried another Pravda - the newspaper of the Russian Communist Party. This one also denied any plans to open an office in Scotland.
It is also striking that whereas the story of the Edinburgh Pravda was covered by several high-profile media outlets in Scotland and England, including The Times and The Guardian, it was almost completely overlooked in Russia - and by the Edinburgh office of Sputnik.
So what is Pravda International and who is behind it?
A company called Pravda International published a version of the newspaper between 1992 and 1996 but now appears to be defunct.
A report in the Edinburgh Evening News refers to a Pravda International website, which it says showed several Western celebrities - including Harrison Ford, Johnny Depp and Leonardo di Caprio - "holding the Pravda print publication".
The website in question does indeed feature a gallery of newspaper-reading Hollywood celebs, but the title they are holding is not the real Pravda, but an obscure newspaper from the town of Kopeysk in the Urals. The photos were taken several years ago by a Hollywood producer and his Russian wife, who hailed from Kopeysk, and in 2013 were briefly the subject of a viral internet craze.
This is not the only oddity about Pravdainternational.com.
As well as featuring a mirror of Pravda.ru's English-language site, it is accompanied by an obviously bogus Wikipedia page set up two days after the site was registered in 2014.
This says that Pravda International has a print circulation of over 577,000, sourcing this fictitious claim (there is no such newspaper) to Pravdainternational.com.
Then there is the fact that Pravdainternational.com plays host to travel and restaurant reviews by a young British right-wing writer and activist called Henry Hopwood-Phillips.
Hopwood-Phillips's Twitter account, called Byzantine Ambassador, suggests that he writes for Pravda.ru, and in reply to a written enquiry from the BBC he seemed to imply he had some connection to Pravda International.
"Yes, there'll be a new Edinburgh gig coming shortly," he wrote in an email, without giving any more details.
At around the time of this email, some of the more obviously bogus features of the Pravdainternational.com site disappeared.
Previously, it had featured a photo mock-up with a picture of President Putin taken from the front cover of Time magazine, but under the banner of the old Soviet Pravda. There was also a picture of an unrelated Slovak newspaper called Pravda.
The newspaper-reading celebrities on Pravdainternational.com also appear in a Gumtree advert apparently seeking journalists for Pravda International, which is described as a "major international newspaper".
The advert was posted about a week before the Pravda International article appeared in The Herald.
Unlike Hopwood-Phillips, the Herald's original contact, Oliver Haste, seems to be an elusive figure on social media.
A Twitter account was set up in his name and with the title of editor of Pravda International on 12 October, though as of 18 October, he had posted no tweets and was following just one other user, TV academic Prof Alice Roberts.
A reporter at The Herald told the BBC that the original information about Pravda International came from a press pack. The people who sent it refused a telephone interview, but agreed to answer questions by email. It was they who said Pravda International was connected to Pravda.ru, the reporter said.
It is not clear whether Pravda International is a hoax or not, or whether it was even a deliberate attempt to dupe The Herald, which has taken a tough line on the Russian media presence in Scotland - it published an editorial in August this year under the headline, "Politicians should be wary of Sputnik".
What does seem certain, though, is that this is not another instance of an established Russian media organisation reaching out to audiences in the UK, as earlier reports suggested.
It is perhaps telling that neither Haste nor anyone else connected to Pravda International appear to have taken steps to correct this misapprehension.
In Russian, "Pravda" means "The Truth". It may take a little time for the truth to emerge in this case.
Update 19/10/16: The Oliver Haste Twitter account has now been deleted.
Further update: The BBC received an email from someone purporting to be from PravdaInternational.com and offering to meet - but when we replied the email bounced because the address had "permanent fatal errors".