In pictures: The family and the magpie who rescued each other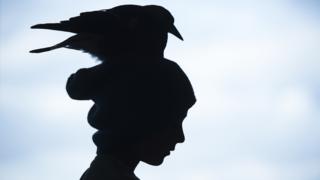 Whichever way you tell the story, it begins with a fall.
One day a gust of wind blew a magpie chick out of her nest. She lay helpless on the ground until a little boy called Noah spotted her.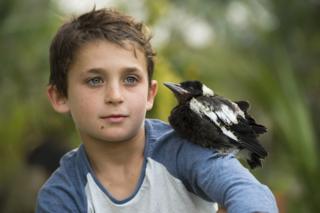 He scooped her up and handed the fragile bundle to his mother, Sam. She put the bird gently on her lap and rolled her wheelchair to the car.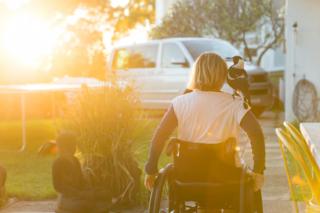 At home, they wrapped the baby bird up to keep her warm. She had a wobbly head and one wing was hanging down. She was just two weeks old.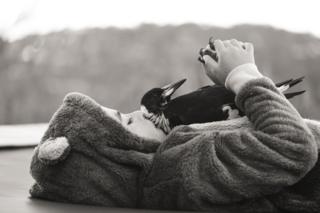 The vet advised feeding her every two hours or she might not survive. The Bloom family were determined to save this little bird.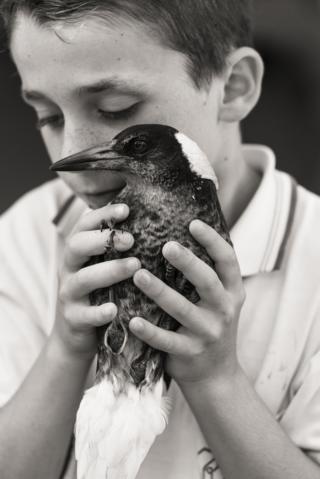 With her black and white plumage and enormous feet, she reminded them of a penguin - so that's what they called her.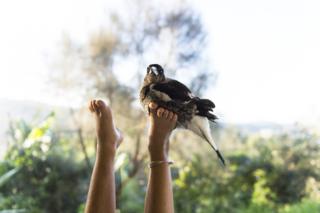 Penguin's adoptive family knew about survival. A few months earlier, Sam had fallen from a roof and broken her back (see our earlier story for more details). She could no longer walk and struggled to adjust. She missed running and surfing and she was angry and depressed.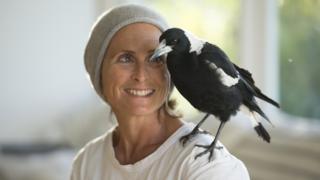 Penguin loved to sit on Sam's lap and shoulder. Sam liked the company and poured her heart out.
"I would talk to her, I'd whinge, tell her how I was," she says. "Penguin knows it all."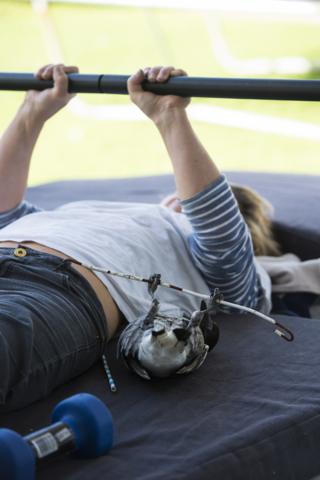 Penguin hopped around the house and slept on the boys' beds. They threw small sticks for her to catch - sometimes she was more like a dog than a bird.
The father, Cameron, began to take pictures of the quirky magpie.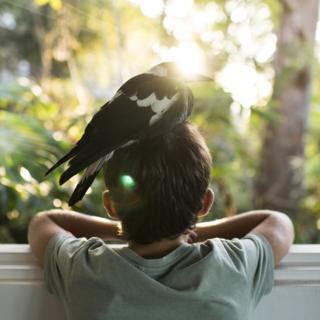 But Penguin wasn't toilet trained and as she grew stronger they encouraged her to go outside. Eventually she flew off and did not return.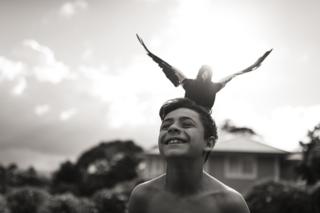 The Bloom family miss Penguin, but they no longer needed each other. It was time for her to spread her wings.
Sam has a new freedom too - she's taken up kayaking.
Cameron thinks the magpie rescued them as much as they rescued her.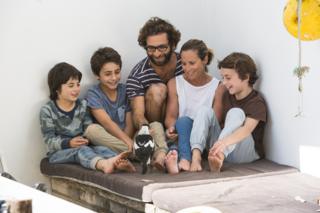 All photographs by Cameron Bloom from his Instagram page Penguin the magpie
Listen to Sam and Cameron Bloom speaking to Outlook on the BBC World Service
Join the conversation - find us on Facebook, Instagram, Snapchat and Twitter.