Riba Stirling Prize 2016: Rural concrete house wins people's vote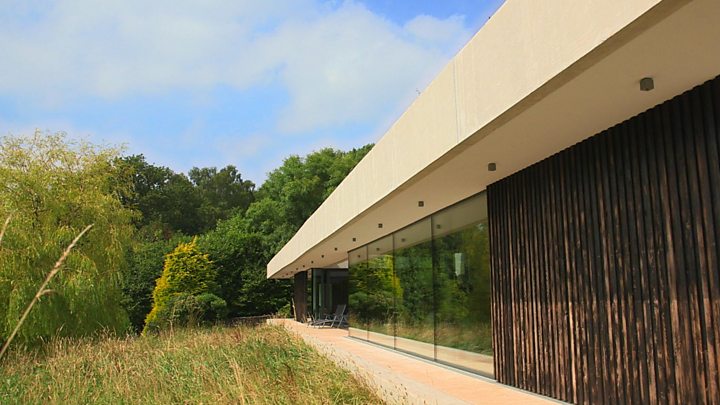 A sleek, modernist concrete house built in a rural beauty spot has won a BBC News vote to find readers' favourite new British building.
Outhouse, designed by architects Loyn & Co, was built in the Forest of Dean, Gloucestershire, as a home for two artists.
The low-lying, eco-friendly building, embedded in the side of a hill, contains two studios and a gallery-like space as well as living accommodation.
It is one of six buildings also shortlisted for this year's Riba Stirling Prize, the winner of which will be announced later on Thursday.
The BBC has had access to each of the buildings in the running for the prestigious architecture prize and invited readers to vote for their favourite.
More than 36,000 votes were received and Outhouse, which was the only private house on the shortlist, was the runaway winner.
The other buildings on the shortlist are:
The BBC readers' vote has no bearing on the Riba Stirling Prize itself, which is decided by a panel of judges. The winner will be announced shortly after 20:00 this evening.
Outhouse has divided architecture critics. Some have admired its "glamorous retro-moderne" look and sustainability; others have said it may be striking but is architecturally unremarkable.
The house replaced an existing two-storey cottage and although the new building has a much larger footprint, partly because of the owners' requirement for work space, it has been built with environmental considerations in mind.
"What we wanted was a very energy efficient house, which you can achieve much more easily if you build from scratch," said owner Michael Dunwell.
Cutting into the side of the hill and building underground has also greatly reduced the home's visual impact and grass planted on the roof helps it blend into the landscape.
"Probably the biggest challenge of this project was how to fit a substantial piece of architecture into such a beautiful landscape," said architect Chris Loyn.
"It made sense to bring the top meadow over and have it as a planted roof. It's not an architectural green roof - this is a field on top of a house."
---
This vote requires Javascript.
If you are viewing this page on the BBC News app, tap here to see the full result.
---