Talking politics at a speed-dating night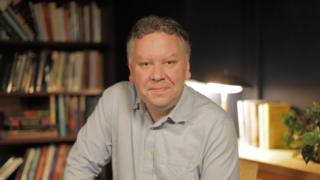 I had assumed speed dating was a fad that had died out years ago.
But when I discovered it was alive and well in Washington DC - and that the events were divided up into neat demographic categories, just like voters - I decided to test the theory that politics and dating don't mix.
I would talk about nothing but the election and my dates would be dazzled by my political insights.
Either that, or their eyes would glaze over and I would leave the event as single as when I came in.
Donald Trump's attitude to women was already a campaign issue when I took my seat in a draughty hotel annex, in downtown Washington DC, for my first foray into the speed-dating world.
Polls were showing an extraordinary level of support for Hillary Clinton among unmarried women. One, in September, suggested 73% would vote for the Democratic candidate, compared with 36% of married women. And it quickly became clear that, in the staunchly Democratic DC area, at an event attended almost exclusively by African-American and Latino women, I was not going to meet many Donald Trump supporters.
Wendy - my second "date" of the evening - was already looking bored by my election chat when I casually threw the T-word into the conversation.
"Do you like Donald Trump? You look like somebody who would like Donald Trump."
Would it be a problem if I liked Donald Trump?
"I'm just joking, because you never know who likes Donald Trump and who doesn't."
So she's not a Trump fan then.
"I turn the TV off when he comes on because I think he's a joke."
Several women told me they had lost friends over the election and that it had caused family rows.
One said her brother, a staunch conservative, told her he was voting for Trump, and that she had replied: "How could you vote for someone who hates me because I'm a woman?"
But the overwhelming feeling I got from the women was fatigue, and not just with me talking endlessly about politics - although I am prepared to accept that may have been a factor.
Words like "bizarre", "surreal" and "preposterous" kept coming up. The sense that this election could not really be happening.
I detected little enthusiasm for Hillary Clinton, though. Only one of the women I met that night said she was voting for Mrs Clinton because she believed in her as a candidate, rather than because she was not Donald Trump.
But this was a few days before the emergence of the 2005 tape of Trump boasting about groping women, and the accusations of sexual harassment and assault which have dominated the headlines for the past week.
The polls showed a further collapse in support for Trump among women voters, so when my next speed-dating evening came round I wondered what effect his name would have.
But instead of fury, there was, if anything, an even greater sense of disenchantment with the whole process.
"I am on the verge of saying, 'To hell with it, why even vote?'" said Anita, my first date of the evening.
Trump's "degrading" comments about women were part of it but neither of the main party candidates were "viable", in her opinion.
Joanne, a lawyer, told me she wanted to vote Republican but felt unable to do so because Trump did not stand for traditional Republican values and was not "qualified" to be president.
And there were more tales of family strife. "I know someone who is not talking to his sister because she is voting for Trump," Kirsty told me. There was also concern about how this "embarrassing" election was being viewed abroad.
And still very little enthusiasm for Hillary Clinton.
If my highly unscientific opinion survey points to any conclusion, it is that there is more sorrow than anger about the way this election campaign has played out - and that even women aghast at Trump's behaviour may not actually vote for his Democratic rival.
More than one of my dates pointed out that I would get a very different point of view if I went speed dating in another part of the country. It would certainly have been good to talk to some female Trump supporters. I wonder if there are any in Washington DC?
My experiment had also taught me that speed dating is not as excruciating as I had imagined it would be. It could even be fun in different circumstances. But I think next time I will leave politics well out of it.
All names have been changed.
Join the conversation - find us on Facebook, Instagram, Snapchat and Twitter.