Permanent vegetative state: A family's agony
By Sanchia Berg
Today programme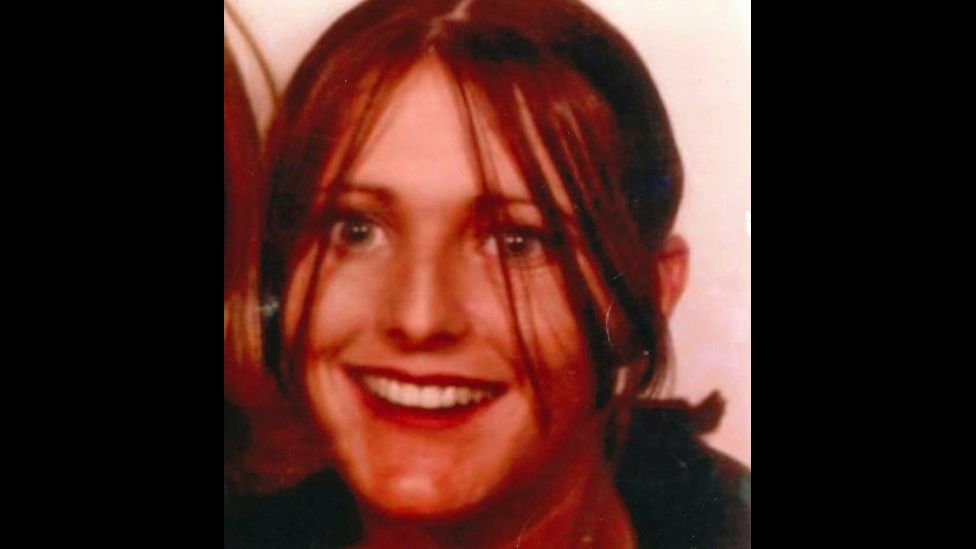 A family whose daughter spent nearly four years in a vegetative state have said it should be easier to withdraw nutrition from such patients. Many relatives have to go through an agonising process.
In August 2012 Jodie Simpson, 38, took an overdose at home in Barrow in Furness, Cumbria. Her brother Michael Devlin found her, and called an ambulance. Although she was taken to an intensive care unit, Michael thought his older sister would recover.
"She was tough, she was strong," he says. " I thought after they've done what they needed to she'll just have had the scare of her life and she'll be out."
Jodie had taken tablets belonging to her ex-partner. Her mother Jean, a recently retired nurse, knew they could cause severe, irreversible brain damage. That proved to be the case.
Jodie came out of the intensive care unit, stayed in a general ward for 10 weeks, and was then moved to a nursing home. She could breathe without assistance, but was fed and given liquid through a stomach tube. Her physical condition was stable: doctors said there was no sign of consciousness. She suffered seizures though, and would grimace.
"We were tormented," Jean says. "They say she wasn't. But she looked it."
Jodie couldn't eat or drink - she couldn't swallow. Staff couldn't brush her teeth, and they began to rot. For her family it was distressing to see. They agreed that Jodie would not want to live like that. But as she was relatively young, her body healthy, she could have stayed alive for years.
In such cases, doctors can withhold food and liquid - if they consider there's no likelihood of improvement, and if the family agree. But to do that, they need to wait - six months in cases like Jodie's, a year in cases of traumatic injury.
Then the patient has to be assessed by a specialist unit, before being diagnosed as being in a permanent vegetative state. Then, the procedure is to seek permission from the Court of Protection to take out their feeding tube. In April 2013, Jean wrote to the doctors, asking if her daughter could be allowed to die.
The applications are made by the local Clinical Commissioning Group and usually cost around £50,000. Only about 100 such applications have been made in more than 20 years.
It's estimated between 4,000-16,000 patients in a permanent vegetative state are in NHS care in England, with thousands more who are minimally conscious..
It took two years before Jodie was assessed by a specialist centre, 180 miles away in Newcastle. The delay was down to the doctors' decision, according to the local Clinical Commissioning group. In September 2014, Jodie was diagnosed as PVS. The CCG agreed to apply to the Court of Protection - but they didn't put in an application for over a year.
For the family, the delay was excruciating. Jean Simpson says she just wanted her daughter to be at peace. Cumbria CCG were asked to explain why they didn't apply sooner. "During this period the patient became very unwell. The nurses caring for her used the time when they would have been preparing statements in this case to provide care. At that point the outcome for her was unclear."
They also said it was very challenging to co-ordinate the information from all of the organisations and clinicians concerned.
Once the case got to the Court of Protection, in October 2015, one expert raised a question about the effect of Jodie's medication - could it be having a sedative effect? It was decided to withdraw the medication and assess her again.
The second assessment confirmed the first. For the family, this extra delay was difficult, but they took some consolation from Mr Justice Hayden's sympathetic approach towards them, and the concluding paragraph of his judgement.
As he ruled that doctors could withhold nutrition and hydration, he wrote: "I have found it difficult to understand entirely why this process has taken quite as long as it has. Given that, ultimately, all the parties have been able to agree on the way forward, I have not been required to investigate the reasons. It needs to be stated that the avoidance of delay in medical treatment cases is an important imperative, as I have now said in a number of judgements."
That was published in May 2016. Jodie was moved to a hospice and died - peacefully her mother says - three weeks later. Her family decided to speak out because they don't want other families to go through the same drawn out, painful process.
A vegetative state is when a person is awake but is showing no signs of awareness; they may open their eyes, wake up and fall asleep at regular intervals and have basic reflexes; they're also able to regulate their heartbeat and breathing without assistance
A person in a vegetative state doesn't show any meaningful responses, such as following an object with their eyes or responding to voices; they also show no signs of experiencing emotions
Continuing - or persistent - vegetative state is when this happens for more than four weeks
Permanent vegetative state is defined as more than six months if caused by a non-traumatic brain injury, or more than 12 months if caused by a traumatic brain injury
If a person is diagnosed as being in a permanent vegetative state, recovery is extremely unlikely but not impossible
"We were in limbo for nearly four years, emotional limbo, grieving, permanently grieving, but not knowing when the end was coming," Jean says. "And every time my daughter had a bad patch, you were hoping that she would pass away. You were praying for it."
Not all families take the same view. Judy Taylor's husband Simon suffered severe brain damage after a head injury, and was in a vegetative state for several years. She never gave up hope that he would recover, if only partly. She thinks the current system - with withdrawal approved by court hearing - is best.
"I do think that needs to be there, that time to protect the rights and wellbeing of the patient. I know everyone says they wouldn't want to live like that... and nobody would. But it's so important to get the decision right. Because I've seen people who have made recoveries.
"Yes they are still very very disabled, but that doesn't mean anyone has the right to take their life."
The House of Lords decision in 1993 in the case of Tony Bland, established that withholding food and water did not constitute murder - it was withdrawal of treatment. Tony Bland was a young fan who'd survived Hillsborough and been left in a vegetative state.
The House of Lords said it would be good practice for similar cases to come before the court. People have assumed since that cases must be heard by the Court of Protection. But this view is wrong, argues Alex Ruck Keene, a barrister specialising in this area.
"There is some confusion over the role of the Court of Protection in these cases. While it's widely believed that it's necessary as a matter of law for doctors to obtain the court's permission to withdraw nutrition and hydration, that's not so."
Professors Celia and Jenny Kitzinger co-direct the Coma and Disorders of Consciousness Research Centre at the Universities of York and Cardiff. They have been campaigning for a change in the process since their own sister Polly was left brain-damaged after a car accident.
They have interviewed 75 relatives of PVS patients. They believe cases should only go to court where there's a dispute, and families and doctors disagree.
Prof Derick Wade is one of the country's leading experts in this area, a consultant in neurological rehabilitation based in Oxford. He estimates there could be as many as 24,000 patients in the NHS in England either in a permanent vegetative state, or minimally conscious.
Most will be in nursing homes, where their care's likely to cost about £100,000 a year. He believes we need a full public debate.
He says that managing one person in a vegetative state for 10 years "costs" five avoidable deaths in other people. Like the family of Jodie Simpson, and the Kitzinger sisters, he believes it's time to discuss whether the Court of Protection should be involved in such cases at all.