Vote for Britain's best new building: City of Glasgow College, Riverside Campus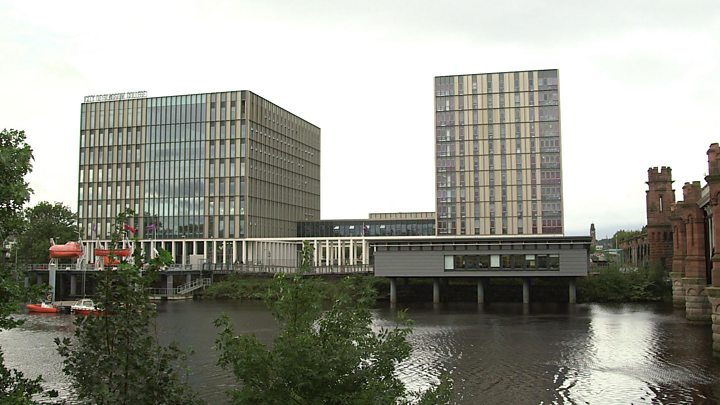 City of Glasgow College, Riverside Campus is one of six UK buildings up for the 2016 Riba Stirling Prize for architecture. A select line-up of judges will decide the winner, but the BBC, in partnership with Riba, is inviting you to vote for your favourite. Find out about the other buildings here.
---
This vote requires Javascript.
If you are viewing this page on the BBC News app, tap here to vote.
---
What is it and where?
A campus on the banks of the River Clyde in Glasgow for more than 3,000 maritime and engineering students. Designed by Michael Laird Architects and Reiach & Hall Architects and completed in August 2015, the facility has specialised study areas including 360-degree shipping simulation facilities and a working ship's engine room, as well as 198 beds of student accommodation.
How much did it cost?
£66m.
What was the vision?
The architects say the campus acts as a "gatekeeper" at Albert Bridge, a major crossing-point over the Clyde. The buildings themselves are organised around two civic spaces - a cloistered garden and a grand hall - which give onto the teaching areas. The intention is to avoid "silos" and ensure that students and staff from different disciplines come into frequent contact with each other.
What have people said about it?
"It's one of the few recent projects in the city that actually acknowledges the river, using the buildings to frame two handsome new civic spaces." Oliver Wainwright, Guardian, July 2016
"A sober, rather puritan affair, a nod to the classic, minimal, commercial architecture of mid-century Chicago and New York." Edwin Heathcote, Financial Times, July 2016
"A tough building... that trains young people to be naval engineers. It's real. Gritty. Like Taggart." Rory Olcayto, Archinect, July 2016
Explore the other buildings on the shortlist
Find out more about the BBC Riba Stirling Prize partnership
Credits: Video by Richard Kenny and Dave O'Neill. Stills image by Ham II / Wikimedia
---
Join the conversation - find us on Facebook, Instagram, Snapchat and Twitter.