A fresh chance to banish the curse of Mayo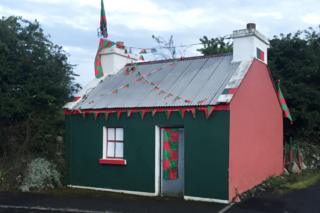 The towns and villages of Mayo in Western Ireland are festooned with red and green, the colours of the county's Gaelic football team, which has again made it to the All-Ireland final on Sunday. Mayo has not won since 1951, despite reaching the final eight times since 1989. Can the team now lay to rest Ireland's most infamous curse?
Mayo will converge on Dublin on Sunday, the sons and daughters of a county ravaged by emigration flocking to the city in the hope that their team will taste All-Ireland victory after a famine of 65 years .
No other county has such fervour for the country's most popular sport, but none either has known such an abysmal run of luck - a series of misfortunes so shocking that every Irish football-lover knows the story of the curse of Mayo.
It dates back to the day in 1951 when a victorious Mayo team headed home to the west of Ireland from Dublin, after a comfortable win over Meath. The champions travelled with less pomp than today - making the journey to the evening's celebrations in the back of a truck.
Legend has it that when they passed a funeral in the town of Foxford without stopping or paying respects, a curse was cast that Mayo would never again win the All-Ireland championship until all members of that team had died.
True or not, they've not won since.
One member of the team, Mickey Mulderrig - a neighbour of mine in Dublin before his death in 2013 - rubbished the notion of a curse whenever the subject came up.
Just two of his teammates survive today: Dr Padraig Carney, nicknamed "Mayo's Flying Doctor", who lives in the US, and Paddy Prendergast - "Mayo's Ballet Full-Back" as the Irish Times christened him.
Speaking at his home in County Kerry, Paddy Prendergast also dismisses the curse.
"The story was that there was a funeral and that the team didn't get off the truck to go to it. It's nonsense," he says.
"We were in the back of the truck and we didn't even know there was a funeral. How could we know? We couldn't even see out over the sides.
"I thought it was totally ridiculous when I first heard it some years ago. There was talk that some holy woman or a priest had put a curse on us. What priest would do that to us? But when a story like that starts in Ireland, it's hard to stop it."
As the years of defeat have turned to decades, though, he has begun to understand why others might believe it.
"It would make you think there's something in the curse. After all the defeats, you'd have to think there was something in it," he says, laughing.
---
What is Gaelic football?
Gaelic Football is Ireland's most popular sport - more so than rugby or soccer and played more in schools, too. Soccer and rugby would have a fervent following, particularly for the national team - but that largely reflects the country being a sports-mad nation.
There'll be 82,000 at the game on Sunday - and crowds of over 20,000 are normal.
Teams have 15 players, with a point scored when the ball is kicked or punched over the crossbar of H-shaped goalpost - with three points for a goal scored under the crossbar, on a pitch somewhat larger than a soccer or rugby field
Its popularity derives from a parish-based structure organised by the Gaelic Athletic Association, Ireland's biggest sporting organisation, was founded in 1884 as part of national cultural and political movement in the drive for independence from the UK. The club is an integral part of many communities in Ireland - and a focal point for other social and community activities.
---
Francie Maloney from Kiltimagh was 17 when he made the trek to the 1951 final and since then he's never missed a major Mayo match in Dublin's Croke Park - the home of Gaelic sport.
A Mayo fan's attitude towards the curse varies, he says, depending on whether the team is about to play in an All-Ireland final - or has just lost it.
"Every time they're beaten, some people think there's a curse," he says.
"But just like now, right before we have another go at a final, I'd say no, people don't want to believe it."
The most "terrible time", he says, came between 1951 and 1989 - 37 consecutive years when the team did not once reach the final.
"We had a bad run in the 1960s and 70s - I'd say the curse set in at that period. But we keep the faith."
His sons Seamus and Brian will be with him in Croke Park, travelling back from their homes in London and Buffalo, New York - part of a great wave of the Mayo diaspora which will roll into Dublin this weekend.
But apart from the team's hair-raising record of failure, is there any further evidence of a curse?
Foxford's Catholic Parish Priest, Father Padraig Costello, has made an effort to investigate the legend, and found no basis for it.
"I've met people here who were at the homecoming in 1951 and they don't remember anything about a funeral," he says.
"Foxford people get a bit annoyed when they hear about the curse. Nobody seems to have any recollection about it, apart from what they read in the papers."
He looked up funeral records which began intermittently in the 1940s - but interestingly, 1951 is missing.
"From around 1949 until 1952 there are no records at all of the deaths in the parish. So it adds to the mystery probably," he admits.
Francie Maloney says other versions of the story say the curse wasn't cast in Foxford at all, but somewhere outside Dublin. Father Costello has heard such stories too.
"One I heard of was crossing the Shannon at Tarmonbarry in County Roscommon, where there was apparently a funeral as well," he says.
"It's a good story every year, when Mayo don't win. A simpler explanation might be that they just weren't good enough on some of the days."
The tradition of cursing is deep-seated in Irish culture, dating back to pre-Christian times.
"The curse is usually to do with respect and generosity - or breaching some taboo to do with that," says Dr Lillis O Laoire, an authority on Irish folklore traditions at the National University of Ireland Galway.
"The moral imbalance of the wrong behaviour at a funeral is perfectly in tune with the idea of cursing and bad luck. You couldn't have luck because you didn't behave correctly.
"So the idea of a curse on Mayo would make perfect sense - but whether it's true or not is another story," he says.
It's not uncommon for a curse to be invented retrospectively after a run of bad luck, he points out.
Cures for curses included cleansing from holy well water, prayer or pilgrimage - or undertaking some superhuman endeavour to overcome the spell.
Dr O Laoire advises the last of these for Mayo - going out to win the match, while observing the highest possible level of conduct beforehand.
"They have to have such a high standard of honour and behave so well, that they'll overcome the curse. No misdemeanours - they have to behave like heroes. Winning the game will end the curse."
Religious devotion in Mayo runs deep. The town of Knock is a place of pilgrimage, as is Croagh Patrick mountain where St Patrick is said to have fasted for 40 days. But Father Costello says praying to lift a curse is out of the question.
"I have no belief in curses, but while priests can pray for blessings, I don't believe a priest has the power to cause a curse to come down on anyone."
Parishioners do however pray for the team and light candles for them before big games.
"Every September we always have a prayer of the faithful at Mass for the team, thanking God for the great joy they've brought to the county and the honour, praying they will do their best, not praying that they will win," he says.
"We'd be hoping they'd win of course but we'd be praying they'd do their best."
And no doubt some parishioners will offer prayers of thanksgiving if the team wins - an outcome that would prove either that there never was a curse, or that it has been lifted.
"I think in Mayo there'll be no winter if they win the All-Ireland this year," Father Costello says.
"The euphoria in the county would know no bounds - it's probably the greatest thing that would happen in the county in the last 65 years, without a doubt."
---
Mayo's misery
1989 - Cork 0-17 [17] Mayo 1-11 [14]
Mayo's first final since 1951 brought huge excitement for the county - followed by disappointment to match. Victory was in the air when Mayo netted a goal just after half-time but missing an open goal almost immediately afterwards seemed to awaken Cork - who'd lost the previous two finals - spurring them on to a three-point victory and breaking Mayo hearts.
1996 Meath 0-12 [12] Mayo 1-9 [12]
Despair for Mayo who'd beaten Gaelic Football's aristocrats Kerry in the semi-final. Six points ahead with just 18 minutes to go - a substantial and usually match-winning lead in Gaelic football - they looked set for victory. A last-minute freak score by Meath, when a long-range kick defied the defence and bounced over the crossbar, levelled the game leading to a replay. Commentators agree it was a game Mayo should have won.
1996 (replay) Meath 2-9 [15] Mayo 1-11 [14]
Inconsolable grief for Mayo supporters after the draw they should have won. The replay is infamous for a mass brawl after just five minutes involving 27 of the 30 players on the field, after which Mayo's "man-of-the-match" in the drawn game was sent off, along with a Meath opponent. Mayo went seven points up at one stage but lost to a solitary Meath point scored in the dying moments of the game. Probably the most heart-breaking of all Mayo's defeats.
1997 Kerry 0-13 [13] Mayo 1-7 [10]
One of the greatest performances ever seen by a player in an All-Ireland final meant it wasn't to be Mayo's day - as he was from Kerry. Maurice Fitzgerald scored 9 of Kerry's 13 points - most of them in the second-half - in a resounding victory despite the scoreline. The game became remembered as the "Maurice Fitzgerald Final" but is one Mayo fans would rather forget.
2004 Kerry 1-20 [23] Mayo 2-9 [15]
An early goal by Mayo after just five minutes sent their fans' hopes soaring - but Kerry, who've won more All-Irelands than anyone else, motored on to an emphatic victory, in a game that was over by half-time.
2006 Kerry 4-15 [27] Mayo 3-5 [14]
A crushing defeat by Kerry with the game appearing over after just 15 minutes when they led by 11 points.
2012 Donegal 2-11 [17] Mayo 0-13 [13]
A disastrous start by Mayo saw them concede two goals, leaving them with a mountain the size of Croagh Patrick to climb before they got going. A spirited display saw them keep in touch... before succumbing to a strong and talented Donegal side winning the county's second-only All-Ireland title.
2013 Dublin 2-12 [18] Mayo 1-14 [17]
A performance marked by missed Mayo chances and nerves by both sides. Having hammered Champions Donegal in the quarter-final, Mayo had high hopes against a strong Dublin side. Two points down in injury time, Mayo inexplicably opted to kick the ball over the bar for a point from a free kick in injury time - rather than try for a last-ditch goal to win the game. It later emerged that the kicker believed the referee had indicated there was more time remaining than there was.
---
Follow @BBCNewsMagazine on Twitter and on Facebook