Three things revealed in The Archers trial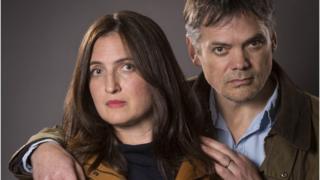 It has been a rollercoaster week for Helen Titchener in The Archers, who has been on trial accused of attempted murder after stabbing her husband, Rob, in April. Listeners know she is a victim of domestic abuse, but whether she will be able to convince the jury is another matter.
The storyline has shone a light on coercive and controlling behaviour in relationships, but some listeners may also have learned a few things about modern courts.
SPOILER ALERT: Details of this week's episodes revealed below
1: Child witnesses appear by video
On Monday Helen's five-year-old son Henry gave his version of events on the night of the stabbing. "They were fighting. Daddy tried to grab it off her but he fell down. Mummy said he was sleeping but it isn't very nice sleeping on the floor," he said.
Unlike the other witnesses Henry gave his account in a pre-recorded video. This is the usual procedure with young people, according to Kama Melly QC.
"In Crown Court a person under the age of 18 almost always gives evidence by video. This can be a recorded police interview or via TV link," she says.
"If the child is a prosecution witness, the defence will be given the opportunity to cross examine them via TV link. They can also choose to let the video recording go unchallenged if they don't contest the account. We've been piloting pre-recording the cross-examination, with the lawyers and judge present, as well as the defendant who is out of the child's sight."
2: Surprise witnesses are allowed
On Wednesday Helen's defence barrister, Anna Tregorran, revealed that a surprise witness had come forward for the defence. Melly says this doesn't only happen in fiction.
When lining up witnesses, barristers will often ask solicitors to get witness statements from a range of people to see if they are worth calling. These can often come back after the trial has started. In this case an exception may be made to the rule requiring the defence team to name witnesses in advance.
"You can decide to call someone who has come forward during the trial," Melly says.
"You inform the judge and the prosecutors can criticise you for not realising there was another witness, but they can't stop you calling them."
And so it happened that on Thursday Rob's first wife - Jess Myers - gave evidence.
3: Tweeting from court can jeopardise a case
In another dramatic twist on Thursday, a juror was thrown out of court and the trial was suspended, after a juror made a comment about Helen on Twitter.
"It's quite rare, but jurors have been found to have shared details of trials on social media," says Melly.
"The jury take an oath before they are even sworn in to try the case on the evidence. If they tweet their opinion of the defendant mid-way through the trial - something like 'I don't trust women like her' - then this clearly isn't doing that."
She adds that a trial can continue with 11 members if the juror hasn't aired his or her prejudices to the rest of the jury (who should not be using social media during the trial). Otherwise the trial will most likely start again with 12 fresh jurors.
Anyone who posts comments on social media that could influence the jury is in contempt of court and could be fined or sent to prison. In 2013 a juror was jailed for two months after he posted a strongly-worded Facebook message about the defendant during a trial.
---
Find out more:
---
Follow @BBCNewsMagazine on Twitter and on Facebook