Rio Olympics: Is team GB doing well - or is China doing badly?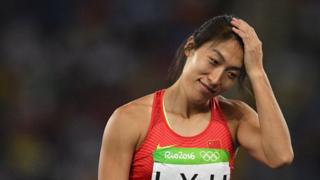 Team GB has been second in the Olympic medal table for nearly a week, pushing China into third place - the same China that topped the medal table at the Beijing Olympics in 2008, and was second in 2004 and 2012. So is GB doing well - or is China doing badly?
Much has been made of Team GB's success so far in Rio. But it's possible that China has done even more to propel the British up the table.
Prior to the Games, some had predicted that China could win up to 36 gold medals. Instead, at noon on Friday, with just three days to go, they were sitting on just 20 - two behind Team GB - despite having sent 416 athletes to Rio, compared with Team GB's 366.
So what has gone wrong?
At the 2012 London games, China won 11 golds across swimming, gymnastics and fencing. This year they've managed only one.
Swimming has been a source of particular disappointment, given that just one year ago China won five gold medals at the world championships.
In gymnastics, China has been left without a gold for the first time since the nation began competing at the Olympics in 1984. In London four years ago they won five gymnastic golds, and in Beijing they won nine.
It goes on. China's badminton women's doubles pair exited without a gold for the first time since the event was introduced in 1992. And China could only muster bronze in mixed doubles, despite having taken three of the five golds available between 1992 and 2012.
That said, it's not unusual for teams to do much better than normal when they are the host nation and then tail off at subsequent games.
"We often see the performance afterwards declines a bit," says Carsten Crede of the University of East Anglia. "You have an increased incentive as a country to invest in your athletes prior to hosting the games, so after that the incentive is gone."
In China's case, the surge in gold medals at the 2008 Beijing Olympics, and the drop-off at the following games appears to be much sharper than Australia's rise and fall before and after the Sydney games in 2000.
Crede and his colleagues had predicted a total of 86 medals (including silvers and bronzes) for China. So far it has won just 58.
By contrast, Team GB is only nine medals off its total of 65 from London 2012.
There's been considerable disquiet in the Chinese media about the national team's performance in Rio. "You're kidding me?" wrote state news agency Xinhua of Team GB in a subsequently deleted tweet. "The country which has never finished above China, is about to."
Of the Chinese gymnasts, who took home just two bronzes, the official People's Daily said: "People cannot but ponder - what on earth is up with them?"
But China's decline may be a portent of Team GB's future. "I think we will see a fading out over time, just as we might see with China at the moment," Crede says. He says it's too early to assess whether China truly has underperformed at Rio relative to how you would expect a team to fare two games after being hosts.
What about the Tokyo games in four years' time? Given China's strong rivalry with Japan, it's possible Beijing will pull out all the stops to perform well. Will Team GB already be on the familiar downward curve?
---
---