Brazil football stars Neymar and Marta in 'battle of the jerseys'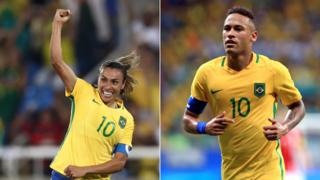 Brazil's men's football team proved doubters wrong when they beat Denmark 4-0 on Wednesday to reach the Olympic quarter final.
The team and its captain Neymar had come in for heavy criticism after they did not score a single goal in their first two games against South Africa and Iraq.
The fans booed them off pitch on both occasions, prompting coach Rogerio Micale to ask supporters to show the team more respect.
During the draw against Iraq, fans not only booed the players on the pitch but also taunted them by chanting "Marta!".
Marta Vieira da Silva, better known just by her first name, is the captain and star of Brazil's women's football team.
Pride in number 10
And while the men's team was faring poorly, more and more Brazilian football fans pinned their hopes on the women's team and Marta.
Marta, like Neymar, wears the number 10 jersey, but fans - and cartoonists like Juniao - quickly noticed that marketing for the women's team fell far behind that of the men's.
Jerseys with Neymar's name were everywhere but ones with Marta's name were almost impossible to find, so fans started making their own.
What started just as a means by committed fans of women's football to demonstrate their support, soon turned into a way for Brazilians to show discontent with highly paid male star Neymar.
Instagram user leoazulos posted a picture of himself wearing a replica of Neymar's jersey with his name crossed out and replaced with that of Marta.
He wrote: "There you go, my jersey # 10 now gives me pride."
Twitter user @EstradaSenna reflected those sentiments by posting the following conversation: "Son: 'Dad, I want to wear the number 10 jersey.' Father: 'No, son, that's Neymar's.' Son: 'No, dad...it's Marta's'."
But what caught everyone's attention was a little boy called Bernardo who had not only swapped Neymar's name for that of Marta but who also went on to give an eloquent explanation as to why.
In a video posted by @Eita_br, Bernardo said: "The way the Brazilian women's team is playing, the way they are winning everything, that is a symbol of feminism."
"She [Marta] deserves this jersey way more than Neymar," he added.
Many Brazilians thought the women's team captain could show Neymar a thing or two, as this photo making the rounds on social media showed.
While it is not clear whether Neymar acted on fans' advice and took lessons from Marta, critics agreed that on Wednesday he put in a "much-improved display".
BBC Monitoring's Claudia Plazas contributed to this report. BBC Monitoring reports and analyses news from TV, radio, web and print media around the world. You can follow BBC Monitoring on Twitter and Facebook.