Rio Olympics 2016: Six types of Olympic booing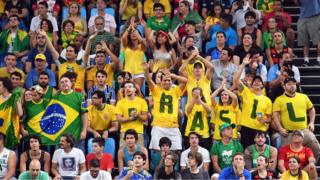 From fencing to swimming, basketball to tennis, athletes have found themselves roundly booed in Rio. While boos have been heard at most Olympics - despite the idea that it's a time when sportsmanship should reign - it's already clear that Rio is noisier than any other recent Games. Here are six types of booing already heard in Brazil.
1. Booing for fun
Brazilian crowds have a tendency to take sides - cheering for one team, or one athlete, and booing their rivals. But they may switch allegiances at the drop of a hat.
"Brazilian fans seem to be pretty egalitarian," IOC's director of communications Mark Adams said on Monday. "They seem to be able to boo athletes from many countries. It's quite difficult to work out why they might be booing one athlete and not another."
Prof Andy Miah, an expert on the Olympic Games from the University of Salford, has noticed the same thing.
"I was quite surprised at how vocal they were and at first I thought they were being unsportsmanlike by shouting and booing - then I realised it was their way of getting involved in the drama of the event," he says.
"It's not malicious. I was at the fencing yesterday and they were very against one of the players yet they loudly cheered him when he won. It's all part of the theatre which is what they enjoy."
London 2012 was far quieter, he says - often there would be no shouting at all, only clapping.
2. Booing the favourites
The Rio crowds have displayed a clear preference for underdogs. In an early basketball match they backed Croatia by cheering them and booing pre-match favourites Spain. Spain then went down to a shock 72-70 defeat.
This is not a new phenomenon.
During the 2004 Olympics in Athens, for example, the crowd strongly backed the Iraqi men's football team - in a semi-final against Paraguay, they booed every time the Paraguayans controlled the ball.
Prof David Hendy, a media historian at the University of Sussex, describes Olympic booing as a "noble tradition" and a reminder that the spectacle is for the audience rather than the competitors. "And the audience has always been keen to see things in dramatic terms - a conflict between heroes and villains."
3. Booing Russians
Russian athletes have encountered a particularly hostile reaction from the crowds in Rio, following evidence of state-sponsored doping, and the decision by the International Olympic Committee not to impose a blanket ban.
The boos began as soon as the Russians appeared in the Maracana stadium for the opening ceremony.
"The Russians were always going to be booed as so many think the International Olympic Committee shouldn't have compromised," says Miah.
Russian swimmer Yulia Efimova, who received a 16-month ban in 2013 but won the right to compete in Rio after appealing to the Court of Arbitration for Sport, was booed in all of her 100m breaststroke heats and in the final, in which she won silver.
She broke down in tears after gold went to the US's Lily King, who commented: "It just proves that you can compete clean and still come out on top."
Russian boxer Evgeny Tishchenko voiced frustration at the crowd's reaction to the Russian athletes.
"It's really a pity that the crowd performs this way, supporting [whoever is] against Russia," he was quoted as saying in the Chicago Tribune. "I'm really upset about it. It was the first time I faced such treatment. Actually, I'm a little bit disappointed about this."
4. Political booing
There were boos for interim Brazilian President Michel Temer, as he declared the Games open on Friday. Temer took over in May after his predecessor was suspended from office, amid allegations of corruption. The boos rang out despite Temer restricting his speech to a single sentence - though they were partly drowned out by music and fireworks.
It's not the first time that the Olympics has acted as a lightning rod for unhappiness with the political elite, though. The UK's former Chancellor George Osborne and former Home Secretary Theresa May - now PM - were both booed when handing out medals at the London 2012 Paralympics.
"It was an instant, visceral response from a public outraged at government policy towards the disabled and who felt otherwise voiceless," says Hendy. "It's a brilliant indicator of popular sentiment and how public figures are revealed to have misjudged it."
5. Patriotic booing
Brazilian fans have been quick to show their support for home-grown athletes by vociferously jeering their opponents. The British Rugby Sevens players were booed every time they had the ball in their hands, when they played Brazil on Saturday.
German tennis player Dustin Brown was even booed after he fell and twisted his ankle during a tennis match with local Thomaz Bellucci, though he was cheered when he stood up to be taken to hospital.
"The Olympics has always been synonymous with international respect. So booing from a crowd can be distracting and prevent them performing at their best," says Dr Rhonda Cohen, a sport psychologist at Middlesex University.
Boxer Hassan N'Dam N'Jikam from Cameroon certainly wasn't happy after losing his bout with Brazil's Michel Borges on points, amid much pantomime-style booing. The noise may have influenced the judges, he suggested.
Argentina's athletes were also booed at the opening ceremony, just because they were Argentines - Brazil's neighbours and rivals, especially on the football pitch.
And then there was the goalkeeper of the US women's football team, Hope Solo, who posted pictures on social media making light of the Zika virus. Solo was booed and faced chants of "Zika!" during a match against New Zealand on Saturday.
But the fans haven't reserved their catcalls for foreigners. The underperforming Brazilian men's football team was booed off the pitch following goalless draws first against South Africa and then against Iraq.
6. Booing judges
Even Olympic judges have got it in the neck from Brazilian spectators.
As the host nation, Brazil was automatically awarded a place in the final of the men's 10m synchronised platform diving, even though its divers were not a match for the competition. Inevitably, the judges consistently awarded them lowest marks, drawing angry boos from the crowd.
However, it was nothing compared to the scene at the men's gymnastics final at the Athens Games in 2004. The Russian Alexei Nemov had wowed the crowd with a risky high bar routine, and when the judges gave him a low score they booed for a full seven minutes.
---
Find out more
Follow Claire Bates on Twitter @batesybates
Follow @BBCNewsMagazine on Twitter and on Facebook