Why don't Syrian refugees stay in Turkey?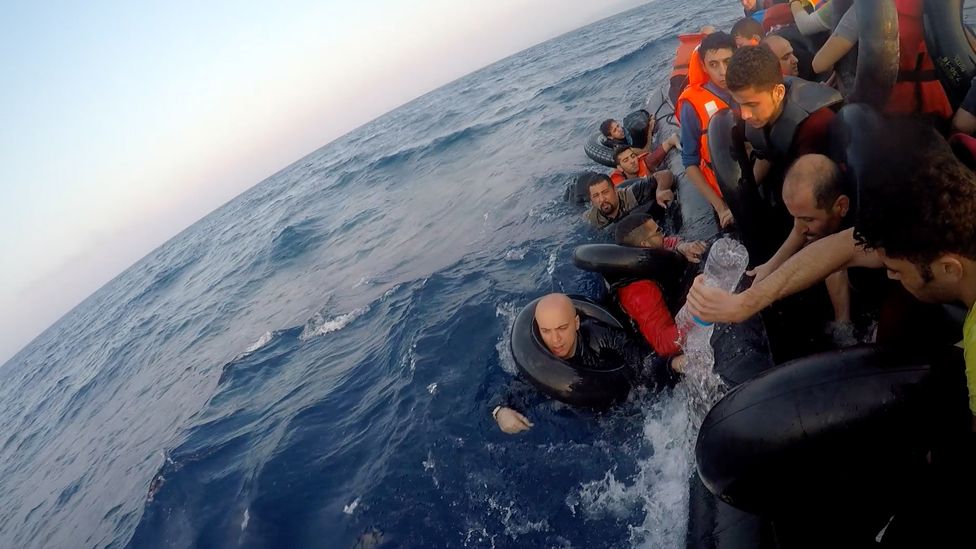 More than a million migrants crossed the Mediterranean last year to reach Europe - usually in dangerously overcrowded boats. Many were Syrians who had fled their country's civil war - as featured in a series of videos published on the BBC website this week. Here we answer readers' questions about why they were prepared to risk drowning at sea to reach Europe, after crossing the Syrian border into Turkey.
Turkey is a safe place - why don't they stay there?
The majority of Syrians in Turkey and other countries that neighbour Syria are staying where they are. It's only a minority who try to make the journey to Europe.
An estimated 4.9 million Syrians have left their homes to seek asylum abroad since the conflict started in 2011. By the end of 2015, Turkey was hosting 2.5 million refugees - mostly from Syria. But things are often getting worse for the refugees rather than better, as time goes on.
"After five years of conflict, many are slipping deeper and deeper into poverty," says UN Refugee Agency (UNHCR) spokesperson Ariane Rummery.
"Many children are still not in school... in Turkey for example only about 40% of the refugees are in school.
"Further afield, many of them think they will have a better chance of education and rebuilding their lives."
People don't want to stay in camps indefinitely. It has also been hard for refugees to get work in Turkey, although legislation has recently been introduced that may make it easier to get a work permit.
Why don't they travel to Europe legally - can't they go to an embassy in Turkey and apply there?
The British Home Office says that people seeking asylum should do so in the first safe country they reach. As the UK deems Turkey to be a safe country, they are unable to go to the British embassy in Ankara to apply to move to the UK. The UK is not alone in taking this approach - many other countries do the same.
There are very few legal ways to travel, says Rummery. "The vast majority of countries do not issue visas for people fleeing danger so they can book a plane ticket and fly safely and then apply for asylum."
However, a few nations, such as Brazil, offer special humanitarian visas. Brazilian embassies in countries neighbouring Syria issue visas so that people can travel legally. They can then claim asylum as soon as they arrive in Brazil.
The Home Office points out that the UK has committed to resettling 20,000 Syrians in the UK during this parliament, which is due to run until 2020.
These people will be selected from the countries neighbouring Syria, with the help of the UNHCR. Those who have crossed the Mediterranean and entered the European Union will not be eligible.
Why don't Syrian refugees go to countries closer to home?
The vast majority of Syrian refugees are being hosted in neighbouring countries. As well as the 2.5 million in Turkey, there are about one million in Lebanon - whose own population is only just over four million. Jordan has 628,000 and Egypt 117,000.
Rummery adds that the Gulf Cooperation Council has released figures showing there are 1.5 million Syrians in Saudi Arabia, Kuwait, the UAE, Qatar, Bahrain, and Oman.
Because these countries are not signatories to the Refugee Convention, Syrians there are not officially counted as refugees and they are not included in the UNHCR's 4.9 million figure. Also, some were already in these countries as migrant workers before the war began; their families have since been allowed to join them.
Why are they coming to the UK instead of going to other European countries?
Many migrants are applying for asylum in other European countries. UNHCR figures show that Germany had the most new applications in 2015 - 441,900 in total, of which 158,700 were made by Syrians. Sweden had 156,400 new applications for asylum - 50,900 from Syrians.
In October last year, the Home Office reported that the UK had taken in more than 5,000 refugees and asylum seekers from Syria since 2011. In the year to March 2016, a total of 1,981 asylum requests were granted, plus a further 1,667 under the vulnerable person resettlement scheme.
Why don't young Syrian men stay at home and fight for their country?
Some have fought to defend their own cities, and have fled only after being defeated. Others may be at risk of forced recruitment into an armed group they do not support.
"People will try to avoid fighting for IS or other armed groups who stop them at checkpoints," says Rummery.
Some Syrians may be unsure whether any of the warring factions are fighting for the good of the country.
"There isn't a simple clear narrative of who the different parties are - there is a multitude of armed actors," says Rummery.
How can they afford mobile phones?
Many of the refugees had well-paid jobs before the war and had a high standard of living.
Phones are crucial for migrants - they are a way to stay in touch with family, as well as a source of information such as maps and contacts. If they have not got a smartphone anyway, a family planning to travel to Europe will do whatever they can to buy one.
Exodus: Our Journey To Europe was broadcast on BBC Two at 21:00 on Monday 11, Tuesday 12 and Wednesday 13 July. Catch up here.