Muhammad Ali: Hometown mourns the 'Louisville Lip'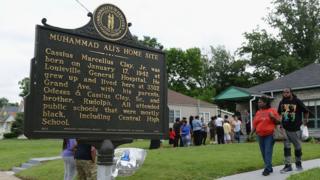 As day broke on a hazy Saturday in Louisville, Kentucky, many residents woke up to the news: hometown hero and world famous boxer Muhammad Ali is dead.
Although the 74-year-old heavyweight champion had struggled publicly with Parkinson's disease for decades, his death still came to many locals as a shock.
"I wouldn't have thought he'd go that quick," said Kevin Ishmael, a saw operator who was one of the first to lay a bouquet at the Muhammad Ali Center, an expansive museum on the waterfront in downtown Louisville.
According to a spokesman for the family, Ali died of septic shock late Friday evening after being admitted to a hospital near his home in Scottsdale, Arizona. Although he had lived in Arizona with his wife Lonnie for many years, his funeral will take place in Louisville on Friday.
"I cried. I cried like a baby when I found out the news," said 39-year-old Arnold Mathis, who was on his way to lay a wreath and light a candle at the museum. "It's so surreal. I know he's dead, but it hasn't really set in yet."
The news of his death was on every local television and radio station, and the front page of the daily newspaper read simply "THE GREATEST", with the iconic 1965 image of Ali standing victorious over Sonny Liston.
At mid-morning, flags at Louisville's city hall were lowered to half-mast.
"Muhammad Ali belongs to the world, but he only has one hometown," Louisville Mayor Greg Fischer told a crowd of mourners. "The Louisville Lip spoke to everyone, but we heard him in a way no one else could - as our brother, our uncle, and our inspiration."
Almost everyone in Louisville has a personal story about Ali - whether it's a favourite fight, a glance through a car window, or a trip to his boyhood home at 3302 Grand Avenue, which just opened as a museum last week, the interior recreated as if Ali were still living there as a precocious boy in the 1950s.
By early afternoon, the front stoop of the freshly painted pink bungalow was filled with balloons, flowers and notes. A group of Louisville firefighters clambered down from their truck to leave a bouquet.
Violet and Lawrence Montgomery watched from their stoop directly across the street. They first met Ali when he was a five-year-old boy named Cassius Clay. Ali and his brother Rahman babysat the Montgomery's three young children and they paid the boys in bologna sandwiches.
Lawrence keeps a faded plaque that Ali made out to "my first boss".
"I'm sort of saddened because I lost a very good friend," said Lawrence. "But on the other hand, he's been diagnosed 30 years with that disease and he fought it for years and years."
Ali came back to visit them often, as evidenced by Violet's scrapbook of photos of the champ in their living room, doing magic tricks.
In a note addressed to Violet, Ali wrote: "Enjoy life, it's later than we think."
Rahman Ali also arrived with his wife to sign autographs and memorialize his beloved older brother.
"I gotta hold back tears," he said. "It's one of the saddest days of my life - my brother has passed … I wish I went first."
But he also expressed gratitude to the fans gathered on what was once his front lawn, and across the globe.
"I feel honoured that my brother got this much respect and love," he said. "There'll never be another Muhammad Ali - he was born for greatness."