Cheryl James: Deepcut's tragic soldier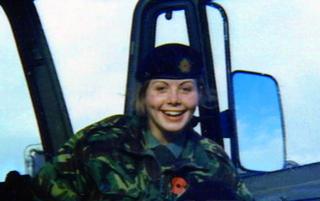 An inquest into a teenage recruit's death at the Deepcut Barracks has reached its conclusion. What have we learned?
The Deepcut Deaths
Cheryl James joined the Army in the spring of 1995. Six months after she signed up she was found dead at Deepcut barracks with a single bullet wound to her head.
Her death came a month after her 18th birthday and five months after another Deepcut trainee , Sean Benton, 20, died from five bullet wounds to his body.
Six years later in September 2001 a third young soldier, Geoff Gray, was found dead at the base and then in March 2002 the body of James Collinson was discovered. Both were 17 and had suffered gunshot wounds.
The bereaved parents were told that in all four cases the wounds were self-inflicted. In 2002 they met for the first time to question the culture at Deepcut barracks, the headquarters of the Royal Logistic Corps. Bound by their tragedies the families held a news conference where they called for a public inquiry. It was the start of a long quest for the truth.
The investigations
After Cheryl James's body was found officers from Surrey police attended the scene. But because the death was immediately deemed to be a suicide, the Surrey force handed over the investigation to the Royal Military Police.
A brief inquest in December 1995 a few weeks after the death recorded an open verdict. But early the following year an Army Board of Inquiry decided it was a suicide.
After the last Deepcut shooting in 2002, and with media attention growing, Surrey police began investigating all four deaths. After an inquiry which lasted a total of 18 months they found no evidence of any crime in all four cases. The Surrey investigation came in for criticism from the Devon and Cornwall force which was asked to review it. Surrey police insisted they had done a thorough job and denied they had approached the investigation with a closed mindset that the deaths were suicides.
During the investigation, officers uncovered allegations of bullying and sexual harassment at the base. This led the Deepcut families to renew their calls for a public inquiry.
Instead the then Labour government appointed a senior lawyer, Nicholas Blake QC, to carry out a review. He didn't examine in detail the case of James Collinson, the last soldier to die, because his inquest hadn't taken place. But he decided that in the other three deaths the wounds were self-inflicted.
One of the recommendations of the 2006 Blake review was that each family should receive the Surrey police report and witness statements relating to their child's death. It was years later that lawyers from the human rights organisation Liberty, acting for Pte James's family, got access to this material.
In 2014, by then in possession of masses of documentation, her parents went to court and had the original inquest verdict quashed. This paved the way for the new inquest.
Cheryl James's family background
Cheryl James grew up in north Wales with her parents and brother. She was fostered as a baby by Doreen and Des James, who then adopted her. They described their daughter as bubbly, happy and caring. Des James said simply: "She was a joy."
When she was 15 she was badly affected by the suicide of a male cousin. Shortly afterwards she took an overdose of painkillers and in the following years she spent some time away from home.
But in 1995 she was back with her family and decided to join the Army. She did her first 10 weeks at Pirbright Training Centre in Surrey and then moved to Deepcut barracks next door to finish her training.
In October 1995 she came home for her 18th birthday. Doreen James described how she made a birthday cake for her daughter to take back for her friends: "She was still my little girl. I took her back to Chester station that evening to catch the train and sadly that was the last time we were to see her."
The fatal shooting
A few weeks later on Monday 27 November, Cheryl James was on early morning guard duty at a busy gate into Deepcut. She had been posted there armed and alone.
One moment she was present - checking ID cards, raising the gate for vehicles - the next she had vanished. She was last seen around 08:20.
About 10 minutes later she was found just outside the perimeter fence, close to the gate, on a raised wooded area overlooking the road. Her body was in a foetal position with her SA80 rifle by her side.
There were no signs of a struggle. A single shot had been heard and a single bullet was missing from her rifle. Investigators decided it was a suicide. There wasn't a note or any witnesses to Cheryl James's final movements.
Cheryl James's state of mind
The new inquest heard from 109 witnesses. Among them were soldiers, now in their late thirties and early forties, who had trained with Cheryl James.
Deepcut camp was described as an unhappy place with bullying, low morale and a boring regime. Some of Pte James's friends said she'd had enough of Army life and wanted to leave.
One friend, Helen Miller, told the inquest: "She didn't care about the Army and I don't think she felt that the Army cared about her."
Other friends described how Cheryl James had been sexually propositioned by an instructor when she was away from Deepcut on a driving course in the weeks before her death. But an allegation from one former soldier that she may have been raped the night before she died was not corroborated.
At the time of her death Cheryl James was trying to choose between two soldier boyfriends. Some of her fellow trainees had criticised the way she was treating the men.
One of her boyfriends, Simeon Carr-Minns, now 39, told the inquest: "When I first got to know her she was chirpy, vivacious, happy. During the weekend before her death I started to realise that there were deeper issues with her, that she was not as happy as she was making out to be."
---
For further information and help
For details of organisations which offer advice and support go online to bbc.co.uk/actionline or call the BBC Action Line to hear recorded information on 08000 934 999
Lines are open 24 hours and calls are free from landlines and mobiles
---
But others who had seen her in the 24 hours before her death, including on the morning, said there was no indication she was depressed and they found it hard to believe she would have taken her own life.
Her second boyfriend, Paul Wilkinson, now 37, had seen her just before she was found dead. At the inquest he said he went down to the guard post to tell her she had to choose between him and Simeon Carr-Minns, who was known as Jim.
Paul Wilkinson described how he was with Pte James for about three-quarters of an hour. He said she was fine when he left her at around 8.15am and they had arranged to meet later that day. He said he was escorted back to the barracks by a major who had told him to go. But the officer told the inquest that Paul Wilkinson was still at the gate when he left.
He denied he was angry over claims that Cheryl James had humiliated him sexually the night before. Pressed on why he had changed some details of his account down the years, he said it was because he had remembered things differently.
He was asked by Alison Foster QC, the family's barrister, if he was frightened he might have tipped her over the edge. He rejected this and said he was not there when the trigger was pulled.
Asked, "Did you do anything you now bitterly regret?" He replied, "Yeah I left." He said Cheryl James wouldn't have died if he had been there.
The coroner ruled that Paul Wilkinson should not be treated as a suspect.
Forensic evidence
As the Royal Military Police who originally investigated the death were working on the suicide theory, basic forensic work wasn't done and key evidence wasn't kept. When Surrey detectives began their investigation seven years later they were forced to work from photographs which showed how the single bullet had penetrated between Cheryl James's right eye and the bridge of her nose.
Last summer her body was exhumed and in a new post mortem examination two bullet fragments were recovered which matched the ammunition type used in an SA80.
In addition, new ballistics tests were conducted by scientists in the UK and Germany which suggested it was a contact or close contact shot. One test was said to show that the lack of an exit wound, which some had suggested meant the fatal shot must have been fired from a distance, was consistent with a close contact shot.
Most of the expert witnesses, including Dr Nat Cary, the pathologist appointed by the coroner, agreed the gun had been fired at close range. They described how this was supported by dark markings on Cheryl James's face, seen on the photographs, which appeared to be soot from gunshot residue. They said there also seemed to be soot on her left hand which was consistent with her holding the rifle.
But Prof Derrick Pounder, the pathologist brought in by the family and their lawyers, maintained the dark markings were dirt or bruising rather than soot. He told the inquest: "My view is that there is no soot on the face. It follows that the wound was not self-inflicted, it was inflicted by another."
---
Find out more
You can watch Deepcut: The Army's Shame on Friday 3 June on BBC Two, at 21:00, or catch up afterwards on iPlayer.
---
Official failings
Surrey Police have admitted that when Cheryl James's body was found they should not have handed over the investigation to the Royal Military Police.
The Army have also acknowledged mistakes. Cheryl James was on lone armed guard duty when she died. Her commanding officer, Colonel Nigel Josling, said he was unaware it was a breach of Army regulations to put women on armed guard duty on their own. The Army's spokesman at the inquest, Brigadier John Donnelly, apologised to the James family for this and agreed there were serious failings at the base.
He admitted the Army did not have structures in place to provide the proper duty of care for the mainly teenage trainees. The inquest heard how young soldiers, away from home for the first time, flouted Army rules on sex and drinking. Deepcut was described as a sexualised, morally chaotic environment. And there was said to be bullying and sexual harassment by some instructors.
The Army said there were not enough staff to cope with the hundreds of trainees. Brigadier Donnelly stressed that over the past twenty years there had been massive improvements in the way training establishments were run.
On sexual harassment he said: "The culture is starting to change but we are not complacent and we do not think we are anywhere near there yet."
The Deepcut families
Cheryl James's parents are the first of the Deepcut families to have a new inquest. It follows years of contact and correspondence with the Ministry of Defence and Surrey police.
Des James's persistence was criticised at the inquest by John Beggs QC, barrister for Surrey police. He referred to the fact that at the time officers were investigating Cheryl James's death, the Surrey force were also busy with the Milly Dowler and M25 rapist investigations.
He put it to Mr James: "Did it ever occur to you in the numerous emails, letters and complaints that you wrote that you yourself might have been distracting Surrey police from what some might have thought were more pressing enquiries?" The coroner stopped this line of questioning.
The families of the other three soldiers are currently fighting for hearings of their own.
Sean Benton's parents have now died. But his brother and sister are continuing their family's campaign. A decision in their case is expected this year.
---
Contact us
Do you have a story or information about Deepcut or other military bases which you want to share with the production team who made the film? If you would like to speak to a member of the production team, you can send an email to: deepcut@bbc.co.uk
---
Subscribe to the BBC News Magazine's email newsletter to get articles sent to your inbox.