Been and Gone: The writer who created The Dirty Dozen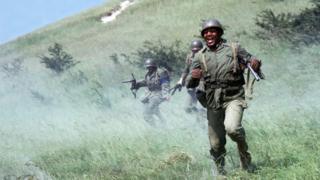 Our regular column covering the deaths of significant - but lesser reported - people of the past month.
Erwin Nathanson was working as a journalist in New York when he heard a tale about a secret wartime unit which had been responsible for demolishing targets behind enemy lines during the Allied invasion of Europe in 1944. One of the stories talked about their unconventional behaviour, including the suggestion that they only washed once a week. Nathanson failed to verify the details but decided to add a few myths of his own and the result was the 1965 novel, The Dirty Dozen, in which a group of soldiers, sentenced to death or serving long prison sentences, were offered a reprieve if they volunteered for a mission to blow up a chateau full of German generals. The book went on to sell more than two million copies and formed the basis for a film of the same name. It became the fifth highest grossing film of 1967 and won four Oscar nominations.
Ray Fitzwalter was a tenacious journalist who was one of the first to investigate the activities of the Newcastle businessman John Poulson. A move to Granada TV's World in Action programme gave him an opportunity to make a film exposing Poulson's links to government officials and the Conservative cabinet minister, Reginald Maudling. The Independent Broadcasting Authority banned the film without seeing it but it later emerged that four of its members had links to people named in the programme. Poulson and a number of his associates were later jailed. Fitzwalter became editor of World in Action in 1976, commissioning, among other programmes, a series on the Birmingham pub bombings, which helped show the miscarriage of justice which led to the release of the so-called Birmingham Six. He was also responsible for the film in which Matthew Parris, then a Tory MP, was challenged to live for a week on unemployment benefit. He failed.
Carolyne Munroe was a pioneer of the transgender movement whose book, A Tale of Two Sexes, was the account of her journey from man to woman. Born Glenn Richards, she struggled with her sexual identity as she grew up in the restrictive moral atmosphere of her native Northern Ireland, She had a spell as a DJ on Portsmouth's South Parade Pier before securing a job with Radio Victory when it launched in 1975. She moved to another station, Devonair, in 1980 and it was while working in Devon that she underwent reassignment procedures and Glenn re-emerged as Carolyne. She gained a reputation as a larger-than-life figure with a fine contempt for the "suits" who ran the stations on which she worked. She specialised in playing old records for the musically nostalgic, often singing along in her trademark husky voice. She went on to found her own station, Palm FM in Torbay.
Voice-over artist Phil Sayer was just one of a number of people who, over the years, have warned passengers on London's underground trains to "mind the gap". The message was first used in the 1960s and has featured, among others, the voice of the actor Tim Bentinck who plays David Archer. Sayer began his career as a compere in a Watford nightclub where he toned down his northern vowels to speak RP. Spells in local radio followed including a stint on Piccadilly Radio and BBC Radio Manchester. In 2003 he formed a voiceover company at his home in Bolton with his wife Elinor, who can also be heard on the underground. Sayer provided the voice for automated announcements at major train stations as well, once remarking that he had to say "sorry" more than most people.
Rachel Johnson was the last survivor of the population of the archipelago of St Kilda off the west coast of Scotland. The islands had been continuously occupied for thousands of years, with the population raising sheep and cattle, growing crops and supplementing their diet with seabirds. As a child she was sent to gather birds' eggs and seaweed. In 1930, the last few residents were moved to the mainland after life became just too difficult. Rachel, who was eight when she left her home, finally settled in Clydebank although, unlike some of her contemporaries, she did return to her birthplace on a number of occasions, including the commemoration of the 50th anniversary of the evacuation. Her son Ronnie said: "If you asked her about St Kilda, she would look at you and smile. It was a very hard life on St Kilda, but there was a great sense of community."
Among others who died in April were
Prince Rogers Nelson - prodigiously talented musician and star
Victoria Wood - much-loved writer and comedian
Billy Paul - singer who had a hit with Me and Mrs Jones
Gareth Thomas - actor who played the title character in the sci-fi series Blake's 7
Arnold Wesker - award-winning writer of the plays Chips With Everything and Roots
Merle Haggard - country singer/songwriter
Morag Siller - Coronation Street and Emmerdale star
Subscribe to the BBC News Magazine's email newsletter to get articles sent to your inbox.