The Irishman who faked his own kidnapping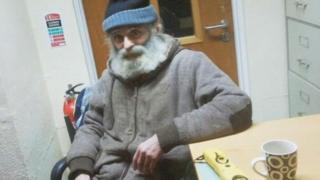 When a bedraggled man appeared at the side of a road in Ireland claiming he had been abducted, a bizarre tale of fraud and a fake kidnapping started to unfold. A new documentary, The Many Lives of Kevin McGeever, made by Brian Carroll tells the story.
Kevin McGeever's drenched, emaciated figure lay at the edge of a country road - he wasn't wearing any shoes and a plastic sheet covered his skeletal frame.
Catherine Vallely and a friend were driving past, and as she caught the dripping man in red trousers in her headlights, for a split second she mistook him for a traffic cone.
When she realised her mistake, she stopped and offered him a lift. She couldn't help noticing his bushy white beard, sunken eyes and inch-long yellow fingernails.
"He told us he had been thrown out of a van," she says. "He looked like a tramp, he looked homeless. I thought he was just some old man who didn't know what he saying. I was just humouring him."
Vallely and her friend spotted that the lights were still on in the Garda station in Ballinamore, in County Leitrim, so she pulled over.
McGeever went inside, and told the officer on duty that he had been kidnapped by armed men from his mansion in County Galway, 170km (100 miles) away, and kept in an underground container for eight months. By this time it was January 2013. When he took off his hat, the word "tief" - a misspelling of "thief" - was written on his forehead.
Police initially took his story seriously, says Brian Carroll, who made the documentary for Irish broadcaster RTE.
At first, they had no reason to doubt his account. His partner, Siobhan O'Callaghan, had reported him missing in June 2012.
But cracks soon began to appear in his story.
"When he was brought to the local hospital for an examination they noted that he had lost between 70 to 80lb (35kg) in weight. But the doctors didn't note any great muscle wastage or any damage to his eyesight for a man who claimed to have been held in complete darkness for eight months," says Carroll.
The authorities even found a witness who said he had spotted McGeever more than a week after the date the kidnapping was supposed to have taken place. They also traced texts sent from his phone from Germany, Northern Ireland and the UK.
So why would someone go to such extraordinary lengths to convince the world he had been kidnapped?
During the Celtic Tiger years, when Ireland's economy was booming, McGeever sold luxury apartments in Dubai to Irish investors.
Irish businessman Jim Byrne, who is now based in Dubai, bought five. In 2008, though, with the property market crashing, he started to worry. When he eventually tracked McGeever down, he was assured that while there had been a few problems, his property was safe.
But he says the apartments were never handed over to him, and his investment was never returned. He discovered that at least one was sold to someone else.
Two of the apartments were in a development called Shami Tower. "He tried to move me away to other properties, but he never gave me the other properties," says Byrne.
"I only discovered in 2009 that I didn't own any property altogether. So I've been chasing him down ever since."
In 2011, Dubai issued a warrant for McGeever's arrest - he was briefly held in Germany, but the case was dropped before he could be extradited to the UAE.
Byrne then took his case to an Irish court and in 2014 McGeever was ordered to pay him one million euros (£785,000). Two years later, he still hasn't received the money.
Kevin McGeever declined to be interviewed by the BBC, but he told Carroll that he only ever double-sold properties where payments weren't made and the original investors were in default.
In an interview with the Irish Independent he admitted that he was questioned by police in Germany, but claimed: "The Germans said it was all a big joke and they didn't take it serious."
Carroll decided to delve into McGeever's past and discovered that before the trouble in Dubai, McGeever was wanted in the US on fraud charges dating back to 2003. He had lived there since the late 1990s, mainly based in Georgia but also spending time in expensive resorts in Florida.
"He managed to persuade investors right across North America, in Mexico, in Canada, in Europe and in Ireland to invest money in what he claims was his private bank in Liechtenstein," says Carroll. "It was called the World Trust Bank and people promptly poured up to $8m (£5.5m) into this bank account, believing McGeever when he said that he could deliver them returns of up to 25% per month on their deposits."
---
Brian Carroll spoke to World Update on the BBC World Service - listen to the interview here
---
In the documentary, Carroll says more than $2m (£1.4m) disappeared before investors noticed something was amiss. Eventually an accomplice, Doug Johnson, gave evidence against McGeever, but by that time it was too late - the Irishman had left the country. Although the US hasn't sought McGeever's extradition, the FBI told Carroll that if McGeever ever sets foot there again, he will be arrested.
For his part, McGeever has denied any wrongdoing in America, telling the Irish Independent the case there is down to mistaken identity.
"There are probably literally thousands of people that emigrated from Ireland called McGeever," he said. "Strangely enough there's an awful lot of Kevin McGeevers living in America on the East Coast, in Arizona and in Florida, and all over the place. They got me confused with somebody else."
So with a history of packing his bags and moving to far-flung places, why was it that this time he decided on a fake kidnapping?
"I think he was simply running out of places to go," says Carroll.
Charged with wasting police time, McGeever did something "incredibly stupid" and regretted his actions, according to his defence counsel, John Jordan. He had hoped the abduction would get angry investors off his back.
The judge gave McGeever a suspended sentence so as not to place a further financial burden on taxpayers following the lengthy investigation into the case. "If I send him to prison, the taxpayer will have to pay for his upkeep - to house, clothe and feed him, so I will suspend the sentence for five years," he said.
And as for where McGeever was during those eight months?
"That is the mystery really," says Carroll. "The truth is, nobody knows."
Subscribe to the BBC News Magazine's email newsletter to get articles sent to your inbox.