Who were the young Brits who got a shout out from President Obama?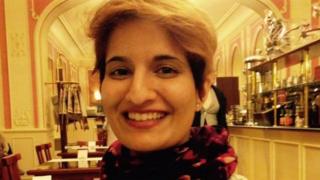 At a town hall meeting in London, US president Barack Obama told 500 young people to "reject pessimism, cynicism and know that progress is possible".
In the question and answer session were A-level students and people selected for a US Ambassador's young leaders project in the UK - some of whom got a special name check from the president.
So how does it feel to get a shout out from one of the world's most powerful people?
---
'We've been mentioned around the world'
Michael Sani, 33, is founder of Bite the Ballot, a politically-neutral voter registration campaign ,from south east London.
Mr Obama quoted Michael's words, that leadership was about "fighting for change you may not live to see, but your children will live to see".
"I managed to keep it secret since I had a phone call about it a week ago. I was sat right behind Obama, and then he called out my name and said: 'Where's Michael?'
"He turned around and looked me right in the eye. And then he was quoting my words back to me. It was so surreal. I've been trying to take it in, and watching mentions of us around the world.
"Bite the Ballot started as an idea in a classroom when I was a teacher six years ago, then a lunchtime club, then I quit my job and went for it. It's been a slow journey at times, but last year we got the record for the most successful registration record of any campaign in a Western democracy.
"You don't always get the chance to reflect, so moments like today make it all worth it. Of course, Obama mentioning us it doesn't change anything in terms of our resources. And he got our campaign name wrong at first, but I don't mind that. I feel very proud."
---
'I've got a proud Irish mammy!'
Cliona McCarney, 21, is a politics and history graduate from Queen's University in Belfast. She works as a researcher at the Belfast Trust.
She asked the president how his successor might help to continue to foster the peace process in Northern Ireland. Mr Obama described it as a "story of perseverance" and said "folks are working these issues through".
"I was sitting there thinking, should I put my hand up? It probably wasn't my most polished of questions, but I thought it was really important to highlight it the role of US relations with Northern Ireland.
"The US has done a lot to foster the peace process in Northern Ireland, and although there is peace and stability now, our problems are still there, they haven't gone away.
"It's really important that whoever takes over from Obama understands that. I'm not too sure what a President Donald Trump would do to foster the peace process.
"It was a difficult question, but he answered it well. He obviously knew a lot about it. I thought his whole speech was very inspiring.
"Now I'm just wondering whether the whole thing was really real. My mum, I don't think she realised, she was phoning me the whole way through. She actually missed it, but luckily someone on Twitter recorded it. I definitely have a very proud Irish mammy!"
---
'I came out as non-binary to Obama'
Maria Manir, 20, is a politics and international relations student at York University, who is also standing as a Liberal Democrat candidate in local council elections in Watford.
Maria came out as a non-binary person, and then asked Mr Obama what he and David Cameron could do "to go beyond what has been accepted as the LGBT rights movement to include people who are outside the social norms".
"I had been planning to ask a question about foreign policy, but in the car on the way to the event it hit me that I had to talk about being a non-binary person.
"The president had just been saying, when you are trying to campaign, sometimes you have to do something a little crazy to get people's attention... so I shouted out, 'Do I have permission to act a little crazy?' He said no, but luckily he came back to me.
"I'd never talked to my parents about it before, because I didn't want to make their lives difficult. I spoke to them after the event. I don't think they fully understand non-binary, but they were still proud.
"I've always known that I don't conform to society's understanding of what it means to be male or female. Every time someone calls me 'madam' or 'miss', it hurts, because I want to say, that's not me. At university I came across the idea of being non-binary, and straight away I knew that's me.
"I was actually quite disappointed by Obama's response. He told me to stick with it, but I think he should have taken the opportunity to stand in solidarity and say non-binary people are being overlooked."
Why I came out to Obama before telling my parents
---
'I tweeted Obama thanks for the shout out'
Becca Bunce, 29, from north London, is a campaigner on disability and violence against women. She is the founder of IC Change, and also works for a charity.
Mr Obama said of her: "[Leadership] compels her to say as a woman with a disability, I may have fallen down at times, but people who believed in me picked me up. And I'm going to pay it forward by fighting for people with disabilities and against violence against women, because I believe the world can be a better place."
"When the White House called, I thought it was a prank to be honest. It just seemed completely ridiculous. They said you'll know if you're in the speech when he says your name.
"When he did, it was just a bit of a blur. I think I was just a bit star struck - and I don't really like being the centre of attention!
"I'm particularly proud that the quote from me he used was about leadership not having to be perfect. I'm a disabled woman, and I have fallen down both figuratively and literally. What I've learnt is that you can always get back up. And that is so much easier if you have the right people around you.
"I started the IC Change campaign, which is about changing UK law so that women and girls can live free from violence and free from the fear of violence, from my living room.
"After Obama mentioned me, I spent the next few hours trying to direct people to our campaign. And of course, I just tweeted @POTUS, thanks for the shout out!"
---
'It's a cause close to my heart'
Maryam Ahmed, 25, is an entrepreneur and a biomedical sciences PhD student at the University of Oxford. She was also the first ethnic minority president of the Oxford University Conservative Association.
Obama said of her: "[Leadership] is the impulse to say, I may have grown up one of eight in a small west London house, but I'm going to use the education I got at Oxford to help any child have the same opportunities that I have."
"Obama name checking me in a speech not something that I ever imagined would ever happen in my wildest dream. It was fantastic. You just cannot believe the most powerful man in the world is standing a few feet in front of you.
"He talked about what I've done to try to improve access to education, which is a subject very close to my heart. My parents are both from Pakistan, and I was really lucky to have family that valued education above everything else.
"At my comprehensive school, it wasn't really pushed for people to apply for the best possible university, and I think there's a big stigma about Oxford and Cambridge that it's elitist. I've participated in a lot outreach programmes which encourage more people to apply to Oxford.
"Education is the big social leveller. I want everyone to have the same opportunities to access to the best possible education, and at the moment, that's not the case.
"After Obama's speech, I was walking around in a daze. I just thought I need something to eat, so I went and bought a potato salad and sat on the train home eating it and crying happy tears."
---
'I hope my mum's changed her mind about politics'
Ali Hashem, 27, is an entrepreneur and Labour councillor from Hammersmith, west London.
The president said of him: "[Leadership] is the impulse that led Ali to say, 'I may have fled Syria as a child, but now that I'm in elected office, I'm going to use my power to do whatever I can to help other refugees like me'."
"My wife just woke me up the other day and said: 'Ali, it's the White House on the phone... it was surreal.'
"My parents were Iraqi. My dad was politically active against Saddam Hussein's regime, and he had to flee, first to Syria, then to the UK in 1991 when I was small. He and my mother claimed political asylum.
"For my mother and many people in the Iraqi and Syrian diaspora, government and politics just brought misery. They suffered from politics, it was a vehicle for trauma.
"I was elected as a councillor when I was 25, and then became deputy mayor. When the little boy Aylan washed up dead on the beach in Turkey, I'd just become a father, and it really hit home. Since then, I've been trying to find ways that we can help with housing and pairing refugees up with residents in the borough. It's an American cliche, but I think we need a bit more positive thinking in Britain.
"I was a bit embarrassed about being praised by Obama, because I wish I could pay tribute to all the people who have helped me. I hope my mother has changed her mind about politics now."