How do you get picked for University Challenge?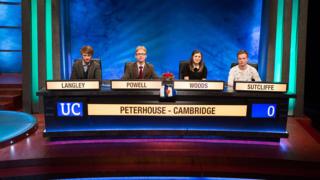 Peterhouse, Cambridge have triumphed in the 45th University Challenge final. How are teams selected for the famously rigorous quiz?
There are few television quiz distinctions greater than triumphing in the series final. Peterhouse, Cambridge, did so on Monday, thanks to their knowledge of prime numbers, Mesopotamian architecture and Scotland in the 1690s. They beat St John's College, Oxford, by 215 points to 30.
And yet there's no set route to appearing on the programme. A spokeswoman for ITV Studios, which produces it for BBC Two, says each university has its own team selection process.
Some of these are much more rigorous than others. Many student union presidents "pick themselves and three of their mates", writes Sean Blanchflower, who won the competition in 1995 as part of the Trinity College, Cambridge, team.
Others organise some kind of selection quiz. The journalist Flora Watkins, who represented Edinburgh University in 1999, didn't face much competition when she arrived at the appointed time. "There may only have been the four of us who ended up on the programme," she recalls.
But elsewhere it's far more competitive. Manchester University - whose four titles make it the joint highest series winners along with Magdalen College, Oxford - has a famously rigorous recruitment process managed by Stephen Pearson, a member of the library staff nicknamed "the Alex Ferguson of University Challenge".
Pearson sets the approximately 150 students who apply to represent Manchester each year a 100-question general knowledge written test. This reflects the balance of subject areas featured on the programme - around 10% history, 10% literature and 8% science, according to Pearson's own analysis.
The top eight to 12 scorers are then invited by Pearson to be whittled down at a second stage, which includes live quizzes to assess their buzzer skills. "I want to have one person who is strong in literature, history, geography and science - these are the four big areas," he says.
Once chosen by their university, the teams of four (plus one reserve) are submitted to the programme makers, who assess whether they are good enough to take part. Contestants have to achieve a baseline mark in a test paper set by producers (filling it in, Watkins' strategy was that "the answer to any given question would be either Churchill or Beethoven") and demonstrate a solid level of knowledge in an interview session.
Before going on air, it's advisable to start practising buzzer technique. Watkins says she bitterly regrets not having done this, as her side was knocked out by a Peterhouse team with sharper reaction times. In the run-up to the Manchester team's trip to the studios, Pearson organises weekly "friendly" quizzes for his charges against alumni of the programme.
There are different views on how best to prepare on the day. Former Foreign Secretary Malcolm Rifkind has attributed his Edinburgh side's first-round victory to how "relaxed" they became in the pub beforehand. Novelist Sebastian Faulks, however, who drank three bottles of barley wine before appearing on the quiz and smoked Players Number 6 throughout, was less enamoured of the experience. "When my parents watched the programme, they were appalled", he remembered.
Perhaps the most controversial aspect of the selection process is the fact that Oxford and Cambridge enter individual colleges to the contest, while other institutions compete on a university-wide basis. In 1975 the Manchester team (which included the future Times columnist David Aaronovitch) protested against this state of affairs by answering "Trotsky", "Lenin", "Karl Marx" or "Che Guevara" to every question.
It's a point of contention whether this helps or impedes Oxbridge. Critics say it gives each student at the elite institutions a better chance of getting on the show. Others say that not being able to enter a single team composed of their four strongest students is a hindrance.
Either way, the programme has faced complaints about its lack of diversity and, in particular, its failure to attract female contestants - though Woods and "human Google" Gail Trimble, who captained Corpus Christi College, Oxford, in 2008-9, have displayed some of the most memorable feats of knowledge in the show's recent history.
Some critics say that being a mature student, with the years of accumulated knowledge that entails, may be an advantage. Paxman himself criticised a 1999 Open University side for containing "professional quiz players" aged 39 and 63 (the contestants rejected the charge).
One cast-iron requirement is that you have to actually still be a student. In 2009, Trimble's team were disqualified after winning the series title when it emerged contestant Sam Kay, from Surrey, had started working as an accountant by the time the final was filmed. The title was handed to runners-up Manchester. Guidelines issued by the BBC after the affair stated: "University Challenge is a competition for teams of students".
Follow Jon Kelly on Twitter @mrjonkelly
Subscribe to the BBC News Magazine's email newsletter to get articles sent to your inbox.