The children uprooted to live the 1970s Good Life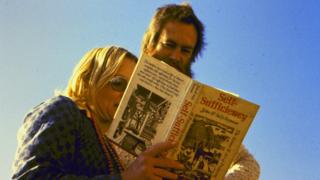 A recent Magazine feature explored what happened to the people who pursued a self-sufficient lifestyle in the 1970s. Here, four readers share their stories of their idealistic upbringings.
The writer John Seymour inspired many to try and live The Good Life. The article about his book stirred the memories of many readers whose parents pursued this dream.
Dan Wrightson, from London: In 1973 my mother and stepfather sold everything in England and bought a house in Tuscany. I was five when we moved. There was no water or electricity and it didn't even have a complete roof. It was like camping for the first few months. We didn't have a toilet at first so had to go outside and our first meal was burnt lamb cooked over a fire.
They wanted to be self-sufficient so John Seymour's book proved very useful to them. They kept ducks and chickens and the first time my stepfather tried to wring a chicken's neck it wriggled free. I remember he ran after it with an axe and cut its head off and it continued to run around for a bit. We had a pig called Queen Victoria which we all became too fond of to eat. In the end we had to sell her to a local farmer as we couldn't afford to keep her. I still think about her.
We grew crops on seven hectares of land. We grew potatoes but the porcupines often got them. Everything was hard work. You had to get water from the well, or milk the sheep for cheese. The mechanics of life took up a lot of time and didn't leave much time to do what we wanted. We had Sicilian neighbours who would take pity on us and feed us up when we visited. I'm bilingual as we were sent to the local school and expected to learn Italian.
It could be frustrating living in the middle of nowhere as we were so isolated but it also gave me lots of freedom to roam. We were next to a forest reserve and I would go out for hours cycling and climbing. My sister and I also used to read an awful lot when we were looking after the lambs.
My mother was very proud that we were eating what we had produced. She liked the sense of taking back control. They became more moderate over time. They got electricity in 1990 and fairly quickly bought a TV and a washing machine. But they kept sheep for a long time and still had animals and vegetables when my stepfather died in 2008.
I think my childhood made me self-reliant. I run an agency that lets properties in Tuscany. I go walking and mountaineering and I love nature. I take my four-year-old son on long bike rides on holiday. I don't practise self-sufficiency myself and I've come to think it's better to stay a part of society and try to fix things, rather than separate yourself completely as my mother and stepfather did.
Donna McCarthy, from Cardiff: In 1970 when I was six months old my parents moved me and my two-year-old sister to a thatched house in Donegal in the Republic of Ireland. It didn't have a toilet or bathroom. My dad had read about a priest who was trying to attract people to the remote village.
We had 11 acres of land and grew all our own vegetables but we relied on hardy stuff like broad beans, swedes and potatoes. Other crops would just fail because of the land or the weather. My earliest memories are of going out fishing at night and looking after the vegetables and not eating them.
My parents strangled their own chickens and milked their own goats. One year we had an awful problem when a lot of the goats started keeling over and dying. We also had a horse and a cow.
It was really good to be in the countryside. All my memories are of being outside, being around animals and eating home-grown food.
One of the biggest challenges was dealing with a lack of money. We relied on family sending us clothes and books. We were quite remote and sometimes didn't have transport so couldn't easily go to places. I think my mum found that very isolating so there were lots of arguments.
Another problem for my parents was education. We were home-schooled because my parents didn't want us being educated at the very Catholic school in that area. We were quite separate from a lot of the rest of the community.
We moved to west Wales when I was seven, where my dad worked on someone else's farm. We later moved to Cardiff. I think it taught us that sustainable living wasn't the dream you might think it is and my mother never wanted to do it again. My father went back to Ireland in the 1990s and tried again on his own. He died there in 2000.
Sue Jefferson, from York: My father was an accountant and when I was 12 we moved from an estate in York to a large detached house in the countryside. We inherited some hens that provided us with eggs and I think that's what got my parents interested in self-sufficiency. They converted the grass lawn to grow their own fruit and vegetables and then we started to take in orphan lambs from nearby farmers.
We kept six baby lambs in our downstairs utility room by the kitchen. It was lined with newspapers with a baby gate to keep them in. It was quite smelly and noisy as they would bleat all the time. They were fed four times a day and I vividly remember the midnight feeds of the animals. There was one occasion when my father was in black tie and my mother in a long evening dress and they were trying to bottle-feed lambs surrounded by poo. They were very cute and the hardest thing was when they would get sent away at 18 months to be slaughtered. I remember we had sheepskin rugs on our beds.
We also had Bully the bullock who was like a pet and so trusting. I was desperate for a horse and taught Bully to jump. He frequently escaped and terrorised the locals. I had to lead him into the trailer for when he got sent to the butcher. When we sat down to eat the meat it was silent around the table. It was a mournful meal. Then my father said: "Mmm, this is quite tasty," and we carried on. My mother drew a line at keeping pigs.
After four years my dad moved to do a job in the Netherlands and my mother put her foot down and said: "I'm not doing this on my own."
It was a real adventure and made us all very aware about where our food came from as well as about animal welfare. It gave us lots of stories to tell, which bonded us as a family. It was quite emotional at times but I'm pleased we had the experience. I chose to stay living in the countryside rather than go back to city life and my husband has an allotment. It made me quite resilient and I was quite a pioneering woman in male-dominated companies.
Delia Naylor, from Cambridge: My dad made the decision to retire early due to ill health brought on by a stressful job. He had a desire to live the Good Life and write books. So when I was 11 we moved to what my granny named "the hovel" in Powys, Wales. It was on the side of a hill and we had no near neighbours. The nearest village was three miles away.
My sister and I were told there would be no TV as there wasn't a signal and my dad wouldn't purchase a booster box. Instead we could enjoy the radio. There was no central heating and my dad spent a lot of the day in a woolly dressing gown and balaclava hat trying to write his novel. My mum had the task of making up the coal fire in the kitchen and we had to put on extra clothes if it was cold.
We kept geese which were fierce and unfriendly and sweet little rabbits which luckily didn't know their fate. We recycled and reused pretty much everything from stationery to clothes, bed linen, old tights for sieving my dad's homemade wine, vegetable peelings and so on. We had a single tub and a spin dryer so Mondays was always washing day.
Living on a meagre wage had its challenges especially when it came to feeding us and the various visitors. My mum was a good cook would conjure up imaginative dishes often from near to nothing in the cupboard. She often referred to "greens" which my sister and I knew were nettles.
We used to have relatives come over in the summer months which I enjoyed. They would marvel at the view from our house looking out over mid-Wales and I would inwardly think: "You can't live on a view." It felt quite isolated at times, especially during my teenage years, and I disliked always having to ask my parents for lifts.
We lived there for nearly eight years. My parents only moved after my dad had a fall and broke his kneecap and my mother said she had had enough. I was 18 and about to leave and I think she just wanted to live near some shops, leisure facilities and other people.
I can look back and laugh at the absurdity of it all now, I think it has given me a resilience and a lust for life, I take risks and can be quite adventurous which I think is probably a bit how my dad was. I have probably inherited a lifelong habit of switching off lights, recycling especially stationery and clothes, however I have no desire to live the eco-friendly sustainable lifestyle.
Compiled by Claire Bates and Harry Low.
Subscribe to the BBC News Magazine's email newsletter to get articles sent to your inbox.