Is there a London 2012 Olympics 'curse'?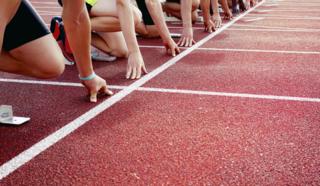 It's been reported that 18 athletes who competed in the 2012 London Olympics have died since the Games. French-language media have begun talking about a "curse", but is there any justification for this?
It seems the first mention of "the terrible curse of the London Olympic Games" was made in November last year, when the French TV channel BFMTV reported the death of the Belarusian sprinter Yuliya Balykina.
Balykina, who competed in the 2012 Games in both the 100m and 4x100m relay, was found dead and covered in plastic in a forest outside the Belarusian capital, Minsk. A 28-year-old man was charged with her murder.
"La malediction olympique" cropped up again last month, after Australian rower Sarah Tait - a silver-medallist at the London Olympics - died from cervical cancer.
"Sarah Tait is just the latest in a very long list of top athletes who have died after taking part in the London Olympic Games," wrote Gilles Festor in Le Figaro on 5 March.
"This Olympic 'curse' has now claimed 18 victims."
But why was it in France that this idea took hold? Maybe because of the shocking deaths of two French Olympians on 9 March 2015, says Paula Kennedy, who monitors European media for the BBC.
Swimmer Camille Muffat and boxer Alexis Vastine were among 10 people killed when two helicopters collided in Argentina, during the filming of a TV survival show, Dropped, where celebrities are dropped in rough terrain and left to find food and shelter.
The story had considerable impact in France. "The sudden death of our fellow French nationals is a cause of immense sadness," said French President Francois Hollande in a statement.
---
Find out more
---
All the athletes who have known to have died after competing in the 2012 Olympics are listed at the bottom of the page.
It sounds like a lot - 18 young athletes dying in four years - but is it really, when you consider that 10,568 people took part in the Games?
Based on crude mortality rates "you would expect 7.89 people in 1,000 to die," says Rob Mastrodomenico, a sports statistician at Global Sports Statistics.
So in a group of 10,568 people one could expect about 333 to die over a four-year period, he says.
However, Olympic athletes are young - they have an average age of 26. Taking this into account, we should expect approximately seven deaths a year, says Mastrodomenico, or 28 deaths in four years.
So the figure of 18 deaths over four years does not seem quite so out of the ordinary - and definitely not the sign of a "curse".
---
London Olympians who have died
7 December 2012 Keitani Graham, Micronesian wrestler (heart attack)
3 January 2013 Burry Stander, South African mountain biker (hit by vehicle while training)
9 May 2013 Andrew Simpson, British sailor (sailing accident)
15 June 2013 Elena Ivashchenko, Russian judoka (suicide)
4 August 2013 Billy Ward, Australian boxer (suicide)
16 August 2013 Abdelrahman el-Trabily, Egyptian wrestler (shot dead)
19 October 2013 Jakkrit Panichpatikum, Thai shooter (shot dead)
6 November 2013 Christian Lopez, Guatemalan weightlifter (pneumonia)
29 December 2013 Besik Kudukhov, Russian wrestler (car accident)
3 May 2014 Elena Baltacha, British tennis player (liver cancer)
9 March 2015 Camille Muffat, French swimmer (helicopter crash)
9 March 2015 Alexis Vastine, French boxer (helicopter crash)
27 March 2015 Daundre Barnaby, Canadian 400m runner (missing at sea)
25 June 2015 Trevor Moore, American sailor (missing at sea)
October 2015 Yuliya Balykina, Belarusian sprinter (murdered)
10 November 2015 Laurent Vidal, French triathlete (heart attack)
10 December 2015 Arnold Peralta, Honduran soccer player (shot dead)
3 March 2016 Sarah Tait, Australian rower (cervical cancer)
---
Subscribe to the BBC News Magazine's email newsletter to get articles sent to your inbox.