The canal boat dwellers told to keep moving or face eviction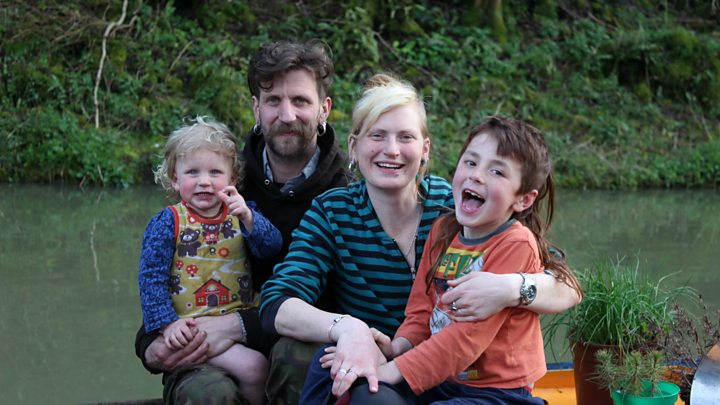 Canal boat owners with "continuous cruiser" licences must keep moving to a new place every 14 days. Many people who live on their boats are complaining that the way the rule is being interpreted - having to travel in one direction - means their children can't go to school.
It's a scene of very normal domesticity. Mum is preparing the evening meal in the kitchen. Dad is sitting with his seven-year-old son, reading a book of Greek myths together. The two-year-old daughter is playing with a toy, and Pan, the dog, is lying snoozing on the floor.
But for mum Jassy Easby and dad Ted Powles, and children Jem and Alba, home is not bricks and mortar. Home is a 70ft canal boat called Pathfinder and built in 1893.
"We didn't choose to live on boats because it's an easy lifestyle. We chose to live on boats because we love the canal," says Powles.
The family is currently moored at Bradford on Avon, Wiltshire, on the Kennet and Avon Canal. It's a picturesque town they know well, and it's where Jem goes to school and Alba to nursery.
And that's the problem.
Like 5,000 of the 32,000 canal boats (more than during the Industrial Revolution) their boat is licensed as a "continuous cruiser", without a home mooring - which can be very hard to come by.
---
Find out more
You can listen to Andrew Bomford's report on Broadcasting House, BBC Radio 4 on Sunday 17 April at 09:00 or catch up afterwards on the iPlayer.
---
Under the British Waterways Act 1995 such boats must be used - in the words of the legislation - "bone fide for navigation… without remaining continuously in any one place for more than 14 days or such longer period as is reasonable in the circumstances".
Interpretation of this legal clause is controversial. The Canal and River Trust (CRT), which took over control of the 2,000-mile English and Welsh canal network in 2012 from the old British Waterways, takes it to mean that boaters must be on a continuous journey, mostly in one direction, from one place to another. According to CRT they must travel at least 15-20 miles a year, and usually much further.
Many boaters are falling foul of this ruling when, instead, they shuttle backwards and forwards over one relatively short stretch of the same canal, because of the need to get to a job or school.
For some years the family has been navigating along a 15-mile stretch of the Kennet and Avon Canal between Semington in Wiltshire and Bath. Powles works in Bath and the children are at school and nursery in Bradford on Avon.
"We have various ways of getting to school," explains Easby, "Sometimes we walk, and sometimes we cycle."
"Sometimes I cycle three miles," interjects Jem.
"The furthest cycle Jem can do is about three-and-a-half miles, but it's a stretch," she adds, "You can see he's puffed out at the end of it."
The result of their limited travelling is that over the last year they've been refused a new annual boat licence by CRT, and instead given a restricted licence lasting six months. They are now on their second six-month licence, which effectively serves as a warning that their cruising pattern is not acceptable. Without a marked improvement, they risk losing their licence altogether.
They are not alone. CRT has so far issued 652 restricted licences to boaters it believes are not operating within the spirit of the legislation.
"I've been on this canal for 10 years," says Powles, "I've never felt as unwelcome as this before, as un-listened to, as ill-informed by the people running the canal as to what they actually want."
Is he worried they will lose their licence altogether?
"Of course - to have a grey area around what may or may not have your home taken from you is worrying," he says.
Easby is more forthright. "It feels like anything we do will not be good enough and that they just want us gone. I feel like they are trying to threaten people because they don't want us here, and they will keep threatening people until they move on.
"The first people to go will be the families, and if you take the families off this canal you are ripping the heart out of this community. I think it's very sad."
The Canal and Rivers Trust is currently carrying out enforcement proceedings against 45 boat owners who have been refused further licences because of repeated failures to travel sufficiently. According to CRT, it is currently instructing solicitors to seek court orders to seize the boats in 15 cases. Two canal boats have already been removed from the water and destroyed.
CRT believes the education of children or the need to travel to work are not good enough reasons to allow a reduction in cruising distances.
Published CRT guidance to boaters specifically states: "Unacceptable reasons for staying longer than 14 days in a neighbourhood or locality are a need to stay within commuting distance of a place of work or of study (eg a school or college)."
---
Info on costs
Boaters, whether they are continuous cruisers or on a permanent mooring, must pay for an annual licence which costs between £500 and £1,000 a year, depending on the length of boat
Continuous cruisers pay nothing to moor temporarily for up to 14 days but in many busy areas, the time limit is reduced to seven days or even 48 hours
There are very few permanent residential moorings which are available - the CRT, which collects rents on fixed moorings outside private marinas, is currently advertising only seven residential mooring sites in the whole of England and Wales. They are often auctioned to the highest bidder, and current guide prices for available moorings range from about £2,300 to £5,800 a year
Most permanent moorings are in private marinas and the cost depends on location, but tends to average £3,000 a year
Canal boats themselves range enormously in price according to the size and condition
Insurance must be bought in order to acquire a boat licence; insurance costs up to £500 a year
---
Easby says as parents they have a duty to give their children the best education they can. "We love living on the boat - that's the frustrating thing because we love taking it out and we love the open fields. But we have our commitments and Jem's education has to come first."
According to CRT, lots of people do manage to raise children on canal boats and successfully get them to school, but it just takes more organisation and planning than normal.
Spokesman Matthew Symonds says they can't make exceptions for one group of barge dwellers.
"We try and support boaters where we can, and we try and listen to individual circumstances," he says, "And we make lots of reasonable adjustments - for example if people are unwell.
"But when you're looking at something like education that could go on for 15 years that a child might be in school, then it wouldn't be reasonable to bend the rules for one group. We have to apply them to everybody and be fair."
The canal network is more popular than ever. CRT calls it a "golden age" for canals. In the last 10 years the numbers of licensed boats have increased from 25,745 to 32,733. On some canals, particularly in cities like London, this has caused great congestion, and prompted the organisation to police the waterways much more proactively than before.
Enforcement officers actively log the position of boats, and those that are not cruising "in good faith" are given advice and warnings. Only after repeated warnings, does CRT begin the enforcement process which could ultimately result in a canal boat being seized and removed from the canal network.
In most parts of the country there are severe shortages of permanent moorings. Apart from places at private marinas, many boaters rent moorings from CRT. But few are available. Currently there are only seven residential moorings available from CRT in the whole of England and Wales.
In London and parts of the south east of England, the housing crisis has prompted some people to look to canal boats as a cheap housing solution because apart from the annual licence, boaters pay nothing for mooring temporarily in one place. CRT, though, is keen to disabuse people of this idea, saying that canal boats are very much a lifestyle choice and can be difficult to operate successfully at the same time as holding down a full-time job.
Many boaters have been objecting to the current enforcement process, and claim it is in part an attempt to cleanse the waterways of a counter-culture of canal boat dwellers in favour of more use of the canals by visitors and holiday-makers.
Members of the National Bargee Travellers Association are planning a protest in London against CRT. And in the absence of new waterways, the jostle for space will continue.
Subscribe to the BBC News Magazine's email newsletter to get articles sent to your inbox.