Who should pay for parks?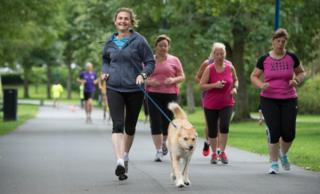 The UK's parks now look like gyms, full of Parkrun runners, British Military Fitness people, and personal trainers. Casual runners have to make space for casual cyclists and vice versa. But should anybody be paying for the privilege of being there, asks Chris Stokel-Walker.
Sir Joseph Paxton, as well as being the creator of the variety of banana that dominates the world, is credited by many with masterminding the modern public park.
His design for Birkenhead Park, claimed to be the world's first civically funded public park, helped inspire New York's Central Park.
It seems unlikely he could have imagined a crowded future where runners jostled for space with cyclists and everybody argued over who should be paying.
The latest sticking point is over the activity of Parkrun, an organisation dedicated to providing free, relaxed, informal but organised runs for people of all abilities. They've already been widely praised for their contribution to public health and wellbeing.
From the first run at Bushy Park in Teddington in 2004, the concept of dogged amateurs racing against themselves to beat their personal best over 2km or 5km has become a fitness phenomenon. More than 1.5 million runners participate across the globe now.
But at least one council is unhappy.
Ernest Brown, chairman of Stoke Gifford Parish Council, said in a statement that "the parish council cannot and will not stop people from using the parks for exercise and running but when it comes to an organisation with paid directors, fundraisers and sponsors it would be unfair to expect the residents to pay".
The South Gloucestershire council intends to implement a £1 charge per runner. The backlash has come from athletes as notable as Paula Radcliffe and Dame Kelly Holmes. A petition is already bulging with signatures.
Parkrunners are not the only park users being asked for money. Private company British Military Fitness, which puts paying users through their paces in 140 parks and other outdoor venues across the country, pays for access to those areas. A spokesperson says they are happy to do so.
The Royal Parks, which oversee the running of London's parks, have introduced charges for personal trainers, 88 of whom have registered with the body. The cheapest licence costs £280 a year. Other councils, including Poole, Guildford and Brighton & Hove, also charge personal trainers to hold outdoor exercise classes.
Those fees are sorely needed at some parks.
"Because parks are under a great deal of pressure due to government cuts, they're having to find other ways to fund the stuff they do and therefore are looking for more commercial interests," says Travis Elborough, author of a soon-to-be-released book on the history of parks and their role in society.
But as the Parkrun example shows, it's not just money-making enterprises that are coming under pressure.
In 2013 the Royal Parks planned to raise revenue by charging any team games involving groups of eight or more £35. That decision was overturned after a two-year campaign led by a charity softball league.
There is the issue of wear and tear of course. In Stoke Gifford, the parish council chairman pointed out that the council recently spent £55,000 to resurface the car park the runners use, and will soon need to replace the path they run on at a further cost of £60,000. "Parkrun are an organised group and like any other group using the facilities should contribute towards the maintenance," he said.
Jim Michael, 26, is a keen amateur runner who lives in Bristol, but participates in another Parkrun near to the one which faces the levy. He believes the parish council's argument - that the 300 regular parkrunners in Little Stoke Park should pay for maintenance of the path - is a false one.
"What is council tax for?" he asks. "Exactly that." He jokes: "What about if I don't have kids - do I get a rebate on my council tax that goes towards schools?"
And yet parks are under pressure.
---
Public parks - a brief history
La Alameda in Seville claims to be Europe's oldest urban park, dating back to 1574
1660 restoration of English monarchy gave rise to "pleasure gardens", notably Vauxhall in south London - one of city's biggest tourist attractions in the 18th Century
Early examples of publicly-owned recreational parks in England include the Derby Arboretum, which opened to the public in 1840, Birkenhead Park in Merseyside (pictured) and Peel Park in Salford
---
Last year the Fabian Society forecast that spending on parks would drop by 60% by 2020. The Heritage Lottery Fund released a report on the state of the UK's public parks in 2014 which found that 86% of park managers surveyed said their budgets had been cut since 2010.
"It is almost inevitable that in the current climate, where park services are facing increasing cuts to their budgets, that they will look for opportunities to raise income to balance their books," says Mark Camley, chairman of the Parks Alliance, the national voice of UK parks.
The debate over charging in parks is framed around cost. But there is also just the question of space. The UK is a crowded island and the 62 million people thronging it - 82% of them in urban areas - visit a selection of parks largely inherited from the Victorians.
Stoke Gifford Parish Council noted in a statement that parkrunners "monopolise the park paths and car park between 0830 and 1030 each Saturday and Sunday".
Camley believes parks are victims of their position as a free place for all to access. "Parks get lots of different users, all of whom want to use them in slightly different ways."
Joggers, cyclists and strolling families can sometimes find it difficult sharing the same pathways. Quiet grumbles may be exchanged, and Cardiff council even banned a Parkrun in 2013 due to a complaint about runners blocking the park's pathways, though the meeting has since been reinstated.
"In general the Parkrun principle is runners do not have right of way and should give way to other park users," says Michael. The runs happen in the early morning on weekends, a quiet time.
And so the row over paying will last longer than a 5k. Parkrun will continue to oppose charging participants, says chief operating officer, Tom Williams.
"Imposing a charge at one event is something that contradicts our founding principles and would set a precedent that threatens our future."
---
Park life in the Magazine
---
Subscribe to the BBC News Magazine's email newsletter to get articles sent to your inbox.