Living with Peter who dresses as Penny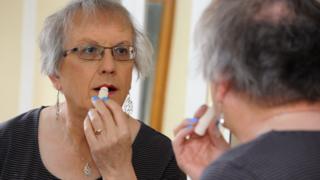 Peter kept Penny hidden from his wife Lou for 12 years. When he came clean, Penny became Lou's secret too - for more than a decade.
It wasn't exactly clear who would be waiting for me at Leominster station in Herefordshire - but it was Penny who turned up.
She was a tall woman in her sixties, dressed in a bright jacket and skirt. On another day, she might have looked very different. Sometimes Penny is Peter Ellis, 63, a retired teacher and former local councillor.
She doesn't mind whether people call her "he" or "she".
"I've tried to work out what I am for a long time - I think the current trend is to talk about being non-binary and I think that's it."
We drove to her home to meet her wife Lou, 69, a retired nurse. Over a cup of tea Penny explained how since "a fairly early age", she always felt she was a bit different.
"It took me until my 20s to work out it was because actually I wanted to be feminine."
She describes experimenting a little bit at home when she was alone.
"I walked around the block at about 9pm [at] night, in the dark. It wasn't exciting in a sexual sense or anything like that - it's never been about sex - but it certainly kind of released a need I felt I had."
Peter hoped the dressing up was a phase caused by the stress of the breakup of his first marriage, and so when he met Lou, and married her in 1988, he didn't tell her.
But after 12 years of what they both say was a close, loving and happy marriage, he describes "pressures building up" and says not being able to be the person, or people, he thought he was, left him "on the edge of becoming depressed".
So he wrote Lou a letter, and handed it to her one evening, with a glass of wine.
---
Peter's letter to Lou
"Writing this with the intention that you should read it is difficult as I know it is bound to cause you hurt and could damage the love that we have for each other and the relationship which I value above all others.
"Nevertheless, the time has come when I can no longer hold back... I still find it easier to write my thoughts instead of talking straight, so what is this all about? The simple answer is that I like dressing up. This is not a recent discovery.
"You've asked me a number of times what my fantasies are and I've been too scared to answer.
"Well for as long as I can remember I've dreamed of dressing up and making up to look and be accepted as feminine. In school plays I loved wearing tights, putting on make-up and wearing anything that was different to boring male dress."
---
She describes feeling "shocked, upset, and numb".
"At some point that night, I made two statements to myself. One was - this is still the same man that I love and the only thing that's changed is that he's handed me this secret about himself. I learn to live with it or I walk away, but I love him.
"And the other thing, was, my biggest fear is people knowing, but if I walk away from a marriage which has been for 12 years perfect - people are going to want to know why.
"If I then tell them, then the secret's out, so why mess it up when I'm going to have to face these things anyway?"
Although Lou felt "angry and upset", she agreed Peter could start dressing in women's clothes and become Penny as long as she could call the shots. "There was a time when going out with Penny was an agonising few hours. It was a duty then and I always felt we were being looked at and judged.
"Penny did not go out in this town where we live. We'd get into the car and we'd drive to a big city and have our shopping trip there.
"I do know that some transgendered males do like to carry on their feminine persona by wearing frilly nightdresses and the accoutrements of nightwear and I said absolutely not. The bedroom is one non-negotiable area."
Lou describes herself as a very open person and found living with a secret hard. "I was someone who'd just say to somebody 'Oh come back for a cup of coffee'. But I couldn't say that if I didn't know whether Penny was the person who was at home.
"Penny was being true to herself but in some circumstances, I wasn't being true to myself."
For 12 years they told just a few close friends and family members, but then a local newspaper revealed it after interviewing Peter for the novels he writes about a transgender detective.
The secret being out has been a big relief to Lou. "It has released me from having to take out my words and look at them before I say them when I am referring to our life together.
"I still always prefer being with Peter when we're out, but I have no problems within our four walls whatever my husband is wearing."
Penny says her feelings about her identity are "ongoing", but since she has been able to dress as a woman she's realised that Penny isn't a separate person from Peter.
"Before, I'd thought I'd have to have two identities".
How she dresses depends on her mood that day, and she usually feels like being Penny a couple of days a week. "As far as I'm concerned, I'm the same person, I have the same likes, whether I've got a pair of trousers on or a skirt," she says.
Penny shows me her wardrobe, which is in the spare room - her favourite leather skirt, some dresses and blazers, and a wig.
"Sometimes I dress, sometimes I partly dress. I used to wear a wig and I've given that up - partly through not needing so much disguise anymore."
Dr Katherine Rachin, a psychologist who has been working with cross-dressers and their partners for more than 23 years, says some men feel they have two identities - but for others, like Penny, "there's a sense of continuity".
She says both can be hard for partners to accept.
"If a person has defined herself as a heterosexual woman and then her partner is expressing a female identity - then that person doesn't have a masculine partner in the way they need. For some people they may feel it does challenge their identity as a heterosexual."
She also says the stigma around men dressing like women hasn't changed much in the past 20 years, and sees it as partly due to misogyny.
"I think men appearing feminine is seen as a demotion and a lower shift in status.
"It's common for people to not tell anyone in their life but have a feminine persona on social media. They feel safe that way, and it can go on for years before they take it out of the virtual world.
"With the internet, there are more people to identify with - and now we have a lot more language for this.
Penny agrees. In the 1980s when she realised she wanted to dress differently, she found it hard to find information, picking up snippets in magazines and newspapers.
"I didn't really understand what my feelings were and felt I was on my own.
"Dressing as Penny now allows me to be more of myself, to reveal my ideas and feelings in ways which previously I kept to myself."
---
As people become increasingly connected and more mobile, the BBC is exploring how identities are changing.
Catch up with programmes, downloads and clips from the season.
My secret life as a gay ultra-Orthodox Jew - Chaya's secret is hard to keep hidden
The Salon - Every haircut has a story
Where are you going? - The surprising answers to a simple question
Default World - The morals of the technical elite
Why I'm Not Just Blind - Must blind people be either inspirational or deserving pity?
Join the discussion on Twitter using the hashtag #BBCIdentity.
---
Secret Lives is broadcast on the BBC World Service from 04:00 GMT on Sunday 17 April- catch up on BBC iPlayer Radio
Subscribe to the BBC News Magazine's email newsletter to get articles sent to your inbox.