The great cabbage myth
By Laura Gray
BBC News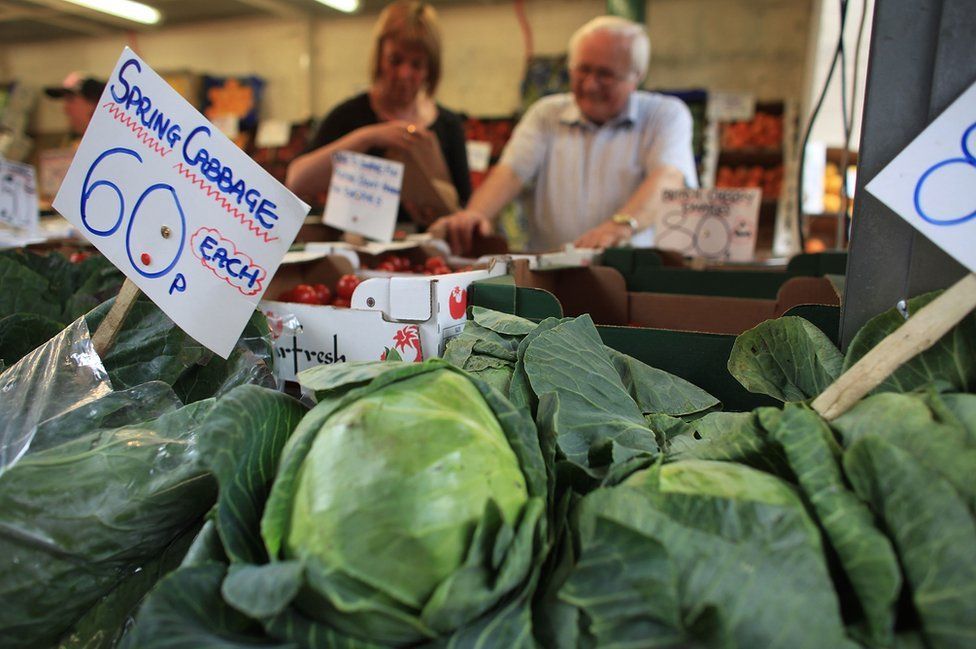 It has been suggested recently that there are 26,911 words of European Union regulation on the sale of cabbage. The claim is not true, but it has a long and interesting history dating back to the US in the 1940s.
"Lord's Prayer - 66 words, 10 Commandments - 179 words, Gettysburg address - 286 words, EU regulations on the sale of cabbage - 26,911 words."
With a referendum on UK membership of the European Union just around the corner, this cabbage statistic is proving rather popular on social media. It's cited as evidence that the EU is too bureaucratic and exerts excessive control over its members.
It was tweeted, for example, by Eamonn Butler, director of the free-market think tank the Adam Smith Institute in February, and last month Rachel Johnson repeated the statement in her Daily Mail column.
"As soon as I declared myself an 'inner' last week, I started veering like a wonky shopping trolley towards the Brexit and began to find the outers' arguments strangely compelling," she wrote, before quoting the list with some slightly different figures. "Take this example. The Lord's Prayer is 66 words long. The Ten Commandments: 79 words. The Gettysburg address: 272 words. EU regulations on the sale of cabbage? 26,911 words."
The claim goes back a lot further than this, however. The Tunbridge Wells branch of UKIP was tweeting about it back in 2014 and it appeared in a reader's letter published in the Leicester Mercury newspaper back in October 2000.
But surprisingly, it seems the origins of the statement lie not in Europe at all, but on the other side of the Atlantic in 1940s America.
During World War Two, the US government issued a memo to control the price of cabbage seeds. It was 2,600 words long, says Barry O'Neill, professor of political science at the University of California, who has researched the origins of the cabbage myth.
But at some point a rumour surfaced that the cabbage regulations were back - this time 10 times longer and not just confined to seeds.
In 1951 the president of a Chicago pickle and relish company mentioned it in a letter to food brokers across the country, and a newspaper quiz asked readers to match word counts with documents (Test Your Horse Sense 1951) - the cabbage regulation was said to be 25,000 words long. Soon this became 26,911 "suggesting careful research", says O'Neill.
The following year, American media commentator Walter Winchell "stated it as fact in 1952 in an attack on federal price controls during the Korean War," according to O'Neill.
He also notes that it was cited by a deputy secretary of agriculture in 1984, and even President Ronald Reagan. In the mid-90s Senator Orrin Hatch of Utah repeated the myth on the Senate floor.
"The claim that there was such a price control kept on coming up again and again whenever people started getting concerned about government regulation," says O'Neill.
But how did the claim leap across the Atlantic to become a much-quoted European statistic?
O'Neill found evidence that a Conservative MP for Brighton in the 1940s, and later Brighton Pavilion, William Teeling, once stated that while the Lord's Prayer has 55 words (notably 11 words fewer than in the list online today), and Magna Carta 650, an explanation of the control of the British use of eggs totalled 29,000 words. Teeling's comments were reported in June 1953.
Subsequently, claims appeared that there were 26,911 words of regulation in Europe on a range of different things - from cauliflower to caramel. In 2006, Lord Ramsbotham of Kensington quoted the figure in the House of Lords in relation to a "European directive on the export of duck eggs".
Inventing 26,911-word regulations seems to have become a grand tradition. It doesn't seem to matter which government or which product - you can bet that the regulation is 26,911 words long, even if it doesn't actually exist.
In reality, EU regulations on the sale of cabbage aren't quite this long.
In 2006, Regulation (EC) No 634/2006 addressed the size of cabbages, and how they should be labelled, in just under 2,000 words. In 2009, however, these regulations, along with some other rules on the sale of fruit and vegetables, were repealed.
It was finally recognised that some of them were "a little bit daft", says Andy Richardson, technical director of the British Brassica Growers Association - for example the rule on how curvy a cucumber could be.
Today, there are still EU regulations governing farm produce. The rules on marketing are actually rather snappy - Richardson calculates these are summed up in 263 words to be exact. But there are much broader regulations about growing farm produce and these are long - about 32,000 words, half the length of a short book.
They don't single out cabbages, though. The number of words of EU regulation dedicated specifically to the leafy green vegetable is, in fact, zero, says Richardson.
However, on top of EU regulation, farmers in the UK have to abide by the Assured Produce Standards, sometimes known as the Red Tractor Assurance.
Richardson is the author of the organisation's protocol for cabbage which, he says, has 23,510 words.
So when it comes to instructions on how to grow, harvest, store and sell cabbage, the British industry guidelines are rather wordy while EU regulation is less verbose than the headlines might have us believe.
But on the question of the Lord's Prayer - does it have 66 words or 55? And what about Teeling's figure on Magna Carta? Then there are the 10 Commandments and the Gettysburg address - there's more than one version of each of them.
Tonnes of perfectly good food are thrown away every year. Why is this, asks Hugh Fearnley-Whittingstall.