Should there be a crusade to save British pubs?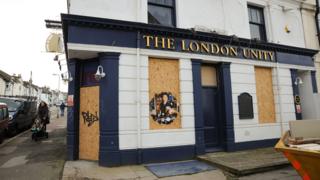 There's a craze for craft beer, and more breweries than there's been since the 1930s, but pubs are still closing. Why?
The Campaign for Real Ale started in 1971 in Kruger's, said to be Europe's westernmost pub, near Dunquin in the Republic of Ireland.
Michael Hardman was one of four men, all in their early 20s and from the North West of England, who felt beer wasn't what it used to be. There was limited choice. It was fizzy. The taste was bland.
"We thought nobody would take any notice of us," says Hardman. "We were surprised when we recruited one member back in England, never mind a couple of dozen in the first year." Now, 45 years on, Hardman is chairman of a consultation of Camra's membership to review the organisation's aims.
Camra now boasts 177,000 members. Real ale is described by Camra as "a natural product brewed using traditional ingredients and left to mature in the cask (container) from which it is served in the pub through a process called secondary fermentation". It's typically bitter that is hand-pulled.
Hardman and his colleagues were worried that it might die out in the 1970s, but in recent years it has been in rude health. It has benefited from a wave of more general enthusiasm for craft beer, admittedly mostly from pressurised keg rather than cask. Driven by hipsters everywhere from Brooklyn to Bethnal Green, brightly coloured cans and bottles of pale ales now fill up fridges at pubs and supermarkets. The beer is often made by small, independent breweries using traditional methods and ingredients.
BrewDog is one of the fastest-growing craft beer producers. In 2007, it brewed around 640 barrels of beer with two employees. Last year, it was making more than 80,000 barrels with a staff of 540.
The number of breweries is at its highest since the 1930s. There are an estimated 11,000 different beers being produced by the UK's 1,700 breweries. Even dimpled pint glasses have come back.
Camra's success in the last four decades has been "huge" says Sara Barton, who has owned Brewster's brewery in Grantham since 1998.
"Hand-pulled beer was almost on its way out in the 1970s because it wasn't well looked after by landlords and its popularity had gone down. Camra tended to get people's confidence back in it again. Before, it was pot luck whether you'd get a good beer or not."
The typical real ale drinker is male, aged at least 55 and from the north. Real ale drinkers spend an average of £976 per year in pubs, which is almost double the average, according to the annual Cask Report. By comparison, those drinking wine spend an average of £593.
With more people drinking real ale, Camra is launching a year-long consultation which gets under way on Thursday on whether it should shift its focus. There remains a big problem.
The re-found love of beer has not stopped a wave of pub closures across the UK. Between 2009 and 2013, 3,800 coffee shops opened. During that same period 4,500 pubs called last orders for the last time.
In the second half of last year, the number of pubs fell to its lowest level for a decade, with an average of 27 each week pulling their final pint.
A number of factors have conspired against public houses. Tax on beer is higher than most of the rest of Europe, which adds an extra 52p to the price of every pint served.
Alcohol is much cheaper in supermarkets, and competition from places which conventionally haven't served alcohol, such as coffee shops.
Many of the pubs under threat represent, the campaigners say, beautiful slices of history. The Royal Oak pub in Kent, which contains a beam thought to be nearly 350 years old, closed last September. Campaigners are angry it has been sold to a developer, and could potentially be demolished, rather than to the former landlord.
"Many pubs have yet to properly adapt to life after the smoking ban and offer a pleasant environment to relax in with good food - especially those that are struggling with beer ties," says Allison Parkinson from Save the Royal Oak, Frindsbury.
The campaigners say beer ties have had a detrimental effect. They allow owners to rent the pub premises from the company or brewery that owns it, often for lower than market rates. However, it locks the tenants into buying beer and other drinks from the parent company. At the end of 2014, MPs voted to end this control which allows landlords an independent rent review and to buy their beer on the open market.
Prince Charles is one of the most well-known proponents of traditional village pubs. He has said their disappearance risks "pulling threads" from the '"delicate tapestry'' of the British countryside.
Others remain at risk. The Shakespeare in London's Victoria could make way for Crossrail 2, a new rail route which could link north London with Surrey. The Crook Inn on the Scottish Borders closed in 2006 and was expected to be converted into houses before being saved by a community group. The Cow and Snuffers in Cardiff, Wales closed in 2010 after nearly 200 years.
The seemingly unstoppable march to demolish or convert pubs into flats shows no signs of abating, according to James Hughes, a conservation adviser at the Victorian Society.
"Often pubs are the most architecturally interesting buildings in a local area and provide a cultural hub for a community. Victorian pubs which survive in anywhere near an original state are becoming ever rarer. Pub companies and landlords should see their historic features as an asset not a burden."
The squeeze on the number of pubs will potentially affect small breweries who are competing in a crowded marketplace for the same customers, explains Barton.
"The good pubs are surviving, the ones that are ahead of the curve. The pubs that are tending to go are those serving the same old, same old and not giving people a choice. It's probably survival of the fittest although there are exceptions. You have to offer something out of the ordinary."
The government has tried to address the issue. Community rights legislation gives the public the right to list sites as "community assets". This triggers a block on a sale for six months. Of the 3,000 sites which have been temporarily protected, pubs make up the largest group with around 1,250 listed as such.
The Crocker's Folly in north-west London, which was built just before the end of the 19th Century, is one of those which have been saved. The former Victorian gin palace was "sympathetically and painstakingly restored" after being given grade II-listed status following its closure in 2004 (pictured).
It re-opened in 2014 and now attracts drinkers and diners alike in surroundings it describes as "complete with 50 kinds of marble, Romanesque columns, cut glass chandeliers and carved mahogany".
While this is an unlikely future for every former pub, there is hope that the wider decline can be halted before these mainstays of British life are gone forever.
---
More from the Magazine
Are these the UK's most beautiful pubs? (August 2015)
Can demolished pubs come back from the dead? (July 2015)
What sort of British pub should foreign leaders be shown? (October 2015)
---
Follow Harry Low on Twitter @harrylow49
Subscribe to the BBC News Magazine's email newsletter to get articles sent to your inbox.