The families whose homes were demolished by mistake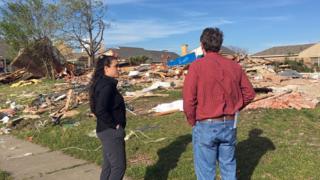 Two homes in the US state of Texas were torn down accidentally when the demolition company apparently followed GPS to the wrong address. How did it happen?
Lindsay Diaz was stuck in traffic on her way home from work when she got the phone call from a neighbour.
"I was hoping it was some kind of sick joke," Diaz told the BBC. "My neighbour said someone had demolished the house. Her daughter had been yelling at them. But sure enough, when I arrived, it was gone."
Diaz stood staring at the bricks, broken wood and plastic strewn across the grass in place of her home. It was the first property she had bought. "I was just in complete shock and disbelief," she said. "I just thought, 'Oh my goodness, what else can go wrong?'"
This was not the first time that the building has been wrecked. In late December, tornadoes struck the Dallas area of northern Texas, causing widespread devastation. Almost a dozen people were killed, many of them when their cars were blown off a nearby motorway.
On the night when the storm rolled through Diaz's town of Rowlett, she took shelter with her boyfriend and six-month-old baby in the bath tub. They all survived unhurt, but re-emerged to find that their roof had been torn off and their car had been severely damaged, like many others in the neighbourhood.
Since then, the family has been staying with relatives, in hotels and rented accommodation, while people in the community have been raising money to help them rebuild their lives.
Diaz and Alan Cutter - the owner of a second property in the building - have been waiting to hear what disaster relief assistance they might receive from the government before making preparations to move back in. She had just applied for a building permit, after receiving a payout on her insurance, to start the repairs - when the property was mistakenly flattened.
"All the bright future I had planned - what do I do now?"
The demolition company involved, Billy L Nabors Demolition, had not officially commented on the case at the time of writing.
However, the company's chief executive, George Gomez, apparently told reporters in Rowlett that the crew assigned to the project thought they had torn the correct home down until they realised their mistake, describing it as "not a big deal".
The head of Rowlett's city council, Brian Funderburk, disagreed. "I think this is a huge deal," he said. "The homeowners were in the process of trying to figure out what it was going to take to repair their home and now they're looking at rebuilding it instead. I think this is a very big deal."
Diaz says the demolition crew, who were still at the site of her home when she arrived, did offer a kind of explanation. One employee told her they had been due to tear down a house at 7601 Cousteau Drive, one street away, but their GPS mapping system had taken them to her home at 7601 Calypso Drive instead.
Media reports say a Billy Nabors employee later texted photos from Google Maps showing the arrow pointing to the wrong place.
The crew checked the street number with their supervisor, who had visited the correct plot previously but was not present on site that day. However, they seemingly failed to see the street sign on the corner. That had been knocked down shortly beforehand, apparently by another lorry operating in the area.
Diaz and Cutter had been saving up to start repairs, but now face the prospect of having to rebuild their homes completely. Diaz said she was particularly upset because possessions left inside her home - including unopened Christmas presents and an old gun passed down by her grandfather - were also destroyed. She has filed a police report and hopes to make another insurance claim, but says she currently has to pay a mortgage "on a home that's not even there".
People angered by the story have been urging Billy Nabors Demolition, whose motto machinery carries the motto "We could wreck the world", to apologise and explain their error online. The firm's Facebook page was removed following multiple comments.
Diaz says she has now received a personal apology but hopes the company will change its procedures to ensure addresses are more thoroughly checked before any demolition starts. And she warns against relying on GPS for directions.
"I do not like to rely on GPS," she says. "I've had GPS take me to the wrong places also. So I look at the map."
Subscribe to the BBC News Magazine's email newsletter to get articles sent to your inbox.