Amidst Obama's 'normalisation', negotiations are fraught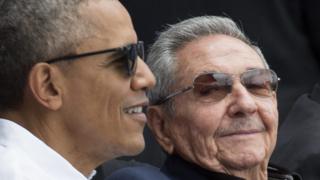 For Obama, the three-day trip to Havana was an important test of his diplomacy. He was there to promote engagement with Cuba, a process known as "normalisation," in the hope this will lead to greater freedom for people on the island as well as to business opportunities for Americans.
It was also a spectacular show, a play in three acts with a ceremonial band, backstage fights, a near-riot and a cameo by Jimmy Buffett
I arrived at Jose Marti International Airport and rode in a shuttle bus with other journalists. At the airport's main building, a dark-haired man with a badge greeted us: "White House?" he asked. Like other Cubans, he was ready for the arrival of Obama and his entourage.
Over the years the US has tried to isolate Cuba, locking them out of US banks and other financial institutions, and imposing restrictions on Americans who want to travel to the island.
There's still a formal ban on tourism, but Obama has made it easier for Americans to visit. In addition Cubans can now open US bank accounts, which gives them access to the global banking system.
It's a story of transformation, and it's as much about America as it is about Cuba. The delegation included Secretary of State John Kerry, 40 members of congress and aides such as Bernadette Meehan, a woman who'd left the administration but returned to help with the trip.
In addition Jimmy Buffett showed up at a White House party at our hotel, the Iberostar Parque Central, a place with a Mikhail Bulgakov novel and a Lenin biography in a lobby bookshelf. Maureen Dowd, a New York Times columnist, tried on straw hats in a hotel hallway, and the New Yorker's Jon Lee Anderson, a Che Guevara biographer, was interviewed at the Palace of the Revolution.
It was the Obama Show - in Havana.
Diplomacy requires research and observation - diplomats make good novelists, as readers of Stendhal know. Before his departure, Obama met with Cuban-American business leaders, economists and others at the White House.
"He scribbled in his notebook," said Mike Fernandez, the chairman of a private equity firm, MBF Healthcare Partners. "He leaned over the table to say, 'I'm sorry - you're talking too fast.'"
Obama and his aides are diplomatic, and they believe in empirical data - maybe too much. They have a hard time accepting that enlightened ideas and values - their own - aren't shared by people in other countries.
Meanwhile at the airport, I was looking for my bag. Some of my colleagues were heading for a bus, while others were rushing in another direction.
"Can you tell me what's going on?" I asked a journalist who speaks Spanish.
He threw his arms in the air: "Chaos." It captured the mood of the place, and of the trip too.
On the following day Roberto Chile, a Cuban photographer, stood on the tarmac and watched Air Force One land. It was raining, and Obama stepped out of the aeroplane with a black umbrella. Not a good sign.
Chile hoisted two of his cameras in the air as if they were trophies, though. "Today we hug," he told me. Then he put one of his cameras down and pretended to be boxer, punching the air, and marveled about the change in tone: "[For] fifty years, we're fighting."
On a road near the airport, "Socialism or Death" was painted in red block letters on a yellow wall.
"Seems a little extreme," a Russian journalist said later.
The sign showed what the stakes are. Cubans who oppose the government are sometimes jailed - or worse. Still, many Cubans believe in their government, just as Americans care about theirs.
One of the journalists I met, Albino Moldez, a photographer with Cuban roots, travels around the island on horseback.
"I never saw one kid with his stomach like this," he said, making a curving motion to show a belly swollen from starvation.
Cubans are poor - government workers make an average of $20 a month - but they get education and health care. Literacy and vaccination rates on the island are among the highest in the world.
Americans could learn something from Cubans about how to run a country. But there's so much mistrust on both sides that it's hard to overcome.
That morning I headed upstairs to the hotel roof, a place with a pool and a view.
I got out of the lift and accidentally walked towards a cordoned-off area with TV cameras. A skinny, wired-looking man, a Cuban guard, charged towards me.
I was thrown off balance. Still I knew that Cubans were nervous about Americans too.
Obama White House officials were bringing a message of hope. They didn't talk about the US army or military contractors, men who show up in places around the world where America has business interests.
At the hotel's Mediterranean restaurant, a place that smells of papaya and has seashell wallpaper, a barrel-chested man a snake tattoo stood at a juice bar. He was wearing a T-shirt with a picture of a pistol and the words: "Glock Perfection".
Like Cuba, the US has good angels and bad angels, and it's not clear who'll get the upper hand here. Despite the White House goodwill, there's an undercurrent of suspicion - and lots of misunderstandings.
One afternoon I was standing outside a hotel room, the Salon Obispo, where Cuban officials were inspecting our bags, making sure we didn't have bombs.
A US secret service officer, wearing a dark jacket, strode up to a Cuban official in white, flared pants and platform sandals.
He asked her to translate something to her colleagues, the men who inspected the bags.
"Would you thank them for me?" he asked in English.
She shook her head and said: "No."
"No?" he said.
With the help of an interpreter, they realised what the other person had been trying to say. "I'm going to tell my friends about this," she said, laughing.
"Normalisation" between two former enemies, each with a distinct language and culture, is fraught.
On Monday a Cuban band practised playing The Star-Spangled Banner near a memorial for Jose Marti, a journalist and poet.
They played the song for Obama. He put a wreath in front of the statue.
Afterwards I saw Secretary Kerry walking towards the Plaza of the Revolution, a place where Obama was going to meet with President Raul Castro and hold a press conference.
"It was more than interesting," said Kerry, describing the wreath-laying. "You felt that it was a historic moment."
On Tuesday Obama spoke at the Gran Teatro de la Habana, a Spanish colonial-style hall where Hasta Siempre, Comandante played on loudspeakers.
"He's so high up there and somehow he makes it feel like he's not that high," Sofia Ferrero, a student at University of Havana, told me. "He makes you feel close."
For the moment, Obama's diplomacy was working.
On the way to Estadio Latinoamericano for a baseball game between the Tampa Bay Rays and Cuba's national team, I sat in a bus next to a White House official.
We looked out the window and saw a bust of Abraham Lincoln in a park. The official was surprised.
"Everybody loves Lincoln," I said.
"What's not to love?" he said.
A crowd gathered at a narrow entrance to the stadium, and I was pulled along with it. One man started to climb over a stairwell. I was shoved into a cement wall, as more people pushed their way into the entrance.
I saw one of my colleagues ahead. Another said she was scared. If we fell, we'd be crushed.
I thought about the headline - Three Western Reporters Trampled at Stadium During Presidential Visit. The optics wouldn't be good.
Finally I scrambled up some steps, and my colleagues also escaped.
Obama's message to Cuba was heartfelt. But America is a big, lumbering superpower, and Cuba is a small country made up of people who have their own views - and security officers.
Still with the two leaders sitting together at the stadium, the symbolism was clear: despite their differences, both sides were willing to play.
At the airport that night, White House aides were heading home. Holding a copy of Glamour magazine, Meehan pulled a wheeled suitcase across the floor.
"See you in North Korea," said a journalist, calling to her.
"Not me," she said. "Unsubscribe." The Obama Show was over - at least for the night.
Exit, stage left.