Weekend Edition: The week's best reads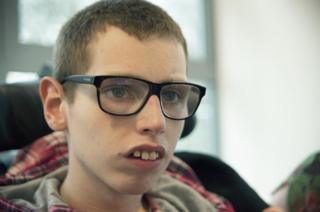 A collection of some of the best features from the BBC News website this week, with an injection of your comments.
"I defy you to read this and not be deeply moved," posted Pam Nash. For 16 years no one knew James Walker had any cognitive ability. He had spent his entire life in a wheelchair, unable to move or talk. Then, by chance, his teacher put him in front of an Eye Gaze computer which tracks eye movement enabling the user to select words and have them spoken by a computerised voice. They discovered he could use it and within a few weeks James broke his lifelong silence with the words "Hello Mum".
Breaking the silence at 16 years old with the words 'Hello Mum'
Soft cells?
"If ever I go to a prison, I would choose Norway," commented Peter Griffin. "This is prison utopia," says a retired prison superintendent from New York. "This is the best prison you could ever imagine - if you were an inmate." He is describing Halden in southern Norway where prisoners can play a musical instrument, get their hands on a saw and use steel cutlery.
Just how cushy are Norwegian prisons?
Name's not down
"Fascinating read, the young clearly don't drink as much as we did," tweeted Manfreda Cavazza. Nightclub entry fees are no longer being used in the UK's inflation basket. Gone are the days of paying to go to one of the dwindling number of clubs. Instead, people are pre-drinking, hitting the pub and going home. Indeed one in five 16-to-24-year-olds do not drink, according to the ONS, an increase of nearly half between 2005 and 2013. "We're a more fragmented society now," says an industry insider.
Whatever happened to the Great British nightclub?
Scammed?
"Read on to enter film-like unreality!" posted David Dennis. This is the story of how thousands were lured into investing in rare manuscripts, in what regulators believe could be one of the biggest ever arts-market scams. It even features a huge lottery win. "What [the scheme's creator] Lheritier did was turn part of our cultural heritage into stocks and shares," says one dealer. "It was detestable."
Were investors conned into buying rare manuscripts?
Ultimate decision
"Fascinating insight into world of forensic psychiatry," tweeted Kathryn Stillman. A fifth of patients are killers at the Bethlem Royal Hospital in London, which started life as the crowded "Bedlam" - the first psychiatric hospital in Europe. But how can we be certain patients will not re-offend? "Behaviour is the best way of monitoring what's happening inside their minds," says one psychiatrist.
When is it safe to release patients from secure hospitals?
Recommended reads from elsewhere
Why the happiness industry is making women miserable - The Pool
How black people are being shut out of America's weed boom - Buzzfeed
How the IFS became the most influential voice in the economic debate - The Guardian
Subscribe to the BBC News Magazine's email newsletter to get articles sent to your inbox.