The gambler and the top-50 tennis players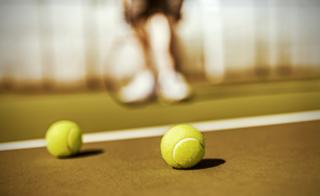 An Italian investigation is laying bare the efforts of a gambling syndicate that tried to fix tennis matches around the world, including at Wimbledon and the French Open. Documents seen by the BBC and Buzzfeed News suggest the gamblers approached two leading Italian players - but prosecutors say there is evidence they courted many others, including two who have been in the world's top 20.
Roberto di Martino sits back in his chair, his face creasing into a tight smile, pushing up his thin wire-rimmed glasses. I have just asked if I can look inside some of the dozens of manila folders of evidence about tennis match fixing piled around his vast office, beneath a fresco-covered ceiling. He shakes his head firmly, putting away the papers closest to me on his desk.
In May, he will present his evidence in court against two former Italian tennis players, Potito Starace and Daniele Bracciali, who are accused of conspiring to fix matches with Italian gamblers.
It has taken a long time to get the case this far.
The prosecutor from the northern Italian city of Cremona never set out to investigate tennis. In 2011, when police raided the home of Manlio Bruni, an accountant and gambler from Bologna, it was for involvement in a football corruption scam. He was placed under house arrest and his computers were seized.
But as investigators waded through the thousands of Skype instant messages on Bruni's computer they realised he was trying to corrupt tennis players. Working with Buzzfeed News and the Italian newspaper, Il Sole 24 Ore, the BBC has obtained hundreds of pages of the evidence Di Martino chose not to reveal.
In July 2007 Bruni began chatting on Skype to Daniele Bracciali, who had at one time been one of the world's top-50 players. They had been introduced by a mutual contact, who said Bracciali might be interested in fixing a match.
When Bruni decided to test him out, Bracciali was in the US, playing in the Newport tournament. He said it was "extremely important to win the first set, and if possible, to go a break ahead in the second… would that be possible?... in this case I can give you much more".
Bracciali refused, so Bruni tried again. "OK, I could do 50 to begin with for tomorrow but it is absolutely necessary that you win the first set." By 50 he meant 50,000 euros (£39,000). Bracciali said he didn't know his opponent so it would be difficult to arrange to win the first set, and he told Bruni: "90% of me says no... but if I change my mind I will let you know."
Bruni finished by promising 60,000 euros (£46,000) if Bracciali changed his mind. He said he couldn't do it, repeating that "it would be easier" if he knew his opponent.
This was the start of a relationship that would last for four years until Bruni's arrest in 2011. During this period, prosecutors say, the gambling syndicate Bruni was a member of would try to corrupt countless other players in Italy and abroad.
This wasn't the first time Bracciali had been tapped up by match-fixers. Years earlier, his family and friends had gathered in the bar of his tennis club, just outside the ancient walls of the Tuscan town of Arezzo. They were there to watch Bracciali play in the French Open, the local boy made good. Just hours before the match he called his father to say he had been offered $50,000 (£35,000) to throw the match. Also at the club was Paola Cesaroni, mother of another local tennis star, Federico Luzzi. She recalls how Bracciali's father was furious.
He told his son, "Don't do it, because tonight the whole town of Arezzo, all the supporters of your club are in front of a TV waiting for your match. So play, and win," Cesaroni says. This is exactly what Bracciali did.
Bracciali says he rebuffed Bruni's approaches too, and he denies any involvement in match-fixing. He told the police that he played along and faked interest - though one source close to the investigation says, "You might fake for a month but you don't do it for four years."
Bruni later told prosecutors: "I actually tried to corrupt him by offering him 50,000 euros if he won the first set and lost the other two during the game." Although Bracciali declined to fix this match, Bruni said that Bracciali "declared himself available to contact the Italian tennis players he knew, to get them to do what I asked, altering in whole or in part the result of the matches".
Bracciali first tried his sometime doubles partner, Potito Starace, who was then ranked number 31 in the world. According to prosecutors, Starace agreed to work with Bracciali and Bruni from the end of 2007. Prosecutors claim Bracciali communicated with the gamblers while Starace carried out the fixes on court.
In December 2007 Bruni informed other gamblers in his syndicate: "We bought Potito." Starace was promised between 30,000 and 50,000 euros (£23,000 to £39,000) for each match he agreed to fix. Bruni told prosecutors he even provided Sim cards so the players could speak to him without being detected. Prosecutors claim this went on until 2011. Potito Starace strenuously denies any contact with gamblers or involvement in match-fixing.
In the computers seized by the police, the gamblers discussed about 30 matches, including at Wimbledon and the French Open. But there are two matches in particular, according to chief Cremona prosecutor Roberto di Martino, "for which we have very concrete indications that they have been manipulated".
---
Find out more
Listen to Simon Cox's report for File on 4 at 20:00 on Tuesday on BBC Radio 4, or catch up later on the BBC iPlayer
---
The first of these matches took place in May 2009. Manlio Bruni told police he had offered Starace 50,000 euros to lose against the lower-ranked German, Daniel Brands. The gamblers used several accounts to place bets that Starace would lose, but the betting company, Betfair, thought the betting looked suspect and refused to pay out their winnings when Starace lost. Bruni told the police the syndicate only made between 15,000 and 20,000 euros (£12,000 - £15,000) from the match but they decided to give this to Starace anyway and delivered it to him in cash at a tournament in Italy. There is no suggestion that Brands was aware that anything might be amiss.
Bruni checked with another gambler on Skype: "Did he like the cash?" The gambler replied he still hadn't seen it but added: "Braccio [Bracciali] told me that he was very happy."
The second match took place in April 2011. Starace was taking on the Spaniard, Daniel Gimeno-Traver, in Barcelona and was offered 25,000 euros (£19,000) to lose, but double that if he won the first set and went on to lose the match. Starace withdrew and forfeited the match after winning the first set. He denies fixing this match or any other game.
A week before this match Starace had reached an ATP final in Casablanca. It was a big deal for him, a singles final. Bruni received a call about the game from a fellow gambler. He said Starace had taken 300,000 euros (£232,000) to lose. "I remained astonished," Bruni told the police. "Starace had always said that he would have been able to lose a first or second round but never a final."
After receiving the call Bruni checked with Bracciali who said the idea Starace would throw a final was nonsense. In the end Starace did lose. Bruni told prosecutors: "When I saw the result, the world fell apart."
Sources close to the investigation suspect that Starace was trying to work with a bigger, richer gambling syndicate. This part of the files was leaked to an Italian newspaper and Starace was furious when he read it. When he was interviewed by investigators in October 2014 he stated, "I emphatically deny any arrangement to lose a match in a tournament."
While the prosecutor was investigating Bruni's links with Bracciali and Starace, the Italian Tennis Federation used some of this evidence in 2015 to ban the two players for life for match-fixing. Starace's ban was later overturned and Bracciali's reduced to a year because the appeal panel said the evidence wasn't strong enough. The Cremona prosecutor had already reached this conclusion and decided to base his case on different matches. The players face another possible hit, though, as the Tennis Integrity Unit (TIU) - the sport's own anti-corruption body - has also been running an investigation into the players since 2014. So far no action has been against them internationally.
But arguably the TIU should be using the Italian investigation to look into other players linked to gamblers, not just Bracciali and Starace.
As the Cremona prosecutor Roberto Di Martino ploughed through the thousands of documents, he realised this was not solely an Italian problem.
He noticed the names of top foreign players being discussed by the gamblers and scams they were proposing. As a tennis fan their names leaped out at him. Some of these players featured in an earlier BBC/Buzzfeed News investigation which revealed the world tennis authorities failed to act on repeated warnings about 16 top-level players taking part in suspicious matches.
In one conversation in February 2011 a discussion takes place about two players who have been in the world's top 20, who the gamblers call their "horses". One gambler says he has a conflict of interest as "one of my horses is in the final" and his "other one is in the semi-final". He goes on to claim he is friends with one of the players and "I have the pass as member of his staff", before adding ominously, "slowly my horses are coming to papa". A source close to the enquiry said referring to "horses" could refer to players who brought gamblers luck or alternatively that the players were under their control.
Roberto Di Martino refuses to name any of these non-Italian players, but says there is enough evidence in his files for investigators to question them, at the very least to find out if they were approached by gamblers.
He has limited ability to do this, so has handed all of his files to the TIU. But when they visited him three months ago they were only interested in the Italian players. He found this surprising and alarming.
"The international events seem more problematic than those situations in which, after all, only a few Italian players were involved," he says. This was not a case of "one single situation in which shadows were cast on important tennis players. The problem is that there are many situations, then it cannot be an accident, it cannot be a coincidence."
Nigel Willerton, director of integrity at the TIU said it "acts on all evidence of corruption". In January, following the BBC's revelations, an independent review panel was set up to look into match-fixing. Mr Willerton said: "This wide-ranging remit will allow it to investigate all and any allegations of corrupt practice."
Subscribe to the BBC News Magazine's email newsletter to get articles sent to your inbox.