Weekend Edition: The week's best reads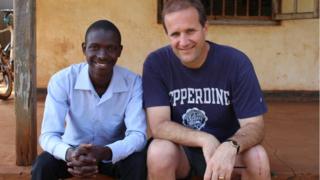 A collection of some of the best features from the BBC News website this week, with an injection of your comments.
"An amazing, inspiring story about pursuing and getting justice for the voiceless," tweeted Abidemi Sanusi. Tumusiime Henry was 15 when he was accused of murder the first time. While he was in a remand centre awaiting trial he was accused of a second murder. But then he met an American lawyer who slowly realised it was up to him to come to the rescue.
He said yes!
"You know what I'm totally for this... I think its sweet," commented Dru Sidora. Leap Day is traditionally a date when women can propose to men. However, nearly one in four people in a recent survey said they felt it was not acceptable for a woman to propose. We hear from eight women who decided to pop the question, including Brazilian Emilia, who did it underwater.
Eight women who decided to propose
Body image Barbie
"At size 12 I'm the same height and three sizes bigger than 'Curvy Barbie'," posted Brigid Jones. For generations Barbie has introduced young girls to glamour. But critics say the doll, with her long, slender legs and tiny waist, has a negative impact on body image. Maker Mattel has responded by releasing a "curvy", "tall" and "petite" Barbie. So how do they measure up?
How does 'Curvy Barbie' compare with an average woman?
'I'm not a babe'
"Incredible short film... It has everything: girl power, surfing, overcoming adversity & French bulldogs," tweeted Urmee Khan. Silvana Lima is Brazil's top female surfer yet she was refused sponsorship deals because she wasn't considered beautiful enough. She began her career aged seven and has not looked back, going on to become second best surfer in the world. "I don't look like a model," she says. "I'm not a babe."
Surfer 'not pretty enough to sponsor'
Lost objects
"Fantastic reporting," posted Justin Marozzi. The devastation of Palmyra at the hands of the Islamic State group has caused outrage. Many of the ancient Syrian city's archaeological treasures have been destroyed, including the 2,000-year-old Temple of Bel. The man who spent his life looking after the site was killed by IS militants - his daughter says he refused to leave, telling her, "I was born in this city and I will die in this city." She heard that he was beheaded and his body was left outside for everyone to see.
Museum of Lost Objects: The Temple of Bel
Recommended reads from elsewhere
Welcome to the land that no country wants - The Guardian
The WWII Pilot Who Built A Plane And Risked Death For Love - Buzzfeed
Subscribe to the BBC News Magazine's email newsletter to get articles sent to your inbox.