The rise of the 'afternoon delight' hotel booking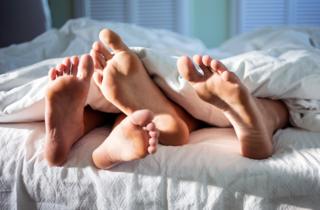 Paris, as everyone knows, is the city of love, the place where most people say they would like to have a romantic affair. Well, out of Paris comes a new development in the hotel trade that's calculated to help lovers in their quest for time alone - a website that helps couples book daytime hotel rooms.
Until very recently if you wanted to use a Paris hotel room for a couple of hours in the daytime - whatever your purposes - then you had a choice.
Either you paid top whack to keep the room for the night as well, even though you didn't plan to use it.
Or you went to a sleazy dive in a street like the Faubourg St Denis, near the Gare du Nord - the sort of place that used to be referred to familiarly in English as a "knocking shop".
But lovers of the world rejoice! Times have changed.
Not for the first time, liberal economics have joined forces with liberal sexuality, this time to popularise the "afternoon delight".
French website Dayuse.com is even now ushering in daytime guests to crisp-sheeted bedrooms, complete with trouser-press and kettle, from Sao Paolo to Singapore - and of course in Paris.
The business case is obvious.
The greatest asset for a hotel is its rooms - but most of the time (i.e. in daylight hours) most of them are empty.
In many of the world's big cities, hotels have been hard hit by home-share sites like Airbnb. In Paris there are now more Airbnb rooms on offer than hotel rooms.
Every device to recoup lost income is welcome - so what better way than to sell your rooms twice over?
"We are offering hotels the chance to boost income by 10%," says Lorenzo Sciotti, Dayuse's business development manager in London.
"And for customers - they get a hotel room for a few hours at a fraction of the price they would pay for a full day."
Clicking on the Dayuse page, you see a variety of offers. A typical Paris experience might be a hotel in the Latin Quarter charging 80 euros (£62) for a morning booking (0900 - 1300), and 95 (£73) for the afternoon.
Night-time prices would be double that.
Interestingly, Dayuse makes it very clear that no credit cards are needed in order to book. Is this a hint of the target clientele? After all, as everyone knows, rogue receipts are the worst enemy of the undercover Lothario.
Not a bit of it, says Sciotti.
"Our primary market is business-people - people who need a rest between flights, or a place for interviews or meetings.
"After that we are targeting people who want to use hotel facilities in the day-time, like spas and swimming-pools.
"Of course, there are couples who use Dayuse - and we welcome them. But they are not our priority."
With no breakdown of the figures, it is impossible to know how many of Dayuse's estimated 320,000 users fall into each category.
But it is safe to say that, coyness apart, publicity about the lover-potential does Dayuse no harm at all.
After all the moral opprobrium that used to attach to afternoon assignations has largely disappeared - at least in the liberal West.
In Paris - a city whose morals were once looked on with envious horror by foreigners - the institution of the cinq-a-sept (the five-to-seven, ie 5pm to 7pm) allowed faithless spouses to be back home in time for dinner.
To carry it off, wealthy men maintained a separate apartment, or garconniere, where lovers could be entertained. Everyone else resorted to knocking shops, or bordellos.
Today checking into a decent hotel for a few hours of daytime intimacy may invite remarks of the nudge-nudge kind, but little more.
"Of course couples come here in the afternoon, and everyone knows what it is for. But we regard it all as perfectly normal. Don't you?" says Joan Chaussey, manager of the Eugene en Ville hotel in central Paris.
"I wouldn't say it is part of any particular Paris tradition. I would just say it is part of life."
For Elise (not her real name), who often uses daytime hotels with her boyfriend, the system is tailor-made for the modern twenty-or-thirtysomething.
"My boyfriend and I have busy, stressful lives. We often work late and at weekends. It's very important to find time together when and where we can," she says.
"This way we can have a couple of hours of intimacy in the middle of Paris, maybe with a bottle of champagne. The whole thing becomes sexier, because we are in a hotel in the middle of the day!"
The explosion of online dating agencies has presumably provided a rich source of daytime customers, and it is hard to see how hotels can be sure some are not call-girls.
But there is no gainsaying the demand. Last month Dayuse announced that it has raised 15 million euros (£12m) in venture capital to continue its international expansion.
As Dooley Wilson sang, the world will always welcome lovers.
And as time goes by, it finds ever more profitable ways of opening the door.
---
More from the BBC
Like many other non-Christian countries, Japan has got into the habit of celebrating Christmas - but as well as the usual decorations and presents, the Japanese have also made this season into a romantic one. For the country's famous Love Hotels this is by far their busiest time of year.
The day Japan's 'love hotels' sell out
---
Subscribe to the BBC News Magazine's email newsletter to get articles sent to your inbox.