Do names make us think storms are worse?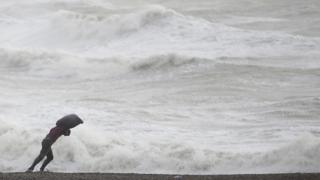 Storm Imogen has battered Wales and the west and south-west of England, the latest in a line of such events across the UK over the winter. But are storms getting worse or is the new convention of naming them simply grabbing them more attention, asks Justin Parkinson.
It started last November with Abigail, continuing via Barney, Clodagh, Desmond, Eva, Frank, Gertrude and Henry.
Now Imogen, the ninth major storm of the winter, has lashed southern and western parts of Britain, with gusts of up to 96mph recorded. Huge waves have hit, particularly on the north coasts of Devon and Cornwall. Thousands of homes have lost power amid the damage caused.
It seems like large storms are becoming more frequent. But this winter is the first time the Met Office has given names to storms, so are they becoming more common or are people simply more aware of them?
"I don't think it's been particularly stormy," says a Met Office spokeswoman. "I think what's happened is that the names have given them extra profile."
That, indeed, was the whole point behind giving clear identities to storms, under a scheme jointly run by the Met Office and the Irish equivalent, Met Eireann. It follows a long-established custom in the US. "It has really promoted awareness of public safety warnings," the Met spokeswoman adds. "People are latching on to the names." They've been particularly effective at gaining attention on social media, including groups who were previously "harder to reach".
Under Met Office guidelines, a storm means wind speeds of at least 52mph (84kph) and probable maximum wave heights of up to 12.5m (41ft). A violent storm involves mean wind speeds of at least 60mph (97kph) and waves of up to 16m (52ft).
The Met Office gives a storm a name in advance if its predicted wind speeds and likely impact are deemed to be substantial enough.
It says it won't give an analysis of the comparative storminess of this winter until it's over. But its own figures show that 147.9mm of rain fell on average across England and Wales in January. This makes it the eighth wettest January going back to 1910. The wettest in this period was 176.8mm in 1948, while the worst in recent years was 173.4mm in 2014, when flooding hit the Somerset Levels and Thames Valley.
A-Z of UK storm names 2015/16
Name
Date named
Date of impact on UK and/or Ireland
Abigail
10 November 2015
12-13 November 2015
Barney
16 November 2015
17-18 November 2015
Clodagh
28 November 2015
29 November 2015
Desmond
4 December 2015
5-6 December 2015
Eva
22 December 2015
24 December 2015
Frank
28 December 2015
29-30 December 2015
Gertrude
28 January 2016
29 January 2016
Henry
30 January 2016
1-2 February 2016
Imogen
7 February 2016
8 February 2016
Overall, the period from mid-December 2013 to mid-February 2014 saw at least 12 major winter storms, making it the stormiest period of UK weather for more than 20 years.
This winter hasn't been as bad but it's seen an above-average level of stormy weather patterns, says Doug Parker, a meteorology professor at Leeds University. "During some years you get into a distinct pattern of certain weather types, such as cold - or stormy, as it is now."
The convention of naming storms - usually after the event - goes back several hundred years. In the Caribbean the traditional practice was to name a storm after the saint's day on which it had occurred. So, for instance, there were two Hurricane San Felipes, on 13 September 1876 and 1928.
Clement Wragge, an Australian meteorologist, is believed to have given women's names to tropical cyclones and low pressure systems during the late 19th Century. Sometimes he used Greek letters, mythological characters and the names of politicians he disliked.
The US National Hurricane Center has been naming Atlantic tropical storms since 1953, reasoning that this made them easier to remember than using numbers or technical terms to describe them. Originally it featured only women's names, but since 1979 they have alternated with men's, applying to those in the Atlantic and the Gulf of Mexico.
A Princeton University study in 2014 suggested feminine-named hurricanes caused "significantly more deaths, apparently because they lead to lower perceived risk and consequently less preparedness".
Several other countries operate similar schemes to the US for large storms, including Australia, Indonesia and Bangladesh.
The scheme jointly run by the Met Office and Met Eireann is on a pilot basis. In contrast, the Free University of Berlin has given names to European storms since 1954. Under its Adopt-a-Vortex system, individuals put their names to individual periods of turbulence. Designated names for future storms include Ulrika and Walburga.
"I wonder if the Met Office felt a sense of competition and thought we needed British names for storms hitting the country," says Parker.
Subscribe to the BBC News Magazine's email newsletter to get articles sent to your inbox.