Been and Gone: The protester outside the White House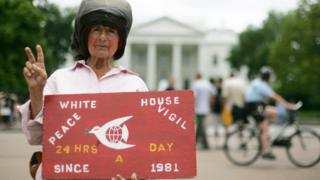 Our regular column covering the deaths of significant - but lesser reported - people of the past month.
The death of Connie Picciotto ended what is believed to be the longest continuous political protest in US history. The Spanish immigrant first joined another protester outside the White House in 1981 in opposition to the proliferation of nuclear weapons. She camped in a makeshift shelter which, over the years, became a regular stop for tour guides showing visitors the sights of the nation's capital. Connie, often dressed in a layer of thick clothing and a headscarf, would hold up handwritten signs attacking the various conflicts that took place during her three decades at the site. She often received abuse from passers-by, many of whom accused her of being simple-minded, and she attracted the attention of the local police. She also suffered through Washington's often searing summer temperatures and freezing winters. One local politician said the vigil had served as an important reminder to the thousands who had passed by over the years.
Some of rock's biggest acts owed at least some of their success to Giorgio Gomelsky, the colourful owner of the Crawdaddy Club in Richmond, south-west London. His club - named after a Bo Diddley song - was founded in 1963. He hired an up-and-coming outfit called The Rolling Stones as the resident band, and was involved in their early management. Later, he hired a blues band called The Yardbirds (featuring the young Eric Clapton on guitar). He also went on to create the record label Marmalade and produce artists such as Jeff Beck, Rod Stewart and Jimmy Page. Gomelsky's family had fled from Stalin's Russia and he was playing drums in a Swiss jazz band by the time he was 15. He left London for France at the end of the 1960s and managed the art-rock bands Magma and Gong.
Jennifer Guinness was the victim of one of Ireland's most high-profile kidnappings. She was seized in April 1986 when three gunmen burst into her home, assaulted her husband, John, a member of the Guinness brewing family, and demanded a ransom of more than £2m. She was imprisoned for eight days, during which time she was variously chained to a tree and forced into a cardboard box. She was eventually tracked down by police to the house where she was being held and released after a long stand-off. The gang members, who were later arrested and jailed, had links with the notorious Dublin-based criminal, Martin Cahill. After her release she was asked what had kept her going: "A certain amount of anger, a lot of determination and just a conviction that they weren't going to get to me."
The award-winning cinematographer, Vilmos Zsigmond, was responsible for shooting some of the best-known films of the late 20th Century. He won an Oscar in 1977 for Close Encounters of the Third Kind, Steven Spielberg's tale of human contact with aliens and there was a Bafta for The Deer Hunter, a drama about US steelworkers drafted to fight in Vietnam. Zsigmond began his career in his native Hungary where he shot scenes of the 1956 uprising before fleeing to Austria. Moving to the US, he worked on low-budget horror films before getting his big break on the Robert Altman film, McCabe and Mrs Miller, starring Warren Beatty and Julie Christie. There was much praise for his work on Deliverance, the story of four city dwellers ambushed by mountain folk in Georgia. Zsigmond's career encompassed more than 30 films including The Witches of Eastwick and The Black Dahlia.
Bassist and songwriter Jimmy Bain was best known for his work with the heavy rock bands Rainbow and Dio and collaboration with his long-time friend, the Thin Lizzy singer Phil Lynott. Born in Scotland, Bain launched himself on the London music scene with his band, Harlot, before being approached by Ritchie Blackmore to join Rainbow. Bain played on their Rainbow Rising album, once voted the best heavy metal album of all time, and toured with the band before being sacked by Blackmore. He formed the band Wild Horses, which included former members of Thin Lizzy, and worked with Phil Lynott on his two solo albums. He joined Dio in 1983 where he contributed songs to six of their albums. In 1985 Bain was behind Hear 'n Aid, heavy rock's answer to the pop-based Live Aid.
Robert Banks Stewart was one of British television's most prolific and creative writers. He cut his teeth as a journalist in his native Edinburgh but his interest in film and TV led to an editor's job at Pinewood studios. He worked on the scripts of many early TV series including Danger Man, The Human Jungle and The Avengers, before moving to Thames Television where he contributed to Callan and The Sweeney. He was responsible for two of the most memorable Doctor Who adventures, The Terror of the Zygons, based on the legend of the Loch Ness monster, and the 1976 yarn, Seeds of Doom. Banks Stewart went on to create two successful BBC series - Shoestring, starring Trevor Eve as a private eye, and Bergerac, the popular police drama set on Jersey which ran for 10 years.
Among others who died in January:
David Bowie, one of rock music's most influential figures
Alan Rickman, stage and screen actor whose many roles included Severus Snape in the Harry Potter films
Terry Wogan, much-loved radio and TV broadcaster
Pierre Boulez, avant-garde French composer and conductor
Ed Stewart, Junior Choice DJ and presenter of Crackerjack
Glenn Frey, founder member of The Eagles
Cecil Parkinson, cabinet minister whose career foundered on scandal
Subscribe to the BBC News Magazine's email newsletter to get articles sent to your inbox.